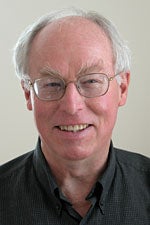 JAMES ZULL, PHD
Professor of Biology
Professor of Biochemistry
Director of UCITE
Research Interests
Our biochemistry laboratory closed in 1998, after 25 years of research on cell-cell communication, protein folding, cell membranes, and biosensors.
However, we have now turned our interests toward understanding how brain research can inform teaching. Building on our background in cell-cell communication, our experience with human learning and teaching at UCITE, and the increasing knowledge about the human brain, this work led to the publication of a book entitled The Art of Changing the Brain, in the fall of 2002. Thus although we no longer conduct laboratory research, we remain active in scholarship and publication.
According to our current model of the connection between brain function, human learning, and education, we believe that education can engage the learner's brain to the fullest extent when students follow a cycle of concrete experience with their subject, reflection on their experience and connecting it to their prior knowledge, generation of their own abstract hypotheses about their experience and testing their hypotheses through action, which produces a new sensory (concrete) experience.