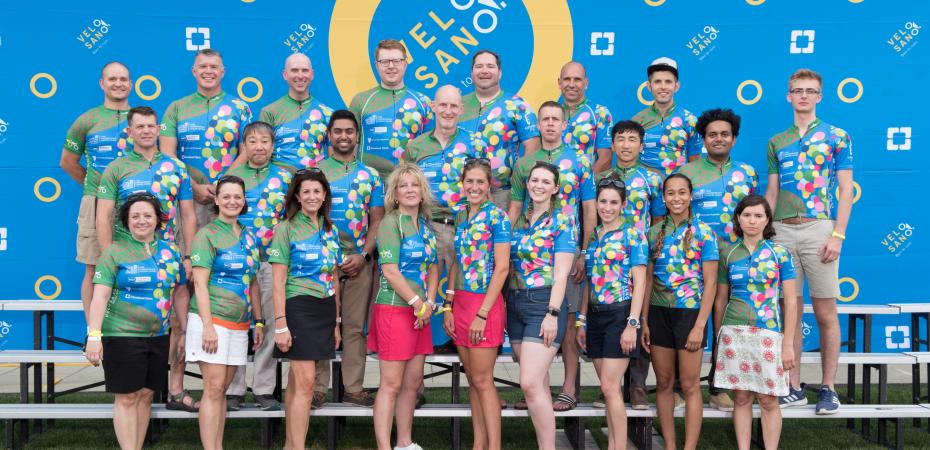 Our wonderful riders and virtual fundraisers join us from all Case Comprehensive Cancer Center partners -- University Hospitals, Seidman Cancer Center, Case Western Reserve University and the Cleveland Clinic and represent a wide spectrum of professions -- physicians, researchers, physician-researchers, hospital administrators, graduate students, and family and friends who are passionate for the cause.
Our vision and hope for the future is strong VeloSano support and representation from all of our Case Comprehensive Cancer Center partner organizations, supporting cancer research, funding, and promoting awareness and unity across our institutions. Join our team TODAY and help us make VeloSano 9 our biggest year yet!
Join our Riding Team
VeloSano 9 is scheduled for September 9-10, 2022 in Cleveland, OH and across the globe!
Want to "ride" with Team Case CCC during "Bike to Cure" weekend in Cleveland or on your own anywhere in the world? Signing up is easy - click here now to go to our team page on the VeloSano website and sign-up! Riders will receive a team jersey on behalf of the Case Comprehensive Cancer Center. Email Team Captain Mary Wright (maw143@case.edu) with questions you may have on virtual participation or cycling training programs for a personal ride.
Register as a Virtual Fundraiser
Want to help but don't want to ride? You can still join our team as a Virtual Fundraiser. It's the "no bike required" way to participate and fundraise for this great cause. Virtual fundraisers commit to raising at least $100 by October 1, 2022. Virtual fundraisers who raise at least $250 will receive a T-shirt gift from VeloSano!
Volunteer for our Cheer Station
We will have more information on opportunities to volunteer soon. Our team will cheer on VeloSano Riders by ringing cowbells, holding signs and making noise to keep everyone motivated as they approach the last leg of their ride. We need as many people as possible, so please encourage your friends, families and kids to join in the fun.
Contact Tracy Rehl at tdr3@case.edu for more information on signing up for a shift to volunteer with us!