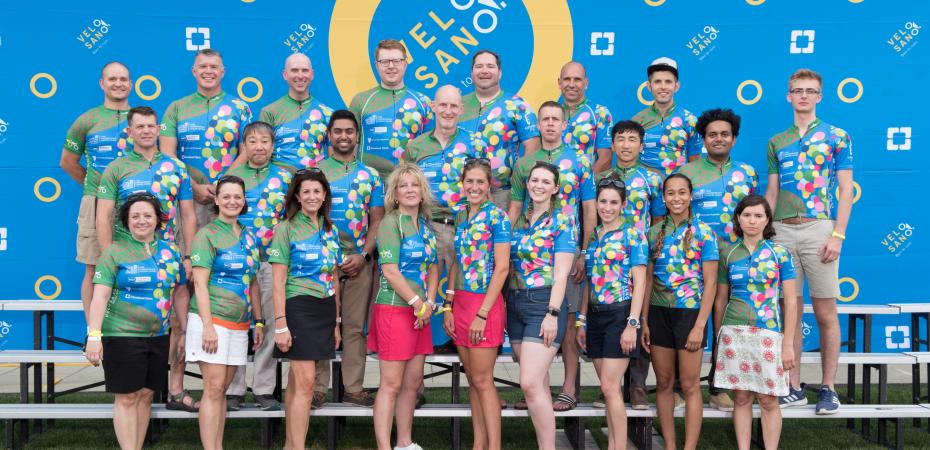 In 2019, as in previous years, our wonderful riders and virtual riders joined us from all Case Comprehensive Cancer Center partners -- University Hospitals, Seidman Cancer Center, Case Western Reserve University and the Cleveland Clinic and represent a wide spectrum of professions -- physicians, researchers, physician-researchers, hospital administrators, graduate students, and family and friends who are passionate for the cause. Our riders were also joined by dozens of volunteers both on-campus and down at the VeloSano starting line, and all together, the Case CCC 2019 efforts collectively supported cancer research, funding, and promoted awareness and unity in our institutions.
Our vision and hope for the future is strong VeloSano support and representation from all of our Case Comprehensive Cancer Center partner organizations. Join our team TODAY and help us make VeloSano 7 our biggest year yet!
Join our Riding Team
Want to ride with Team Case CCC? Signing up is easy - click here now to go to our page on the VeloSano website. Email Team Captain Caroline El Sanadi (cee17@case.edu) with questions you may have on the race as well as practice and training programs.
Register as a Virtual Rider
Want to help but don't want to ride? You can still join our team as a Virtual Rider. It's the "no bike required" way to participate and fundraise for this great cause. Virtual riders commit to raising at least $100 by October 1, 2020.