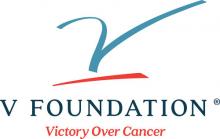 The Case Comprehensive Cancer Center is able to nominate one investigator for the V Foundation's V Scholar Cancer Research Grant Program. The V Scholar Award supports early tenure-track faculty by funding a range of projects from laboratory-based fundamental research through bench to bedside research. The total amount of the grant is $200,000, paid in two annual installments of $100,000. Only direct costs of the research are supported by this award.
Projects may be focused in ANY area of adult cancer research. 

Eligibility:
US Citizen or permanent legal resident of the US
Possess at least 2 years post-doctoral fellowship training
Hold a tenure-track faculty position as assistant professor
Have been appointed to first full-time assistant professorship within the last 5 years, not yet promoted to associate professor
NOT already holding an RO1 or RO1-equivalent as PI or co-leader
NOT already a co-leader on projects such as SPORE or NIH grant mechanisms like U01, DP1, DP2, R37 and R23.
Submit a one-page LOI and biosketch by Monday, March 18, 2019 to casecccpilots@case.edu. Contact John Pounardjian at 216.368.0846 with any questions.