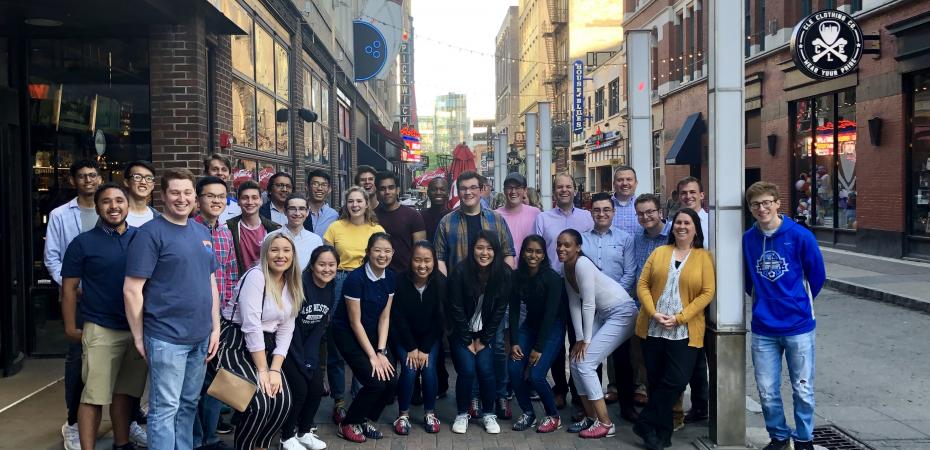 Joey Kass, Summer 2019
Mentor: Stephen P. Fink, PhD
My mentor helped me learn to think like a scientist. I was taught how to think about the logic and reason behind the experiments I conducted. My mentor helped me understand the meaning behind my results and was able to demonstrate the process of deciding what next steps to take as a cancer researcher.
CWRU and the Case Comprehensive Cancer Center provide an excellent resource to undergrads. The CanSUR program at CWRU is becoming an essential part of the educational environment CWRU fosters around the growing field of oncology. Meeting undergraduate students from other universities across the country and working with them over the summer in Cleveland, provides for a realistic experience for what cancer research is beyond graduate school.
---
Jack Kincaid, Summer 2019
Mentor: Nathan A. Berger, MD
CanSUR's multifaceted programming made for a transformative summer experience based in the field of cancer research.  Through its lecture series, CanSUR provided an excellent opportunity to expand my understanding of cancer pathology, genetics, and epidemiology, as well as explore modern advances in novel therapeutic development, translational findings, and laboratory techniques.   In addition, the program immersed me in CWRU's scientific research community, strengthening the mentorship with my lab's principal investigator and providing regular networking opportunities with Case Comprehensive Cancer Center faculty and trainees.  Overall, my experiences in CanSUR solidified my intent to pursue a career in academic medicine, with the specific aspiration of conducting hematology/oncology research within my role as a physician. 
---
Amrish Selvam, Summer 2019
Mentors: Satish Viswanath, PhD and Jacob Antunes
I wanted to share with you a recent update on the status of my cancer research. At the end of last summer, I wrote a manuscript about my findings on the research I did, and I am now glad to share that this manuscript was accepted as a 20-minute oral presentation at the Society of Photographic Instrumentation Engineers (SPIE) Medical Imaging Conference in Houston, TX. Thank you for all the support over the summer, and in particular the final symposium, in order to allow this opportunity to be possible.