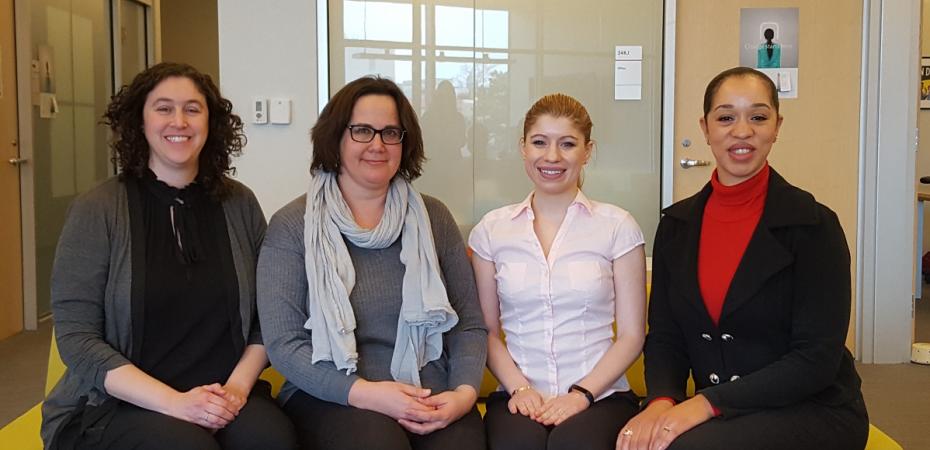 (left to right) Lisa Kollins, Elizabeth Roccoforte, Rosemary Behmer Hansen and Heather Clayton Terry 
The Family Equity Committee was established in 2015 by staff and faculty members committed to increasing access to alternative family building for employees who utilize CWRU health care plans. Through comparative research of similar Association of American Universities (AAU) across the country, the committee developed a series of recommendations for administration focused in three (3) primary areas: assisted reproductive technology (IUI and IVF), adoption, and foster care support. 
As a result of their advocacy efforts, the following policies went into effect January 2017: 
Coverage for intrauterine insemination (IUI) and in vitro fertilization (IVF) services, which will be included on the university's self-insured health plans. However, fertility prescription drugs will not be covered. Members will be responsible for 50% co-insurance, which will not accumulate towards annual out-of-pocket maximums. The benefit is subject to a lifetime maximum of $10,000.
Paid parental leave policy for staff will now include foster care so that it is consistent with the faculty policy.  In addition, the staff sick time policy will be expanded to include foster care as one of the special situations that allows for up to 12 sick days annually to be used for family reasons. 
Current policies the committee is working on:
The committee is currently advocating for adoption reimbursement assistance and additional child care options for CWRU faculty and staff.
Current members of the Family Building Equity Committee include:
Liz Roccoforte, Director, LGBT Center

Gena Richmann, Undergraduate Student Affairs Coordinator, Department of Biomedical Engineering 

Janetta M. Hammock, Diversity Program Manager, Office for Inclusion Diversity and Equal Opportunity
To get involved email centerforwomen@case.edu.