Create
We supply the tools and space. You bring the ingenuity and ideas.
With so much space to create and collaborate—most notably at Sears think[box], the country's largest open-access innovation space based at a university—this is the place for creators. 
Sears think[box]
Our largest innovation space has 50,000 square feet quite literally open to ideas. The Larry Sears and Sally Zlotnick Sears think[box] opened in 2012 and continues to evolve to meet the needs of students and faculty.
3rd Floor: Prototyping
Make a prototype of your idea with equipment we provide and supplies you provide or get from us. We offer training for the equipment and have staff to help.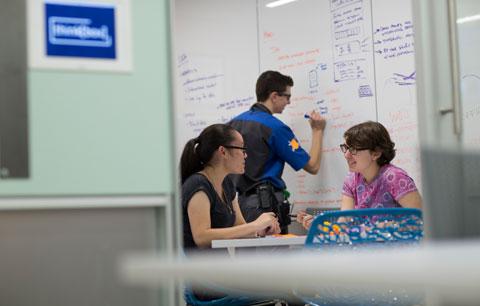 6th Floor: Mentoring and Assistance
At the Cray Center for Venture Creation and the Burton D. Morgan Suite for Entrepreneurship, university students, faculty and staff can talk through plans and make connections. Experts in IP, legal issues, financing, business plan development and other areas will be on hand to consult and assist.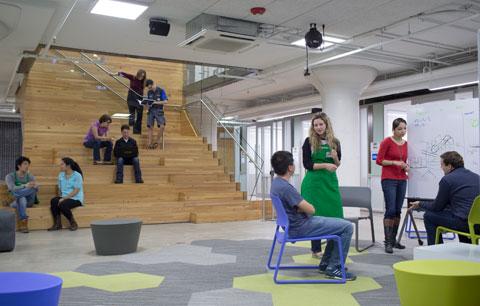 2nd Floor: Collaboration
Where ideas get hashed out in a highly creative, low-stakes atmosphere. Picture white boards and comfy chairs, floors that can get dirty and ClickShare stations. In one corner, strands of spaghetti or popsicle sticks may serve as a rough prototype for the next big idea, while students 10 feet away are honing their startup pitches.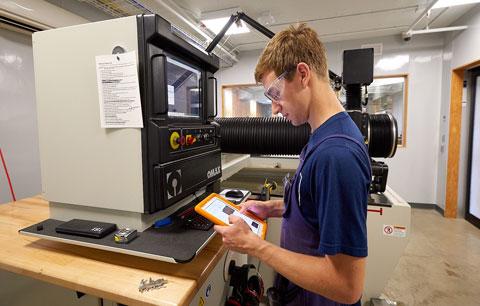 4th Floor: Fabrication
Get closer to mass production by fabricating your final product with our support.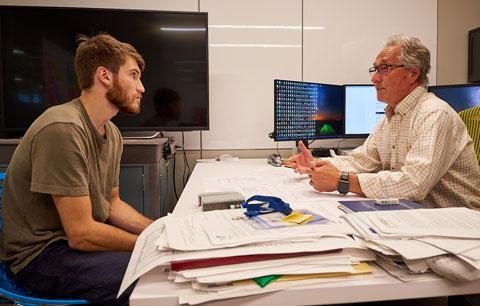 7th Floor: Incubation
The Veale Institute for Innovation and Entrepreneurship, located at the top of think[box], serves as a residency space for established companies. 
Bio[box]
The Department of Biology has tools, instruments and space available for students to use for their own research and projects with support from faculty.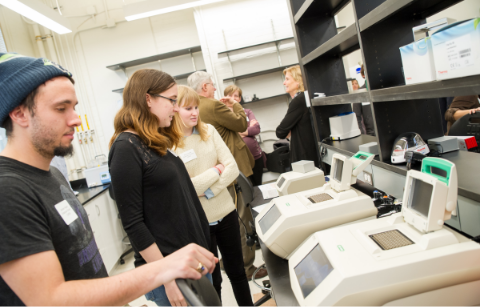 Undergraduate and graduate students and faculty researchers can work collaboratively at Bio[box]. Our intention for this space is to give researchers a place to work on groundbreaking cross-disciplinary collaborative research.
CWRUcible
A software development program based in the university's Technology Transfer Office brings students together on teams to fine-tune and conduct due diligence. Innovative app development is the goal.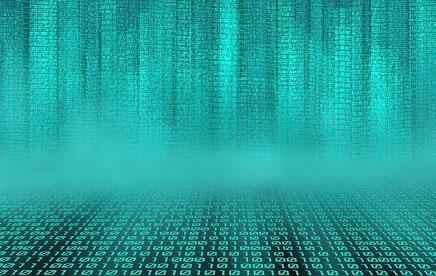 Faculty members from the Weatherhead School of Management and Case School of Engineering, along with corporate partners and alumni advisors, help students learn real-world lessons on a multidisciplinary team. Students can participate as part of a senior project or design course.
Sears undergraduate design lab
Undergraduate engineering students have access to a printed circuit board service, components and equipment in a dedicated space with support staff to answer questions and help with challenges.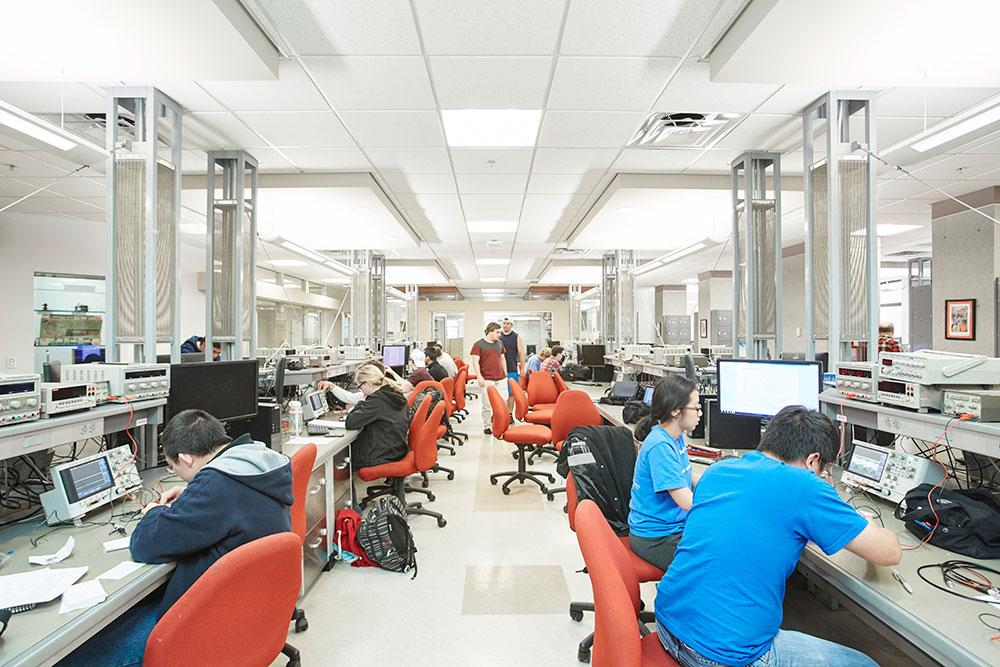 With a dedicated space and staff and the tools and supplies needed for undergraduate engineering projects, students are able to get right to work.
Electronics Design Center
One of CWRU's professional Core Facilities, the EDC is a research center specializing in the development of microsensors and microsystems.
Our fully equipped microfabrication laboratory is available for a fee to faculty, researchers, students as well as industry partners and others not directly affiliated with the university.
Microfabrication Lab
Offered through the Department of Electrical Engineering and Computer Science, the lab provides students, faculty and researchers with a clean room facility for fabrication and prototype development.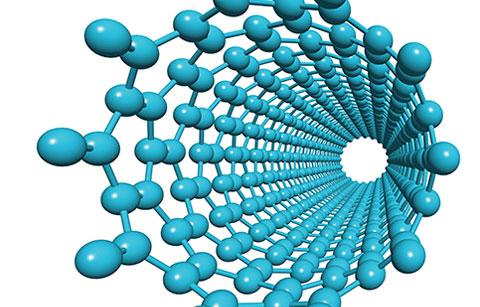 Our Microfabrication Laboratory is a Class 100 facility offering bulk and surface micromachining, wafer bonding, and micro-molding.