Cultivating a Jewish Community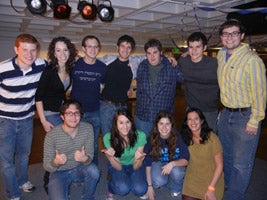 Welcome! Hillel at Case Western Reserve University is dedicated to creating a Jewish community on campus and serving as the center of Jewish student life at CWRU. Hillel provides students with cultural, religious and social programming; leadership opportunities; Shabbat and Holiday celebrations; and Israel and Jewish heritage education, all while being part of a multicultural and multi-religious educational environment.
The Hillel building provides a "home-away-from home" for Jewish students, and sits in the center of campus. Operated by the Cleveland Hillel Foundation, the Hillel building is open to students from 12 colleges and universities in the Greater Cleveland area. This gives CWRU students an opportunity to meet fellow Jewish students from their own university and beyond. The Cleveland Hillel Foundation offers a variety of programming throughout the year in coordination with CWRU and neighboring schools.
Many programs include kosher meals or snacks as the Hillel building provides a "home-away-from home".