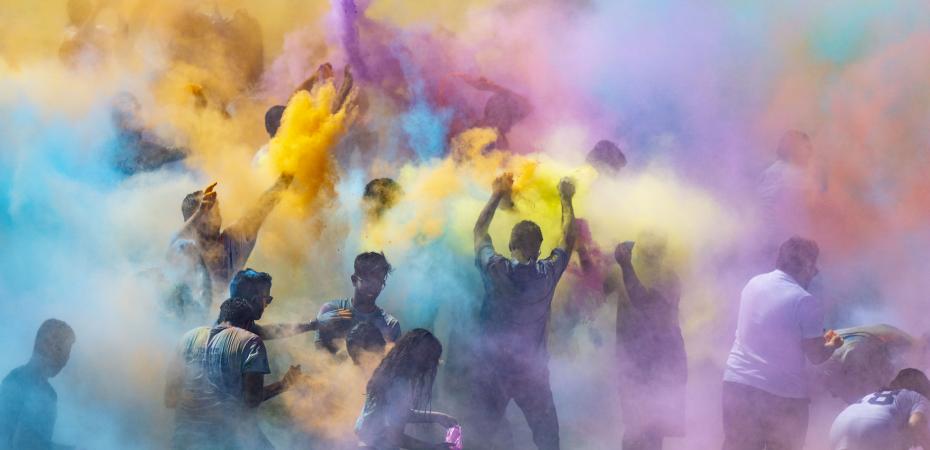 Holi is known as the "festival of colors" and celebrates the arrival of spring after a long winter. It is also a time for building relationships through play and laughter. Although primarily celebrated in India and Nepal, Holi is observed in many other countries throughout Southeast Asia and around the world.
The festival is celebrated by throwing colored powders and water at others. The colors used are culturally symbolic:
Red - union & purity
Pink - friendliness & happiness
Purple - devotion to self & spirit
Blue - power & passion
Green - vitality & rebirth
Yellow - sincerity & piety
Orange - strength & courage
Originally, the colors were made from Neem, Kumkum, Haldi and Bilva—medicinal herbs which were simultaneously used in the playful festival as a means of preventing springtime ailments.
Today, many popular events have been inspired by Holi's colorful festivities including the Color Run 5K and the Festival of Colors Music Tour.
Want to learn more? Check out the Kelvin Smith Library's Holi Resource Guide.
2022 Holi Celebration
In the spring of 2022, the Center for International Affairs hopes to resume Case Western Reserve's tradition of celebrating Holi with our annual event on Freiberger Field that features lots of colored powder, Indian street food, water games, badminton, cricket, music, and traditions associated with Holi!
Check back for details!