The International Achievement Luncheon is an opportunity to celebrate the accomplishments of CWRU's international and study abroad students and recognize those who are preparing to graduate. 
The event features the Global Citizen Awards, which honor outstanding students, campus partners and student organizations, and the winners of the annual Study Abroad Photo Contest are announced. 
The Center for International Affairs is proud of all of our students and appreciates the chance to commend them for their achievements. 
The International Achievement Luncheon is by invitation only and an RSVP is required. Invitations will be sent via email. 
The Center for International Affairs' Global Citizen Awards recognize students, organizations and campus offices that enhance the international student experience, promote a sense of community at CWRU and exemplify the university's values of inclusion and diversity.
Laurie D. Zelman International Undergraduate Student - Daniel Argueta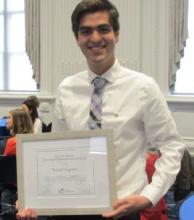 The Laurie D. Zelman International Undergraduate Student award is presented to a student who helps to create an inclusive community, encourages understanding among people of different cultures, is involved in positive work on campus, and helps others achieve their potential.
Daniel Argueta has held leadership positions in the Society of Hispanic Professional Engineers and Greek Life, where he's played a key role in building relationships, raising money to foster fellow students' professional development opportunities, and creating a welcoming environment for all students to engage.  His nominator says Daniel pushed Greek Life to be more inclusive of international students in their programming and recruitment efforts and credits his efforts for the increase in international students' participation in Greek life.
Daniel is also a mentor for Collegiate Connections, a tour guide, and has found time to participate in various experiential learning opportunities.
Unsung Champion Award - Edwin Pacheco Colón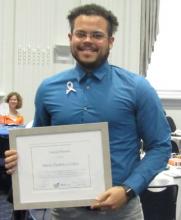 The award for Unsung Champion is presented to a student who has been involved on campus but has not necessarily held formal leadership positions.  It honors a person who rarely receives recognition for his or her work "behind the scenes" to enhance the international student experience and sense of community on campus.
Edwin Pacheco Colón is a dual degree MBA and Medical Physiology student who initiated a massive charity drive to send supplies to Puerto Rico after Hurricane Maria devastated the island.  His personal dedication inspired members of CWRU to act in solidarity and do something as a community that would improve the lives of others.
When he's not organizing major philanthropic projects that rally our community, he's an active Weatherhead School of Management Student Ambassador, member of the Golden Key Honor Society, and conducting research at University Hospitals.
Outstanding Student Organization - Model United Nations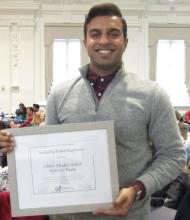 The Outstanding Student Organization award goes to a university-recognized group that has gone above and beyond a focus on their own membership to create a positive campus environment.
Model UN planned an event that is the first-of-its kind for any university in Northeast Ohio. For months the group's leadership prepared subject matter; partnered with Cleveland Council on World Affairs; collaborated with various units of the university, including the Office of General Counsel, two Deans, Public Relations; and technical support.  All of this handwork and dedication culminated in CWRU students hosting some 500 local high school students and their teachers to participate in CWRU's first high school Model United Nations conference.
The group's advisor and nominator wrote, "This is a unique international educational program, which expands the classroom and puts our students at the center.  In no small measure, the university gained an invaluable opportunity to showcase our campus and the international acumen of our undergraduates to prospective students and local secondary educators."
Spirit of Service Award - Haosheng "Shawn" Li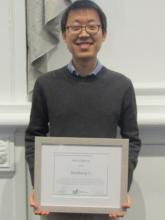 Spirit of Service honors a student who has served the campus community with vigor, devotion, and an unshakable positive attitude. Haosheng "Shawn" Li has an inspirational and infectious optimism, nurtures an appreciation of diversity, and creates awareness of our responsibilities as global citizens through extraordinary service to the university.
Haosheng is an undergraduate Biomedical Engineering student, musician, aspiring physician, and an exceptional example of someone who serves the university and the Cleveland community.  He has been an engaged leader for CWRU´s International Club,  where he has promoted the clubs mission of embracing diversity through the exchange of ideas, cultures, and traditions.  
He is a three-time Orientation Leader who has welcomed new students to campus and a CCEL scholar who has served at 7 different locations over the past 4 years, many of which focus on providing services and outlets for people who are ill and differently abled.  
The Outstanding Partner in Collaboration Award - The Office of Title IX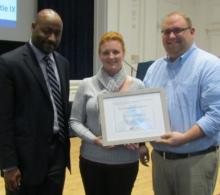 The Outstanding Partner in Collaboration goes to a campus partner that has successfully worked with the Center for International Affairs to sponsor or host an event or program that has benefited the international student community and internationalization efforts.
This year's award winner has established a partnership with the Center for International Affairs that benefits the international student community and the university as a whole.  
Over the past year, we've worked together to update a critical marketing campaign so that information is more accessible to a culturally diverse audience.  We've developed training programs for international students and engaged our staffs in specialized trainings, leadership and advising roles to further support international students and educate them about university policies and expectations.
Together, we've established connections so that international students have access to resources and feel like valued, welcome members of the university community. "You Are Welcome Here" has been a message that the Office of Title IX has truly embraced.
Elise Lindsay International Graduate Student - Akhil Kandhari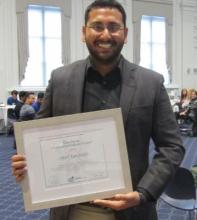 The Elise Lindsay International Graduate Student award honors a student who has exemplified talent, perseverance, courage, and a desire to make the world a better place through inclusion, research, teaching, care for others, or betterment of the university community. 
Akhil Kandhari is pursuing studies focused on soft-robotics, which is a burgeoning area involving the design, development, and control of robots that have very compliant structures. These robots have applications in search and rescue missions, pipe inspections, underground passage exploration, and other areas that would be dangerous for humans to pursue without the assistance of these robots that can squeeze into narrow spaces.  His wormlike robot has actually been featured in an episode of Nature Knows Best and marketing materials for think[box].  
Since 2017, he's mentored three Master's students, 10 undergraduate students, and four high school students. His nominator commented that, "The patience he shows with students allows each individual to find their own creative niche pertaining to this project, which motivates the students to creatively expand on the robot with their own personal touches." 
When Akhil is not teaching and receiving overwhelmingly positive reviews from his students, researching, publishing papers, or winning honorable mentions from Research ShowCase, he visits schools with his robots to get children excited about STEM fields, volunteers at the Cuyahoga County Animal Shelter, and hosts international graduate students in his home as they visit or begin their studies at CWRU.
Landscapes, Buildings and Bridges - Elizabeth Tobin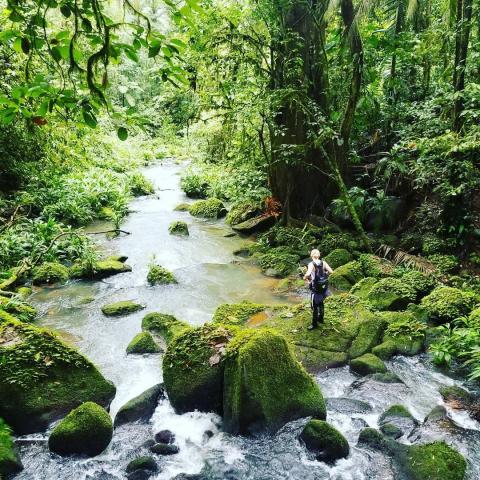 Puerto Viejo de Sarapiqui, Costa Rica
The World is Your Classroom - Jessica Liu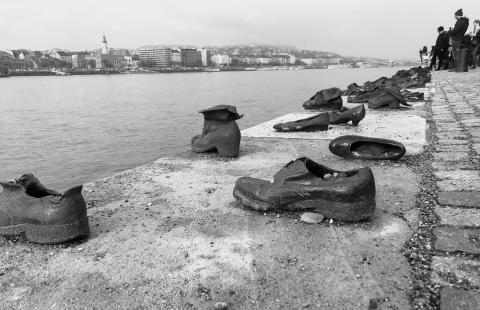 Budapest, Hungary
Cultural Selfie - Liana Kabins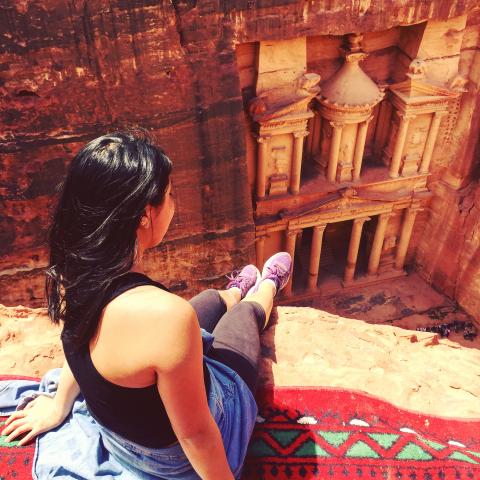 Petra, Jordan
Most Likes on Facebook - Debra Winberg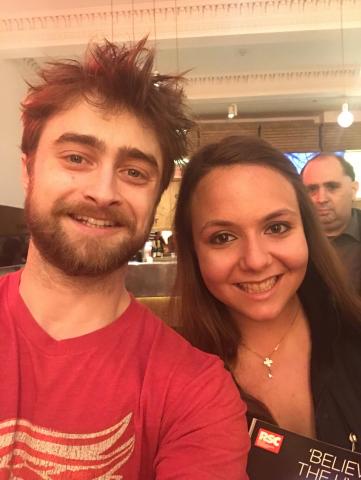 London, England
General Category and Overall Winner - Melinda Qiao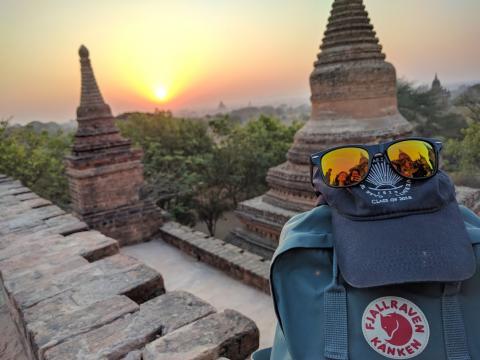 Bagan, Myanmar