About the Vice Provost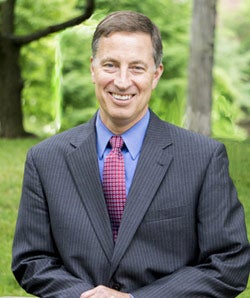 David Fleshler is the vice provost for international affairs at Case Western Reserve University in Cleveland, Ohio. In this role, he serves as the director of the Office of Global Strategy, which provides university-level vision and leadership for international activities across campus. Fleshler works in partnership with faculty, staff and students to enhance the university's international focus. He also works to identify and pursue strategic partnerships with local, state, national, and international organizations.
In conjunction with his role at the university, Fleshler serves as a senior advisor to the chancellor of the Ohio Board of Regents. In this consulting role, Fleshler primarily works to advance the internationalization of the university system of Ohio.
From 2000 to 2008, Fleshler served as assistant vice president, director of agency allocations and partnerships, and director of international operations at the Jewish Federation of Cleveland. In these positions, he was the chief professional responsible for allocating more than $32.7 million to local agencies as well as national and international agencies and programs. In addition, he oversaw the departments of government relations, community relations, community options, grant-seeking and corporate sponsorships. In his role in international operations, he helped define, implement and evaluate projects in Israel, Russia and Hungary, and created a committee structure that involved hundreds of laypersons who worked on five major projects and oversaw a combined budget of more than $5 million.
From 1995 to 2000, Fleshler was the president of David Fleshler Consultants & Co., a government relations and legal consulting firm with local and national clients, including Continental Airlines and the Salvation Army. Previously, he served as the Washington-based chief of staff for Congressman Eric Fingerhut; assistant director at Cleveland Hopkins International Airport; an attorney at Arter & Hadden, a 400-person law firm headquartered in Cleveland; a marketing consultant at Polyglot International in Tokyo, Japan; and, an import/export coordinator for Management Support Associates, a company that provided services to U.S. Army Corps of Engineers during the construction of two Israeli airbases in the Negev Desert in Tel Aviv, Israel.
Fleshler received his BA from the University of Michigan and JD from Boston College Law School. He resides in Cleveland with his wife and two daughters.