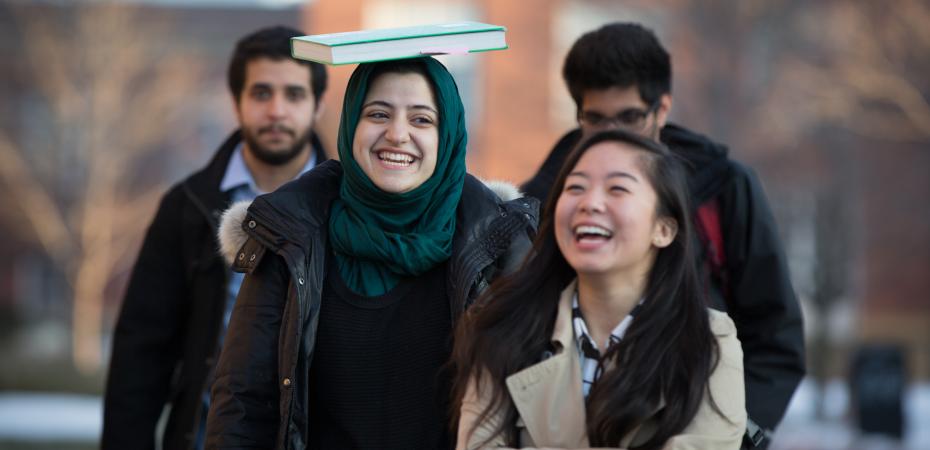 Case Western Reserve University is dedicated to making all students, faculty and staff feel welcome on campus. Inclusiveness and Diversity are two of the university's core values and that's why the campus community has embraced the #YouAreWelcomeHereCWRU campaign. 
#YouAreWelcomeHere is a national movement among U.S. colleges and universities to send a message to international students that our campuses are welcoming, friendly, diverse and safe. 
The Center for International Affairs brought the campaign to Case Western Reserve in February 2017 following the Executive Order that suspended immigration to the U.S. from seven countries. The Center wanted to reassure members of the campus community directly impacted by the order and anyone with concerns that Case Western Reserve is their home and they are always welcome. 
The effort quickly gained support across campus as departments, student organizations and offices added their voices to the #YouAreWelcomeHereCWRU message by submitting video clips to the Center.
Watch the 2017 #YouAreWelcomeHereCWRU Video
#YouAreWelcomeHereCWRU continues to echo throughout Case Western Reserve and has expanded to include all students who experience systemic racism and oppression in any of its forms. 
You can find more information about how the #YouAreWelcomeHereCWRU message has evolved and been put into action below.
Uniting our Community
The impact of the global COVID-19 pandemic highlighted the importance of #YouAreWelcomeHereCWRU in the spring of 2020 as many of our international students returned home when Case Western Reserve transitioned to remote learning and political rhetoric increased incidents of racism among those of Asian descent. 
Our campus community responded by coming together for a new video full of encouraging messages to remind students that no matter where in the world they are, they are valued, important members of the Case Western Reserve family. 
Responding to Racial Injustice
The movement against racial injustice has highlighted the fact that our international students are not the only students that need to feel valued and welcomed at Case Western Reserve. Following George Floyd's death in May 2020, the Center put out a statement against racism and created an internal Anti-Racism Committee focused on education and change.
As violence continues to plague Asian and Asian-Americans in the U.S., the Center has joined with several partners across campus in signing a Statement of Support for the Asian Community.