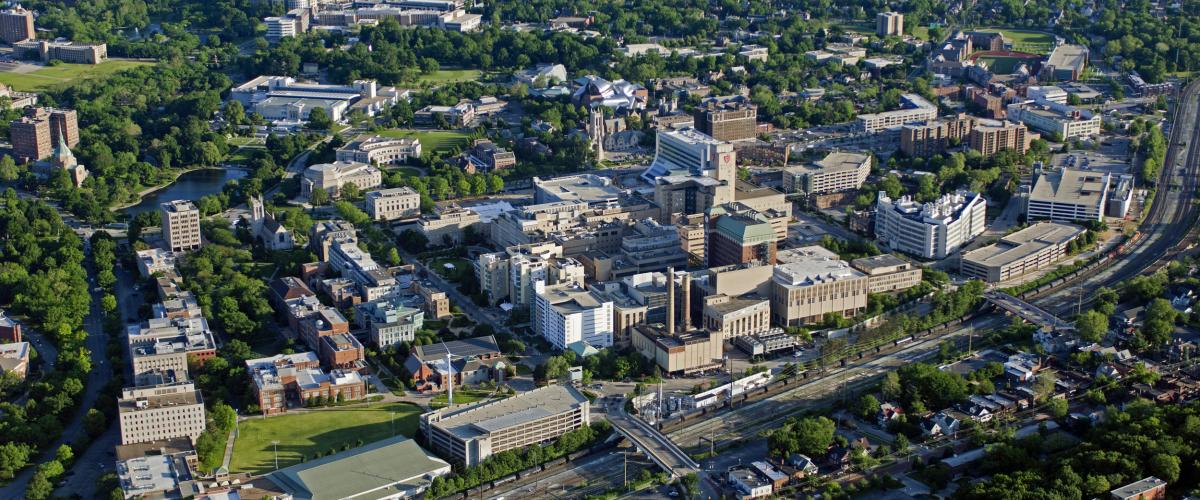 Learn more about the schools leading our Interprofessional Education initiatives
School of Medicine
Ranked in the Top 25 for medical school research programs nationally by U.S. News & World Report. The school has long had a reputation for educational innovation.
Cleveland Clinic Lerner College of Medicine of Case Western Reserve University
Unique, innovative program limits class size to 32 with a mission to train physician investigators
"The profession of medicine is dramatically changing from a one-on-one gladiatorial game to a team sport where we rely on the contribution of many caregivers. Interprofessional education gives us insight into how teams can perform at the top of their game."
— Cleveland Clinic Chief Academic Officer James B. Young, MD
More about us
Established in 2002 as a partnership between Case Western Reserve University and Cleveland Clinic

Problem-based learning curriculum with no lectures and no grades. All students have a full tuition scholarship
School of Dental Medicine
Students and faculty serve the community by providing low-cost dental services. Nearly 20,000 patients seek treatment at the dental clinic annually. 
"We know that interprofessional care leads to better outcomes for individuals, better delivery of services and reduced costs. We in the dental profession are very proud to be part of this university initiative, which recognizes the importance of oral care in promoting the general health of patients."
— Dean Kenneth B. Chance, DDS
Enrollment
368 students
More about us
New state-of-the-art dental clinic opening in summer 2019 with the main Health Education Campus
The Healthy Smiles program provides dental exams and sealants to all Cleveland Municipal School District students in the second, third and sixth grades and provides oral-health education to those students, their parents, school nurses and principals each year. In the 2010-11 alone, 5,300 Cleveland school students were treated through this program.
Frances Payne Bolton School of Nursing
U.S. News & World Report ranks the doctor of nursing practice (DNP) program No. 8 nationally; the master of science in nursing (MSN) program is No. 11 with six specialties in the Top 20
"We are poised to build an exceptional future together, advancing both the Frances Payne Bolton School of Nursing and interprofessional research, education and practice."
—Dean Carol M. Musil, PhD, RN, FAAN, FSGA
Enrollment
811 student in undergraduate, graduate and professional programs
More about us
Offers nursing education across the breadth of the profession starting with its baccalaureate degree to 10+ MSN specialties to its two doctoral programs: the PhD and the nation's first DNP
MSN specialties span the lifecycle from midwifery and neonatal nursing to pediatric and family nursing to adult-gerontology primary and acute care
Clinical placements start in the first month of an undergraduate student's first year of nursing school, the earliest of any program in the nation
Jack, Joseph and Morton Mandel School of Applied Social Sciences
Social work program ranked No. 9 nationally by U.S. News & World Report
"Interprofessional team care is the future. It leads to better care and outcomes for patients. It is our job to prepare our students to be innovators. By starting them in their first term in interprofessional teams, we are helping them to be aware of the value of each member of the health care team."
— Dean Grover C. Gilmore, PhD
Enrollment
379 graduate students
More about us
More than 176,000 hours of service provided to the Cleveland community through field placements
The school's Center on Urban Poverty and Community Development maintains two large integrated data systems that offer social and economic data to aid research on societal issues.
Visit the Jack, Joseph and Morton Mandel School of Applied Social Sciences site