Assorted Canards of Contemporary Analysis Redux
Thursday, September 19th, 2019 4:30 PM - 5:30 PM
The Sumner Canary Memorial lecture
Webcast Archive Content
Video: Assorted Canards of Contemporary Analysis Redux
Event Description
In the fall of 1989, Justice Antonin Scalia delivered the Eleventh Sumner Canary Lecture. It was entitled "Assorted Canards of Contemporary Legal Analysis," and in it, Justice Scalia described some "ritual errors" of legal reasoning that populate judicial opinions. In this lecture, Judge Amy Coney Barrett will mark the 30th anniversary of Justice Scalia's lecture by revisiting the same topic. She will consider whether the errors that Justice Scalia identified are still around, and she will highlight some of her own quarrels with legal analysis as it stands in 2019.
Speaker Information
The Honorable Amy Coney Barrett The Honorable Amy Coney Barrett was appointed to the U.S. Court of Appeals for the Seventh Circuit in November 2017. Before joining the bench, she served on the faculty of the Notre Dame Law School, where she continues to teach.
Judge Barrett earned her J.D., summa cum laude, from Notre Dame, where she was a Kiley Fellow, earned the Hoynes Prize, the Law School's highest honor, and served as executive editor of the Notre Dame Law Review. She clerked for Judge Laurence H. Silberman of the U.S. Court of Appeals for the D.C. Circuit and for Associate Justice Antonin Scalia of the U.S. Supreme Court. As an associate at Miller, Cassidy, Larroca & Lewin in Washington, D.C., she litigated constitutional, criminal, and commercial cases in both trial and appellate courts. From 2010-2016, she served by appointment of the Chief Justice on the Advisory Committee for the Federal Rules of Appellate Procedure.
Judge Barrett has published widely in the areas of federal courts, constitutional law, and statutory interpretation. Her scholarship in these fields has been published in leading journals, including the Columbia, Virginia, and Texas Law Reviews.
Continuing Legal Education Readings
Event Location
Moot Courtroom (A59)
11075 East Blvd.
Cleveland, Ohio 44106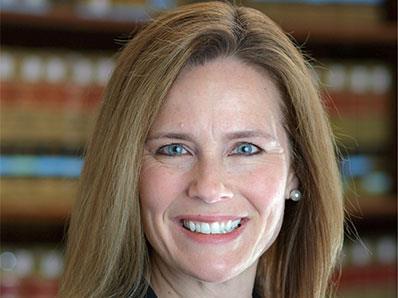 The Honorable Amy Coney Barrett
U.S. Court of Appeals for the Seventh Circuit