Banned: Immigration Enforcement in the Time of Trump
Thursday, October 10th, 2019 4:30 PM - 5:30 PM
Event Description
Note: This lecture has been canceled. We hope to reschedule at a later date.
Professor Wadhia will deliver remarks tied to her new book Banned. Banned examines the tool of discretion, or the choice a government has to protect, detain, or deport immigrants, and describes how the Trump administration has wielded this tool in creating and executing its immigration policy. In her book, Wadhia combines personal interviews, immigration law, policy analysis, and case studies to answer the following questions: (1) what does immigration enforcement and discretion look like in the time of Trump? (2) who is affected by changes to immigration enforcement and discretion?; (3) how have individuals and families affected by immigration enforcement under President Trump changed their own perceptions about the future?; and (4) how do those informed about immigration enforcement and discretion describe the current state of affairs and perceive the future? Wadhia pairs the contents of these interviews with a robust analysis of immigration enforcement and discretion during the first eighteen months of the Trump administration and offers recommendations for moving forward.
Speaker Information
Professor Shoba Sivaprasad Wadhia is an expert on immigration law whose research focuses on the role of prosecutorial discretion in immigration law and the intersections of race, national security, and immigration. She has published more than thirty law review articles, book chapters, and essays on immigration law. Her work has been published in Emory Law Journal Texas Law Review Washington & Lee Law Review, Columbia Journal of Race and Law Notice & Comment, Yale Journal on Regulation Harvard Latino Law Review Connecticut Public Interest Law Journal Georgetown Immigration Law Journal and Howard Law Journal. Her scholarship has been cited in hundreds of works and also by federal court judges, including Judge Richard Posner, Judge Paul J. Watford, and Judge Kim McLane Wardlaw. Her first book, Beyond Deportation: The Role of Prosecutorial Discretion in Immigration Cases, was published by New York University Press, was published as a paperback in 2017 and named an honorable mention for the Eric Hoffer Book Award. Her second book, Banned, examines immigration enforcement during the first eighteen months of the Trump administration and will be published by New York University Press in 2019. Wadhia is also working on the second edition of an immigration case book with Steve Yale-Loehr and Lenni Benson, to be published in 2020 by Carolina Academic Press.

At Penn State Law, Wadhia teaches doctrinal courses in immigration and asylum and refugee law. She is also the founder and director of the Center for Immigrants' Rights Clinic (CIRC), an in-house clinic focused on three main areas: community outreach and education pro bono support in immigration cases and policy work for institutional clients across the country. Recently, students at CIRC worked on asylum cases for detained families, completed a report on the experiences of law students and lawyers with DACA, trained police officers in the State College Area Police Department on immigration, and completed a U application for a victim of crime. The CIRC celebrated its tenth anniversary in 2018 and enjoys a national reputation. Wadhia has appeared on national television and radio stations, including MSNBC and C-SPAN and has been quoted or featured by international, national, and local publications, including New York Times, New York Times Magazine, The Hill, National Law Journal, Washington Post, Wall Street Journal, Roll Call, The Atlantic and Associated Press, among others.

Wadhia has been a recipient of numerous awards. In 2017, her clinic was honored with the Excellence in Legal Advocacy Award by the American-Arab Anti-Discrimination Committee.

Wadhia was also named the 2017 Honoree by the National Immigration Project of the National Lawyers Guild. Locally, she received the Faculty Diversity Award in 2017 by Penn State Law and the Spirit of Internationalization Award by Global Connections in 2016. Wadhia has also been honored by the Department of Homeland Security's Office for Inspector General and Office for Civil Rights and Civil Liberties, and in 2003, she was named Pro Bono Attorney of the Year by the American-Arab Anti-Discrimination Committee. Wadhia sits on the Board of Trustees for the American Immigration Council and in 2018 was named the inaugural Editor-In-Chief of the AILA Law Journal. Wadhia has also been a lead or co-lead on law professor letters and amicus briefs pertaining to her expertise, including but not limited to DACA, the travel ban and recent asylum changes. She has also blogged for the American Constitution Society, American Immigration Council, Yale Journal on Regulation's Notice & Comment, Immigration Professors Blog and most recently, Harvard Law Review. Prior to joining Penn State, Professor Wadhia was deputy director for legal affairs at the National Immigration Forum in Washington, D.C. She has also been an associate with Maggio Kattar, P.C. in Washington, D.C., where she handled asylum, deportation, and employment-based immigration benefits matters.
Continuing Legal Education Readings
Entering the Trump Ice Age Contextualizing the New Immigration Enforcement Regime (2017, 69 p.)
Event Location
Moot Courtroom (A59)
11075 East Blvd.
Cleveland, Ohio 44106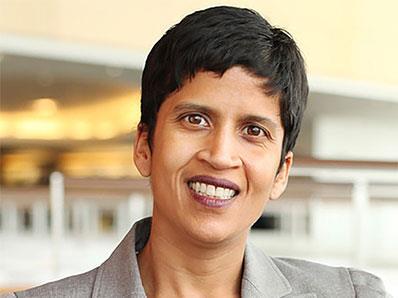 Shoba Sivaprasad Wadhia
Professor, Penn State Law
For More Information
Academic Centers and Continuing Legal Education Programs
216-368-1806