Fourth Fall Trade Law Update: Year Three of U.S. Trade and Supply Chain Restructuring
Friday, October 25th, 2019 8:00 AM - 12:00 PM
Webcast Archive Content
Video: Practitioner-Focused Conference on U.S. Customs and International Trade Law and Policy
Event Description
Year three of a new era in trade policy and enforcement has seen the United States, the key constituent and supporter of multilateral and regional trade liberalization, busy with restructuring trade frameworks it perceives as failing to effectively address mercantilist policies and practices.  In response to this perceived failure, the Trump Administration has aggressively enforced trade remedy laws and dusted off Cold War-era statutes to force its biggest trade partners to the negotiating table. 
The "Fourth Fall Trade Law Update," a practice-orientated update, will bring together federal judges, trade and customs officials and counsel to examine recent policy developments and their effects on the planning and practice of trade and customs law.
Professor Juscelino F. Colares, associate dean of Global Legal Studies and the Honorable Leo M. Gordon, Judge of the U.S. Court of International Trade, will engage in a one-on-one discussion on CIT jurisdiction and procedure.
In addition, the conference will feature two panel discussions with trade and customs counsel/officials from the Washington, D.C., New York City Chicago and Los Angeles. The first panel will address "Year Three of the Trump Trade Agenda," focusing on the fully materialized repercussions of the return to aggressive trade enforcement on trade litigation and diplomacy. The second panel will focus on daily practice implications of Section 301 and EAPA enforcement on customs law for domestic manufacturers and importers alike. 
This conference was made possible by the generous donation from Grunfeld, Desiderio, Lebowitz, Silverman & Klestadt LLP, one of the nation's largest law firms devoted exclusively to international trade and customs matters. The event is also sponsored by American Society of International Law, the Customs and International Trade Bar Association,  the Greater Cleveland International Lawyers Group and the Frederick K. Cox International Law Center.
8:00-8:30 a.m.
Registration and Continental Breakfast
8:30 - 8:40 a.m.
Dean's Welcome and introduction
 
Jessica Berg, CWRU School of Law Dean
Juscelino F. Colares, Associate Dean for Global Legal Studies, Schott-van den Eynden Professor of Business Law and Professor of Political Science
8:40-9:15 a.m.
One-on-one Discussion with the Honorable Jennifer Choe-Groves, U.S. Court of International Trade, on "Views from the bench about advocacy at CIT."

  

9:45-10:45 a.m.
Year Three of the Trump Trade Agenda: Litigation Developments and the Future of Trade Multilateralism
 
Moderator: Amy Porges, Principal, Law Offices of Amelia Porges PLLC (DC)

Speakers:
John D. McInerney, Counsel, Mayer Brown LLP (DC)
Lynn Fischer Fox, Counsel, Arnold & Potter Kaye Scholer LLP (DC)
Lisa Wang, Partner, Picard Kentz & Rowe LLP (DC)
11:00 a.m.-12:00 p.m.
Substantial Transformation under Section 301 and Trade Remedies; EAPA Enforcement Litigation
 
Moderator: Lawrence M. Friedman, Partner, Barnes, Richardson & Colburn, LLP (Chicago)

Speakers:
Stacy Dieve, Strategic Trade Manager, Cisco Systems, Inc. (MI)
Karen S. Greene, Attorney, U.S. Customs and Border Protection (DC)
Maureen E. Thorson, Partner, Wiley Rein LLP (DC)
Richard M. Wortman, Partner, Grunfeld Desiderio Lebowitz Silverman & Klestadt LLP (LA)
12:00 p.m.
CLE Session Closing Remarks:

 

The Honorable Leo M. Gordon, U.S. Court of International Trade
3:15-4:00 p.m.
Planning and Beginning a Career in Trade Law—A Panel with Recent CWRU Trade Law Alumni
 
Moderator: The Honorable Leo M. Gordon, U.S. Court of International Trade

Speakers:
Heather N. Doherty, L'12, Counsel, International Trade, Picard Kentz & Rowe LLP (DC)
Brendan Saslow, L'14, Counsel for Trade Enforcement & Compliance, US Department of Commerce
Luke Tillman, L'12, Associate, International Trade, Steptoe & Johnson LLP (DC)
Zack Walker, L'13, Associate, International Trade, Picard Kentz & Rowe LLP (DC)
4:00 p.m.

 

Conference Final Remarks:

 

Juscelino F. Colares
Continuing Legal Education Readings
2019_0528-FRN-DOC-currency-undervaluation
2019_1006-CWRU-Trade-chronology-since 2016
China-accession-protocol-NME-AD
Customs Law_ Volvo, Substantial Transformation and Proof of Life
Lumber__III_1994_includes_Wilkey_J_Dissent
National Hand Tool Corp. v. United States_ 16 C.I.T. 308
USTR_GATT_art_XXI_Self-Judging_Submission_wto2019_0312a
USTR_Statements_Sept30_2019DSB_mtg_public-abridged
Event Location
Moot Courtroom (A59)
11075 East Blvd.
Cleveland, Ohio 44106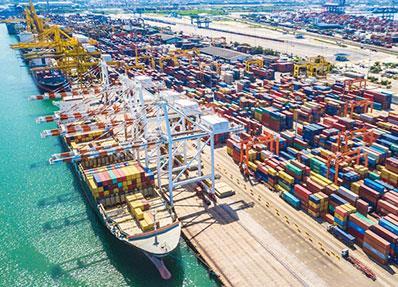 FOR MORE INFORMATION
Academic Centers and Continuing Legal Education Programs
216.368.1806