The Art Market and Money Laundering: A Symposium
Friday, October 12th, 2018 12:30 PM - 6:30 PM
Webcast Archive Content
Event Description
This symposium, "The Art Market and Money Laundering," brings together notable experts from law enforcement, the art industry, academia, and financial crimes compliance to engage in a robust discussion on the current state of the art market and laundering, and how more effectively to uncover, deter, and punish laundering while minimizing costs to the industry.

The art market is notoriously opaque and unregulated, which makes it particularly vulnerable to this kind of nefarious activity. Dirty money, disguised as capital gains on the sale of sale of one or more assets, is laundered by undervaluing art at purchase or overvaluing it at sale, making it difficult for financial institutions or law enforcement to find out. Transferring the value of the criminal proceeds is then implemented by simply transferring ownership of the asset.

International standards promulgated by the Financial Action Task Force have been adopted as domestic law by nearly every country of the world, with banks, broker-dealers, payment agencies and other businesses subject to required preventative measures to prevent and uncover money laundering.

Should these same preventive measures apply to art dealers and other participants in the art market? Legislation proposed in the US House of Representatives would do so. Would it work? Or would it prove onerous and ineffective, as some art market players have claimed? Are there other solutions to be found, for instance through self-regulation or blockchain technology?

Join us for thought-provoking discussion on the topic in a joint symposium hosted by Natasha Degen, Chair, Art Market Studies, School of Graduate Studies, FIT ; Richard Gordon, Director, Financial Integrity Institute, Case Western Reserve University; and Casey King, Director, Capstone Program, Jackson Institute for Global Affairs, Yale University. Following the symposium there will be a reception for all participants--and a chance to network with the experts.
Agenda
Time
Topic
12:30 - 1:00 p.m.
Registration
1:00 - 1:15 p.m.  
Welcome and Opening Remarks
1:15 - 2:45 p.m.
Panel 1
Christopher McKeogh, FBI, NY
Andrew Adams, AUSA, Deputy Chief, Money Laundering Division, Southern District of New York
Pawneet Abramowski, Principal, PARC Solutions LLC
John Byrne, AML Rightsource
James E. McAndrew, Forensic Specialist, Grunfeld, Desiderio, Lebowitz, Silverman & Klestadt LLP
Moderator: Alek El Kamhawy, Senior Fellow, Institute of Financial Integrity, Case Western Reserve University
2:45 - 3:00 p.m.
Coffee Break
3:00 - 4:30 p.m.
Panel 2
Jo Backer Laird, Of Counsel, Patterson Belknap Webb & Tyler
Laura Patten, Art & Finance National Leader, Deloitte
Andrew Schoelkopf, President, Art Dealers Association of America
Emily Thompson, Fine Art Specialist, Emigrant Bank Fine Art Finance / Fine Art Asset Management
Peter Tompa, Executive Director, Global Heritage Alliance
Moderator: Margaret Carrigan, Deputy Art Market Editor, The Art Newspaper
4:30 - 5 p.m.
Closing Remarks
5:00 - 6:30 p.m.
Drinks Reception
Event Location
Fashion Institute of Technology
7th Avenue at 27th Street
New York, New York 10001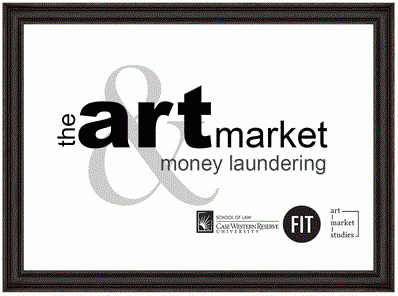 THIS LECTURE
Free and open to the public