Experience is Treacherous: An Intimate View of the Physician's Experience of Adverse Patient Outcomes and Malpractice Litigation
Tuesday, April 10th, 2018 4:30 PM - 5:30 PM
Webcast Archive Content
Video: Experience is Treacherous
Event Description
This unique presentation addresses medical malpractice litigation from the perspective of the physician who becomes a defendant. Dr. Stacia Dearmin, a caring and committed physician, together with her attorney, Dirk Riemenschneider, will explore the life-altering experience of an unfortunate patient outcome, being sued, and going to trial. Physicians who enjoy a long career are very likely to have one or more claims filed against them. This presentation is designed to better prepare physicians for that likelihood. It is also designed to sensitize attorneys to the implications of medical malpractice claims for physicians and to the distinct needs of the physician-defendant.

This lecture is approved for one hour of CLE and CME credit for in person attendees.
Speaker Information
M. Stacia Dearmin, MD engages in full-time clinical practice and bedside teaching with the Division of Emergency Services at Akron Children's Hospital. A graduate of Oberlin College, she pursued a master's degree with a focus in religion, values, and ethics at Vanderbilt University Divinity School, subsequently graduating from CWRU School of Medicine in 1995. She undertook residency training at Akron Children's Hospital and has practiced medicine in northeast Ohio ever since. Her interests in the social sciences and humanities have had an invaluable impact on her experience of a life in medicine.

She is the recent founder of Thrive: Insight, Education, Support, a project dedicated to the education and support of physicians and other healers around the separate but related challenges of unforeseen patient losses and professional litigation. First-hand experience has made her passionate about the ways in which these events can shape physicians' personal and professional lives. With wholeheartedness and candor, she works to demystify these experiences and strengthen the medical community's capacity to respond in ways that provoke growth and joy. Find her new Insight blog on these themes at www.thrivephysician.com.

Dirk E. Riemenschneider, JD serves as chair of the Health & Medicine Practice Group at Buckingham, Doolittle, and Burroughs. He earned his undergraduate degree from Baldwin-Wallace University and graduated from Cleveland State University Cleveland-Marshall College of Law in 1991. He has continuously focused his practice on defending physicians, hospitals and long-term care facilities in medical malpractice actions since that time, and has extensive experience trying cases throughout the state of Ohio.
Continuing Legal Education Readings
Event Location
Moot Courtroom (A59)
11075 East Blvd.
Cleveland, Ohio 44106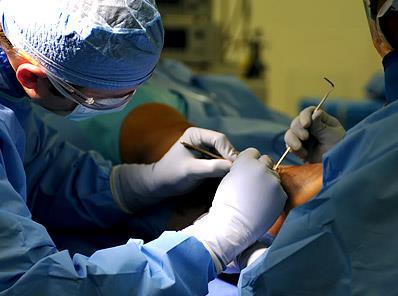 M. Stacia Dearmin, MD
Division of Emergency Services at Akron Children's Hospital
Dirk E. Riemenschneider, JD
chair of the Health & Medicine Practice Group, Buckingham, Doolittle, and Burroughs
THIS LECTURE
Free and open to the public
Online registration available or register at the door
In order to receive Continuing Legal Education (CLE) Credit attendees must be arrive and register with the CLE table prior to the lecture beginning. CWRU Law recommends arriving at least 5 minutes prior to the lecture start time.