Immigration and the Dignity of the Human Person
Thursday, February 7th, 2019 4:30 PM - 5:30 PM
The Frank J. Battisti Memorial Lecture
Webcast Archive Content
Video: Immigration and the Dignity of the Human Person
Event Description
This event will be held at the Linsalata Alumni Center
The Roman Catholic Bishop of Cleveland will offer a philosophical, theological, and personal perspective on the human aspects of immigration. This lecture seeks to broaden our understanding of an important legal, social, and political issue to help inform public discussion. This lecture should be of particular interest to lawyers with an interest in immigration issues. In addition, the lecture should also be valuable for lawyers who are concerned with how religious, moral, and ethical thought bear on the analysis and resolution of legal issues.
Speaker information
Most Reverend Nelson J. Perez, M.Div., M.A., D. D., Bishop of Cleveland
Bishop Perez, presently the Bishop of Cleveland, was born in Miami, Florida, of Cuban parents and raised in Northern New Jersey. He was ordained a priest of the Archdiocese of Philadelphia in 1989. In 1998, he was named a Chaplain to His Holiness by Pope John Paul II and Prelate of Honor in 2009 by Pope Benedict XVI. He obtained his degree in Psychology from the University of New Jersey at Montclair and Masters of Divinity and Masters of Arts in Theology from St. Charles Borromeo Seminary. In June 2012, Bishop Perez was named Auxiliary Bishop of the Diocese of Rockville Centre and received Episcopal Ordination on July 25, 2012. He served as the Episcopal Vicar for the Eastern Vicariate of the Diocese of Rockville Centre and Vicar for Hispanic Ministry for the Diocese of Rockville Centre. While in the Archdiocese of Philadelphia, Bishop Perez served as pastor of St. William Church in Philadelphia and as pastor of St. Agnes, West Chester, Pennsylvania. He was the founding director of the Catholic Institute for Evangelization, an Archdiocesan center for Adult Faith Formation Development and Lay Ministry Training. In addition, Bishop Perez served as parochial vicar of St. Ambrose in Philadelphia and assistant director of the Office for Hispanic Catholics. He taught courses in religion and psychology as an adjunct faculty member at La Salle University, and has traveled within the United States offering conferences on evangelization, lay ministry, leadership development, retreats and parish days of recollection. Bishop Perez was a member of the Corporate Board of Directors for Catholic Health Services Vice Chair of Catholic Charities Priests Personnel Board, the Presbyteral Council and the Diocesan Advisory Committee for Hispanic Ministry of the Diocese of Rockville Center. A member of the United States Catholic Conference of Bishops, Bishop Perez serves as Chair-elect of the United States Conference of Catholic Bishops' Committee on Cultural Diversity in the Church as well as the Chair of the Bishop's Sub-Committee for Hispanic Affairs and former member of the Bishop's Sub-Committee for the Campaign for Human Development.
Continuing Legal Education Readings
Event Location
Linsalata Alumni Center
11310 Juniper Rd.
Cleveland, Ohio 44106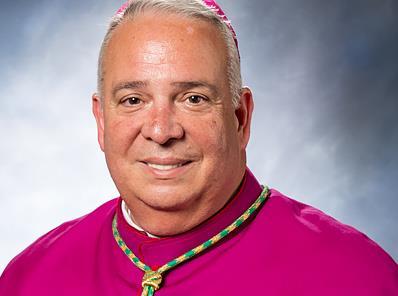 Nelson J. Perez
M.Div., M.A., D. D. Bishop of Cleveland
This lecture
Free and open to the public
Online registration available or register at the door