National Security, National Origin, and the Constitution: 75 Years After Executive Order 9066
Friday, November 17th, 2017 8:30 AM - 4:00 PM
The Law Review Conference
Webcast Archive Content
Video: National Security, National Origin, and the Constitution - Part 1
Video: National Security, National Origin, and the Constitution - Part 2
Video: National Security, National Origin, and the Constitution - Part 3
Video: National Security, National Origin, and the Constitution - Part 4
Event Description
On February 19, 1942, President Franklin Roosevelt signed Executive Order 9066, authorizing the Secretary of War to designate and regulate areas as military zones. This authorization led to the internment of Japanese-Americans from 1942 until 1946, when the last camps were closed. The Supreme Court upheld this order's constitutionality, in the now infamous Korematsu case, by deferring to the judgement of the legislature and executive in a time of war.

Seventy-five years have passed since the signing of EO9066, and the themes of national security, national origin, and constitutionality continue to shape our nation. This conference will examine these issues on the 75th anniversary of EO9066, and discuss its continuing relevance today.

Co-sponsored by the Institute for Global Security Law and Policy, the Inamori International Center for Ethics and Excellence and supported by a grant from the Attorney Admissions Fund of the U.S. District Court for the Northern District of Ohio.
 
Speaker Information
Geoffrey R. Stone
The Edward H. Levi Distinguished Service Professor at the University of Chicago. Mr. Stone joined the faculty in 1973, after serving as a law clerk to Supreme Court Justice William J. Brennan, Jr. He later served as Dean of the Law School (1987-1994) and Provost of the University of Chicago (1994-2002).

Stone is the author of many books on constitutional law, including Sex and the Constitution: Sex, Religion and Law from America's Origins to the Twenty-First Century (2017) Speaking Out: Reflections of Law, Liberty and Justice (2010 & 2016) Top Secret: When Our Government Keeps Us in the Dark (2007), War and Liberty: An American Dilemma (2007), Perilous Times: Free Speech in Wartime (2004), and Eternally Vigilant: Free Speech in the Modern Era (Chicago 2002). He is also an editor of two leading casebooks, Constitutional Law (7th ed. 2013) and The First Amendment (5th ed. 2016). Stone is an editor of The Supreme Court Review and chief editor of a twenty-volume series, Inalienable Rights, which is being published by the Oxford University Press.

Stone was appointed by President Obama to serve on the President's Review Group on Intelligence and Communications Technologies, which evaluated the government's foreign intelligence surveillance programs in the wake of Edward Snowden's leaks. He is a Fellow of the American Academy of Arts and Sciences, a member of the America Law Institute, the National Advisory Council of the American Civil Liberties Union, a member of the American Philosophical Society, and a member of the Board of Advisors of the Council for Democracy and Technology. He has served as Chair of the Board of the American Constitution Society and Chair of the Board of the Chicago Children's Choir.

Stone has also written amicus briefs for constitutional scholars in a number of Supreme Court cases, including Obergefell v. Hodges, Whole Woman's Heath v. Hellerstadt, Lawrence v. Texas, United States v. Windsor, United States v. Stevens, and Rasul v. Bush. He was also one of the lawyers who represented President Bill Clinton in the Supreme Court in Clinton v. Jones.

David F. Forte
David F. Forte is Professor of Law at Cleveland-Marshall College of Law.

Frank Abe
Frank Abe is producer/director of the award-winning PBS documentary, CONSCIENCE AND THE CONSTITUTION. He helped produce the two original "Day of Remembrance" media events in Seattle and Portland that publicly dramatized the campaign for redress. He was a founding member of the Asian American Theater Workshop in San Francisco and of the Asian American Journalists Association in Seattle, and was featured as a JACL-like camp leader in the NBC/Universal movie, FAREWELL TO MANZANAR. He was an award-winning reporter for KIRO Newsradio, the CBS Radio affiliate in Seattle, and is currently Director of Communications for the King County Executive in Seattle.

Diana Bilimoria
Diana Bilimoria is KeyBank Professor and Chair of the Department of Organizational Behavior at the Weatherhead School of Management, Case Western Reserve University. She was the 2011-12 Division Chair of the Gender and Diversity in Organizations Division of the Academy of Management. She has served as the editor of the Journal of Management Education.

She has been internationally recognized for her leadership, research and service. At Case Western Reserve University she received the Flora Stone Mather Center for Women's Spotlight Series Prize for Women's Scholarship (2007), and the Weatherhead School of Management's Doctoral Teaching Excellence Award (2002).

Keimei Sugiyama
Keimei Sugiyama is a PhD candidate in the Department of Organizational Behavior. Her research interests lie at the intersection of identity, diversity, and inclusion. She has published a study comparing women's and general leadership development programs to propose a model of inclusive leadership development, as well as a book on identity challenges of Asian Americans in the workforce. Her current projects explore identity construction through multiple lenses, including narrative identity to foster significance, social identity workspaces, and the development of early career identity. Her dissertation research investigates the collective processes for creating inclusion in organizations.
She is also an experienced consultant, having worked as a human resources representative and human capital consultant at companies such as Accenture and Coray Gurnitz Consulting for human capital strategy, communications, training, stakeholder management, and organizational change.

Dean M. Hashimoto
The scholarship of Dean Hashimoto focuses on the interface of law, science and medicine, especially in the areas of health care policy and the role of scientific evidence in the courtroom. Educated as both an attorney and physician, he teaches torts, environmental litigation, health care law, and evidence. He has also studied the internment of citizens and aliens of Japanese heritage in World War II and written about the constitutional law cases decided in that era. Professor Hashimoto is the faculty director for the Boston College Law School's JD/MPH dual degree program with Tufts School of Medicine.

Professor Hashimoto served as a Notes Editor on the Yale Law Journal and, after graduating from law school, as a law clerk to Justice William Brennan of the U.S. Supreme Court and Judge David Bazelon of the U.S. Court of Appeals in Washington, D.C. He also practiced as a litigator for the Williams & Connolly law firm in Washington, D.C. and as a health care attorney for Ropes & Gray in Boston before joining the Boston College faculty. Professor Hashimoto received his postgraduate medical training at the Brigham and Women's Hospital and the Harvard School of Public Health. He is a board-certified specialist in occupational and environmental medicine and serves as the chief of this specialty at the Massachusetts General Hospital and the Brigham and Women's Hospital.

Eric L. Muller
After earning his Phi Beta Kappa key from Brown University and serving as Current Topics Editor for the Yale Law and Policy Review while at Yale, Muller clerked for United States District Judge H. Lee Sarokin in Newark, New Jersey from 1987 to 1988. He then practiced in the litigation department of a private law firm in Manhattan from 1988 to 1990, before joining the United States Attorney's Office in Newark, where he served as an Assistant U.S. Attorney in the Criminal Appeals Division from 1990 to 1994.

After several years of adjunct teaching at Seton Hall Law School while still in government practice, Muller moved to the University Of Wyoming College Of Law in 1994 to begin full-time teaching, specializing in criminal law and procedure and constitutional law. In 1997, the graduating class named him the Outstanding Faculty Member in the College of Law.

Muller joined the UNC faculty in the fall of 1998. He has published articles in the Yale Law Journal, the Harvard Law Review, and the University of Chicago Law Review, among many other academic journals. His book "Free to Die for their Country: The Story of the Japanese American Draft Resisters of World War II," was published in August of 2001 by the University of Chicago Press, and was named one of the Washington Post Book World's Top Nonfiction Titles of 2001. His second book, "American Inquisition: The Hunt for Japanese American Disloyalty in World War II," was published by the University of North Carolina Press in October of 2007. His most recent book, "Colors of Confinement: Rare Kodachrome Photographs of Japanese American Incarceration in World War II", published by the University of North Carolina Press in association with the Center for Documentary Studies at Duke University, was profiled in the New York Times in June of 2012. It won the Joan Patterson Kerr Book Award from the Western History Association in 2013. From 2008 through 2011, Muller served at the law school as Associate Dean for Faculty Development. In both 2010 and 2011, he received the Frederick B. McCall Award for Teaching Excellence, voted by the graduating classes.

Muller serves as Chair of the Board of Governors of the University of North Carolina Press and is a member of the university-level Appointments, Promotion and Tenure Committee at UNC-Chapel Hill.

From January of 2012 through December of 2015, Muller served as Director of the Center for Faculty Excellence at the University of North Carolina at Chapel Hill, the campus's faculty development center.

Michael Benza
Professor Benza received his Bachelor of Arts (1986) and law degree (1992) from Case Western Reserve University. He also received a Master of Arts degree in Clinical Psychology (1988) from Pepperdine University. He was the 1992 Biskind Fellow from CWRU School of Law and spent a year working for the Legal Resources Centre, a civil and human rights law firm in South Africa. Upon returning to the States, he spent four years in the Capital Defense Unit at the Office of the Ohio Public Defender. He was assistant counsel at the Cleveland Bar Association working with the Certified Grievance Committee as well as other committees. Professor Benza teaches Criminal Law, Criminal Procedure I, Death Penalty Issues, the Death Penalty Lab, Federal Prisoner Rights, International Perspectives on the Death Penalty, as well as coaching the International Criminal Court moot court team and he previously coached the Mock Trial team. The Student Bar Association selected Professor Benza as the Professor of the Year in 2007, 2008, 2009, 2010, 2011, 2013 and 2014. In 2009 Professor Benza was elected as an alumni member to the Society of Benchers.

Professor Benza continues to represent death row inmates in state courts and federal habeas proceedings. He has litigated capital cases in state trial courts, state appellate and post-conviction courts, and federal courts including arguing Smith v. Spisak, 130 S.Ct. 676 (2010), before the Supreme Court of the United States.

Sahar F. Aziz
Sahar F. Aziz is a Professor of Law at Texas A&M University School of Law. Prior to joining Texas A&M, she was an adjunct professor at the Georgetown University Law Center where she developed and taught a new course entitled National Security and Race in a Post-9/11 America. Professor Aziz served as a Senior Policy Advisor for the Office for Civil Rights and Civil Liberties at the U.S. Department of Homeland Security from 2008 to 2009 where she worked on public policy involving the intersection of national security and civil rights. Professor Aziz led various roundtables between government officials and community groups to foster constructive dialogue and mutual trust among stakeholders. Prior to joining DHS, Professor Aziz was an Associate at Cohen Milstein Sellers and Toll PLLP where she litigated class action civil rights lawsuits alleging a nationwide pattern and practice of gender discrimination in pay and promotion. She started her legal career as an Associate at Wilmer Hale where she conducted an independent human rights investigation on child trafficking in the Middle East.

Peter S. Margulies
As an expert in National Security Law, Professor Peter Margulies focuses on the delicate balance between liberty, equality, and security in issues involving law and terrorism. Professor Margulies has written almost a dozen articles discussing the War on Terror. He currently works with RWU Law Professor Jared Goldstein, along with litigators from the law firm Edwards Angell Palmer & Dodge, in representing two Afghan detainees. Professor Margulies led a national conference entitled "Legal Dilemmas in A Dangerous World: Law, Terrorism and National Security" held at RWU. Professor Margulies also has an extensive background in immigration law and has represented Haitian refugees and conducted outreach to community legal service providers.

Peter Margulies teaches Immigration Law, National Security Law and Professional Responsibility. He has filed amicus briefs in high-visibility cases with the U.S. Supreme Court and has been frequently cited in the New York Times, the National Law Journal and other media outlets.

Cassandra Burke Robertson
Cassandra Burke Robertson regularly teaches Civil Procedure, Professional Responsibility and Secured Transactions, and has also taught Transnational Litigation and Remedies. She directs the law school's Center for Professional Ethics, whose mission is to explore moral choices across professional lines in a variety of disciplines. Her scholarship focuses on legal ethics and litigation procedure within a globalizing practice of law. She has co-authored a popular casebook in the field of professional responsibility and published articles in the Columbia Law Review, Emory Law Journal and Boston University Law Review, among others.

Within the community, Robertson serves on the board of Maximum Accessible Housing of Ohio, a nonprofit organization that works to provide and promote accessible housing solutions for people with physical mobility disabilities. In addition, she serves as one of Ohio's representatives to the Uniform Law Commission (also known as the National Conference of Commissioners on Uniform State Laws) and chairs the Appellate Litigation subcommittee of the American Bar Association's Civil Rights Litigation Committee.

Prior to joining the faculty in 2007, Robertson clerked for the Texas Supreme Court and served as Assistant Solicitor General in the Office of the Texas Attorney General. Robertson received a law degree from the University of Texas at Austin, where she also obtained joint master's degrees in Middle Eastern Studies and Public Affairs.

Hiroshi Motomura
Hiroshi Motomura is a teacher and scholar of immigration and citizenship, with influence across a range of academic disciplines and in federal, state, and local policymaking. His book, Americans in Waiting: The Lost Story of Immigration and Citizenship in the United States (Oxford 2006) won the Professional and Scholarly Publishing (PROSE) Award from the Association of American Publishers as the year's best book in Law and Legal Studies, and was chosen by the U.S. Department of State for its Suggested Reading List for Foreign Service Officers. He is a co-author of two immigration-related casebooks: Immigration and Citizenship: Process and Policy (8th ed. West 2016), and Forced Migration: Law and Policy (2d ed. West 2013), and he has published many widely cited articles on immigration and citizenship. His most recent book, Immigration Outside the Law (Oxford 2014), won the Association of American Publishers' Law and Legal Studies 2015 PROSE Award and was chosen by the Association of College and Research Libraries as a Choice Outstanding Academic Title.

Professor Motomura has testified in the U.S. Congress, has served as co-counsel or a volunteer consultant in many litigated cases and policy matters, and has been a member of the American Bar Association's Commission on Immigration. He is one of the co-founders and current directors of the Rocky Mountain Immigrant Advocacy Network (RMIAN), and he serves as Vice Chair of the Board of Directors of the National Immigration Law Center. In the fall of 2008, he was an outside advisor to the Obama-Biden Transition Team's Working Group on Immigration Policy. Before joining the permanent faculty of UCLA Law in 2008, Professor Motomura was Kenan Distinguished Professor of Law at the University of North Carolina, Chapel Hill, and before that Nicholas Doman Professor of International Law at the University of Colorado, Boulder. He has been a visiting professor at Hokkaido University in Sapporo, Japan, the University of Michigan Law School, and UCLA. He was the first Lloyd Cutler Fellow at the American Academy in Berlin, and has served on the Board of Governors of the University of North Carolina Press. Professor Motomura is currently a member of the Editorial Board of the International Migration Review.

In 1997, Professor Motomura was named President's Teaching Scholar, which is the highest teaching distinction at the University of Colorado, and he has won several other teaching awards, including the 2008 Distinguished Teaching Award for Post-Baccalaureate Instruction at the University of North Carolina, Chapel Hill, and the 2013 Chris Kando Iijima Teacher and Mentor Award from the Conference of Asian Pacific American Law Faculty (CAPALF). Most recently, he was one of just 26 law professors nationwide profiled in What the Best Law Teachers Do (Harvard 2013), and he received the UCLA Distinguished Teaching Award in 2014. He teaches immigration law, immigrants' rights, and civil procedure. In 2017, Professor Motomura was awarded a Guggenheim Fellowship for 2018, to work on a new book, Migrants, Refugees, and Citizens.

Robert S. Chang
Robert S. Chang is a Professor of Law and Executive Director of the Fred T. Korematsu Center for Law and Equality. He has also previously served as Associate Dean for Research and Faculty Development. He joined the School of Law from Loyola Law School in Los Angeles, where he was Professor of Law and J. Rex Dibble Fellow. A graduate of Princeton and Duke Universities, he writes primarily in the area of race and interethnic relations. He is the author of "Disoriented: Asian Americans, Law and the Nation-State" (NYU Press 1999), co-editor of "Minority Relations: Intergroup Conflict and Cooperation" (University Press of Mississippi 2017), and more than 50 articles, essays, and chapters published in leading law reviews and books on Critical Race Theory, LatCrit Theory, and Asian American Legal Studies.

He has received numerous recognitions for his scholarship and service. He was the 2009 co-recipient of the Clyde Ferguson Award, given by the Minority Groups Section of the Association of American Law Schools, which is "granted to an outstanding law teacher who in the course of his or her career has achieved excellence in the areas of public service, teaching and scholarship." He became an elected member of the American Law Institute in 2012, and he was the co-recipient of the 2014 Charles A. Goldmark Distinguished Service Award from the Legal Foundation of Washington for his leadership role in a statewide task force on race and the criminal justice system. In addition to co-chairing the task force, he led the research team that produced its Preliminary Report on Race and Washington's Criminal Justice System that was presented to the Washington Supreme Court and was published simultaneously in the Gonzaga Law Review, the Seattle University Law Review, and the Washington Law Review. The Korematsu Center that he founded has also received numerous recognitions for its work.

He is currently serving as co-counsel representing high school students in Tucson who have challenged the constitutionality of an Arizona statute that resulted in the termination of the Mexican American Studies Program in the Tucson Unified School District. That case, after several years and a positive ruling at the Ninth Circuit is headed for trial in 2017. He is also serving as co-counsel to two tribes in Alaska that have asserted constitutional and statutory protections for Native foster children subjected to involuntary psychiatric hospitalization. Students from his Civil Rights Amicus and Advocacy Clinic have assisted on these and other cases.
Continuing Legal Education Readings
Agenda
Time
Topic
8:25 am – 8:30 am
Introductions

Michael P. Scharf

, Dean, Director of the Frederick K. Cox International Law Center, Joseph C. Hostetler-BakerHosteter Professor of Law, Case Western Reserve Univeristy School of Law

Jonathan L. Entin

, David L. Brennan Professor Emeritus of Law and Adjunct Professor of Political Science, Case Western Reserve University School of Law

8:30 am – 9:15 am
Keynote Speaker

Introduced by: Barbara R. Snyder, President, Case Western Reserve University

Geoffrey R. Stone

, Edward H. Levi Distinguished Service Professor of Law, University of Chicago Law School

9:15 am – 10:15 am
Distinguished Lecturers

Frank Abe

, Producer, Director, and Writer of Conscience and the Constitution

Diana Bilimoria

, KeyBank Professor and Chair of the Department of Organizational Behavior at the Weatherhead School of Management, Case Western Reserve University

Morgan Bulger

, PhD Candidate in the Department of Organizational Behavior at the Weatherhead School of Management, Case Western Reserve University

Keimei Sugiyama

, PhD Candidate in the Department of Organizational Behavior at the Weatherhead School of Management, Case Western Reserve University

10:15 am – 10:30 am
Break
10:30 am – 11:30 pm
Panel I - Internment

Moderator: Michael Benza, Senior Instructor in Law, Case Western Reserve University

Dean M. Hashimoto

, Associate Professor of Law, Boston College Law School

Eric L. Muller

, Dan K. Moore Distinguished Professor of Law in Jurisprudence and Ethics, University of North Carolina at Chapel Hill School of Law

11:30 pm – 1:00 pm
Lunch
1:00 pm – 2:00 pm
Panel II - National Security

Moderator: Cassandra Burke Robertson, John Deaver Drinko—BakerHostetler Professor of Law; Director of the Center for Professional Ethics, Case Western Reserve University

Sahar F. Aziz

, Professor of Law and Chancellor's Social Justice Scholar, Rutgers Law School

David F. Forte

, Professor of Law, Cleveland-Marshall College of Law

2:00 pm – 3:00 pm
Panel III - Immigration

Moderator: Avidan Y. Cover, Professor of Law; Director, Institute for Global Security and Policy, Case Western Reserve University

Peter S. Margulies

, Professor of Law, Roger Williams University School of Law

Hiroshi Motomura

, Susan Westerberg Prager Professor of Law, University of California, Los Angeles School of Law

3:00 pm – 3:15 pm
Break
3:15 pm – 4:00 pm
Distinguished Lecturer

Robert S. Chang

, Executive Director of the Korematsu Center and Professor of Law, Seattle University School of Law
Event Location
Moot Courtroom (A59)
11075 East Blvd.
Cleveland, Ohio 44106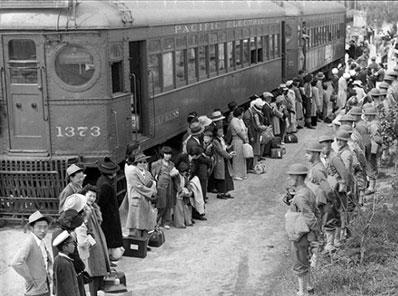 Geoffrey R. Stone
Professor of Law, University of Chicago Law School
David F. Forte
Professor of Law at Cleveland-Marshall College of Law
Frank Abe
Producer/Director of PBS documentaries
Diana Bilimoria
Chair, Department of Organizational Behavior, CWRU Weatherhead School of Management
Keimei Sugiyama
PhD candidate, Department of Organizational Behavior
Dean M. Hashimoto
Director, Boston College Law School's JD/MPH dual degree program with Tufts School of Medicine
Eric L. Muller
Professor of Law, UNC School of Law
Michael Benza
Senior Instructor, CWRU School of Law
Sahar F. Aziz
Professor of Law, Texas A&M University School of Law
Peter S. Margulies
Professor, Roger Williams University School of Law
Cassandra Burke Robertson
Professor, CWRU School of Law
Hiroshi Motomura
Susan Westerberg Prager Professor of Law, UCLA School of Law
Robert S. Chang
Professor, Seattle University School of Law