Public Sector Unions after <i>Janus v. AFSCME</i>
Tuesday, February 5th, 2019 4:30 PM - 5:30 PM
The Center for Business Law and Regulation
Webcast Archive Content
Video: Public Sector Unions After Janus v. AFSCME
Event Description
Last year, in Janus v. AFSCME, a divided Supreme Court ruled that it is unconstitutional to require government employees to pay mandatory agency fees to public sector unions. Such requirements, a narrow majority held, violate the First Amendment rights of public sector workers who do not support union bargaining positions or political activities. In reaching this decision, the Court overturned decades of precedent and set the stage for additional legal challenges to public sector unions, as well as to other forms of compelled contributions to organizations. This program will provide an overview of the Janus decision, the legal questions it resolved and the new legal questions it raises. The program will also discuss the practical consequences of this decision for public sector union representation, how public sector unions might respond to maintain their viability, and the nature of additional legal issues that are being raised, including by recent lawsuits filed in Ohio. This event will be particularly valuable for those attorneys with an interest in labor issues, state and local government law, as well as the First Amendment.
Speaker Information
Robert Alt is the president and chief executive officer of The Buckeye Institute, where he also serves on the Board of Trustees.

Alt's leadership has been the catalyst for The Buckeye Institute's exponential growth since he took the organization's helm in 2012. He has since founded The Buckeye Institute's esteemed Economic Research Center and Legal Center, from which the Buckeye team not only imagines public policy victories but compels them with sound data, objective research, and strategic litigation. Alt is a nationally recognized scholar with expertise in legal policy including criminal justice, national security, and constitutional law. Prior to heading The Buckeye Institute, Alt was a director in the Center for Legal and Judicial Studies serving under former U.S. Attorney General Edwin Meese III at The Heritage Foundation, where he regularly advised Members of Congress and Supreme Court litigants on complex legal arguments and strategy.

Alt serves on the Board of Trustees for The Philadelphia Society, the Board of Governors for the Council for National Policy, the Boards of Directors for the Free Speech in Science Project and Center, the Federalist Society's Columbus Lawyers Chapter board, and the Board of Advisors for the Ashbrook Center at Ashland University where he has taught classes in constitutional law and political parties and interest groups. Alt also previously taught national security law, criminal law, and legislation at Case Western Reserve University School of Law.

Alt is an attorney admitted to the bars of Ohio and the U.S. Courts of Appeals for the Sixth and D.C. Circuits, a member of the Mont Pelerin Society, the U.S. Supreme Court Historical Society, and a former fellow in the Center for Constitutional Jurisprudence at the Claremont Institute where he was also a Publius fellow in 1998.

Alt earned his Juris Doctor from the University of Chicago Law School, where he was symposium editor and the winner of the Mulroy Prize for Excellence in Appellate Advocacy as well as research assistant to renowned law professor Richard Epstein. Following law school, he clerked for Judge Alice Batchelder on the U.S. Court of Appeals for the Sixth Circuit. Alt graduated with his Bachelor of Arts in political science and philosophy magna cum laude from Azusa Pacific University where he won the Outstanding Senior Award in Political Science.

Martin H. Malin is professor and co-director of the Institute for Law and the Workplace at Chicago-Kent College of Law, Illinois Institute of Technology. He joined the Chicago-Kent faculty in 1980 after serving for two years on the business school faculty at The Ohio State University and two years as law clerk to U.S. District Judge Robert DeMascio in Detroit, where he worked on, among other cases, Bradley v. Milliken. He has published more than 70 articles and seven books, including Labor Law in the Contemporary Workplace (West 2009, 2d ed. 2014, 3d ed. 2019), a leading labor law casebook and Public Sector Employment: Cases and Materials (West 2004, 2d ed. 2011, 3d ed. 2016), the leading law school casebook on public sector labor law. He has been an arbitrator and mediator since 1984 and served as Vice President of the National Academy of Arbitrators from 2015-17. In 2015-16, he mediated the collective negotiations between the Chicago Teachers Union and the Chicago Board of Education. The negotiations resulted in an agreement without a strike. Malin is a Fellow of the College of Labor and Employment Lawyers and served on its Board of Governors from 2011-16. He is a past chair of the Association of American Law Schools Section on Labor Relations and Employment Law and a past secretary of the ABA Section on Labor and Employment Law. From 1984-86, he was a consultant to the Illinois State, Local and Educational Labor Relations Boards and drafted their regulations implementing the newly-enacted Illinois public sector labor relations acts. From 2003-08, he was the reporter for the Neutrality Project of the Association of Labor Relations Agencies which produced a treatise on labor board and mediation agency impartiality. In October 2009, President Obama appointed Malin as a Member of the Federal Service Impasses Panel President Obama reappointed him in January 2014. He served until President Trump removed him and the other Obama appointees in May 2017. In November 2016, Malin received the ABA's Arvid Anderson Award for lifetime contributions to public sector labor law.
 
Event Location
Moot Courtroom (A59)
11075 East Blvd.
Cleveland, Ohio 44106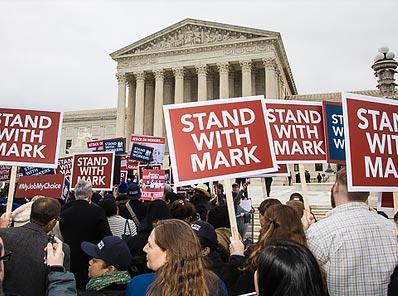 Robert Alt
President and Chief Executive Officer, The Buckeye Institute
Martin Malin
Co-Director, Institute for Law and the Workplace, Chicago-Kent College of Law
This lecture
Free and open to the public
Online registration available or register at the door