State Courts in a Federal System
Tuesday, September 25th, 2018 4:30 PM - 5:30 PM
The Sumner Canary Memorial Lecture
Webcast Archive Content
Video: State Courts in a Federal System
Event Description
State courts are the courts most likely to affect an ordinary person's life. Development of the common law of property, tort and contract, as well as the law governing our most personal relationships, family law, are the province of state courts. Most criminal law is state law; and most criminal prosecutions happen in state court. In these, and in other areas, state courts have been innovators. For example, state courts have taken the lead in developing new ways to work with non-violent criminal offenders, through the creation of problem-solving courts such as veterans' treatment courts, drug courts, and mental health courts. And while most people think only of the U.S. Constitution when they think of their rights, each of our fifty states has its own constitution too, whose interpretation, by state judges, is not formally constrained by the parallel work of the federal courts. In other words, state courts matter. In fact, there was no guarantee that federal courts, besides the Supreme Court, would even exist. Our Constitution did not require it—Congress had the discretion, but not duty, to create lower federal courts. But as the federal court system has grown, it has developed an ever-evolving, complicated relationship with the state courts. There are many doctrines, such as abstention and procedural requirements in habeas corpus that are designed to respect the work of the state courts and recognize the states' primacy. But how robustly should federal courts apply these doctrines? And how much deference should state courts give to federal court resolution of the parallel problems that confront them? These, and many other questions, are inherent in our federal system.
Speaker Information
The Honorable Joan L. Larsen is a judge of the United States Court of Appeals for the Sixth Circuit. She was nominated by the President on May 8, 2017 and confirmed by the Senate on November 1, 2017. Before her appointment to the federal bench, Judge Larsen served two terms as a Justice of the Michigan Supreme Court, where she was the court's liaison to Michigan's drug, sobriety, mental health and veteran's courts.

Before becoming a judge, Judge Larsen was a faculty member at the University of Michigan Law School, where she was also Special Counsel to the Dean and received the L. Hart Wright Award for Excellence in Teaching. Judge Larsen's research and teaching interests included constitutional law, criminal procedure, statutory interpretation, and presidential power. Judge Larsen continues to assist the law school as the adviser to the Henry M. Campbell Moot Court Competition.

Judge Larsen began her legal career as a law clerk to the Hon. David B. Sentelle of the United States Court of Appeals for the D.C. Circuit and to Justice Antonin Scalia of the Supreme Court of the United States. Following her clerkships, she joined the law firm of Sidley Austin, where she was a member of the Constitutional, Criminal, and Civil Litigation Section. She later served as Deputy Assistant Attorney General in the United States Department of Justice, Office of Legal Counsel.

Judge Larsen graduated first in her class from Northwestern University School of Law, where she served as articles editor of the Northwestern University Law Review and earned the John Paul Stevens Award for Academic Excellence. She received her B.A., with highest honors, from the University of Northern Iowa.
Continuing Legal Education Readings
Event Location
Moot Courtroom (A59)
11075 East Blvd.
Cleveland, Ohio 44106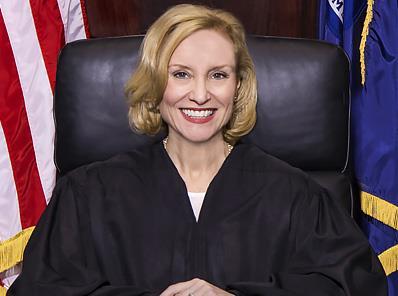 The Honorable Joan L. Larsen
judge of the United States Court of Appeals for the Sixth Circuit
THIS LECTURE
Free and open to the public
Online registration available or register at the door