We Provide Quality Sequencing Data
Dye-terminator sequencing is performed using a modified protocol supplied by Applied Biosystems BigDye Terminator 1.1 and 3.1 Cycle sequencing kits. All reactions are analyzed using a 48-capillary 3730 Genetic Analyzer. Sanger Sequencing can be performed on a variety of templates including PCR product, plasmids, and BACs for analysis of mutation detection and traditional DNA sequencing. Microsatellite Genotyping is also supported by the Core and run on the 3730 Genetic Analyzer.

The Genomics Core offers quality sequencing data, with a fast turn-around time, and knowledgeable help with troubleshooting. Discounts are available for large projects.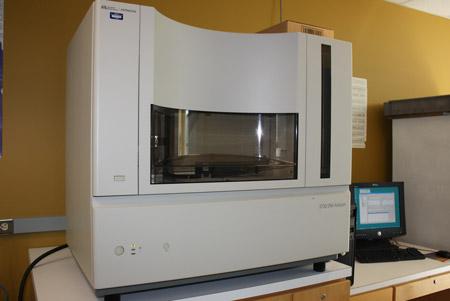 Sample Submission:
Bring your samples to the Core Welcome Center, Wood Building Room 106.
Samples are processed on Monday and Thursday mornings (9am) and data will be released the next day.
Samples and primers must be submitted in separate tubes. NO STRIP TUBES.
Clearly label each tube with the appropriate name, the date, and your name / initials.
Large sets of samples can be submitted in a 96-well plate format with a volume of 10ul per reaction. (There is a price reduction for processing more than 96 reactions at a time.)
EXO-SAP service to clean-up PCR products is available @ $1 per reaction. Provide 10ul of PCR product.
| Type of Template | Quantity |
| --- | --- |
| Plasmid | 100 – 300ng per reaction |
| Short PCR product (<500bp) | 50 – 100ng per reaction |
| Long PCR product (>500bp) | 100 – 200ng per reaction |
| BAC | 1ug per reaction |
| Primer | 2ul of 20uM concentration per reaction |
Primers
All primers must be submitted in separate tubes at a 20uM concentration
Clearly label each primer with the appropriate name, the date and your name / initials.
Provide at least 2ul of primer per reaction and list an annealing temperature on the request form.
The Genomics Core does offer universal primers at no cost to the user.
Universal primers stocked by the Core
| Name | Sequence |
| --- | --- |
| BGH reverse | 5' TAGAAGGCACAGTCGAGG |
| CMV-for | 5' CGCAAATGGGCGGTAGGCGTG |
| GLprimer1 | 5' TGTATCTTATGGTACTGTAACTG |
| GLprimer2 | 5' CTTTATGTTTTTGGCGTCTTCC |
| M13 Forward | 5' GTTTTCCCAGTCACGAC |
| M13 Reverse | 5' AACAGCTATGACCATG |
| pGEX 3′ | CCGGGAGCTGCATGTGTCAGAGG |
| pGEX 5′ | GGGCTGGCAAGCCACGTTTGGTG |
| SP6 | 5' ATTTAGGTGACACTATA |
| T3 | 5' AATTACCCTCACTAAAGGG |
| T7 promoter | 5' TAATACGACTCACTATAGGG |
| T7 terminator | GCTAGTTATTGCTCAGCGGT |
Fragment Analysis
Fragment Analysis, or microsatellite genotyping, is analyzed using the Applied Bio Systems 3730 Genomic Analyzer. Samples should be brought to the Core post-PCR for analysis. Fill out the Microsatellite/Genotyping Request Form (PDF) and bring to room 747 of the Biomedical Research Building (BRB). Samples should be in plate format with a minimum of 10ul volume. The Core is capable of analyzing dye sets 6-FAM, HEX, NED, ROX, VIC, and PET using a LIZ500-basepair standard or the LIZ600-basepair standard. SNaPshot analysis is also available.
Results
Data is released to users via Google Drive. A folder is created per PI and user and is shared directly with the user. Once a folder share has been accepted, the run files can be downloaded for further analysis. Data will not permanently remain on Google Drive and should be archived by the user, however the Core will have access to backups of sanger sequencing data.