The MS in Public Health Nutrition is offered with and without the dietetic internship.  For information about earning the MS in Public Health Nutrition without the combined dietetic internship.
Virtual Open House Recording
Watch the informative dietetic internship presentation.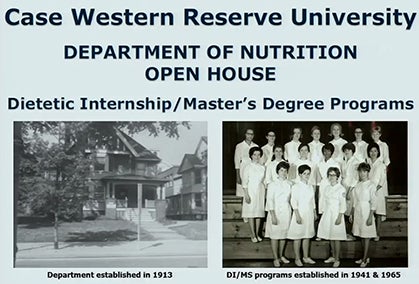 Program Focus
This program requires a minimum of 30 credit hours for the Master of Science Degree in Public Health Nutrition Dietetic Internship Program.
A minimum of 1200 clock hours of Supervised Practice Experience is part of the curriculum along with the inclusion of a Block 10-12 Week Full Time Field Experience.
Coursework is planned individually with the student's academic advisor. This program is a non-thesis program of study.
First Year Required Courses
| Course Number | Course Description | Fall | Spring | Summer |
| --- | --- | --- | --- | --- |
| NTRN 516 | Seminar in Dietetics | 4 |   |   |
| NTRN 528 | Introduction to Public Health Nutrition | 3 | - | - |
| NTRN 529  | Nutritional Epidemiology | 3  | -  | -  |
| NTRN 440 | Nutrition for the Aging and Aged | 3 | -  | -  |
| NTRN 530  | Public Health Nutrition  | - | 3  | -  |
| NTRN 531 | Public Health Nutrition Field Experience | -  | 2  | -  |
| Elective | Any NTRN 400, 500 or 600 level courses and/or graduate course in basic science or social science | - | 3  | -  |
| NTRN 531 | Public Health Nutrition Field Experience  | - | -  | 3  |
| Year Total: |   | 13  | 8  | 3  |
Second Year Required Courses
Course Number
Course Description
Credits
NTRN 436
Pediatric Nutrition
3
NTRN 531
Public Health Nutrition Field Experience
3 
Year Total: 
6
| | |
| --- | --- |
| Total Units in Sequence: | 30 |
Gerontology Certificate Requirements
Course Number
Course Description
Credits
NTRN 440
Nutrition for the Aging and Aged
3
NTRN 498
Public Health Nutrition Field Experience
3 
NTRN 532C
Specialized Public Health Nutrition Field Experience
3
Elective
One Gerontology Elective
3
Total Units in Sequence:
12
* All MS in PHN students must take either NTRN 440 or NTRN 436
For More Information