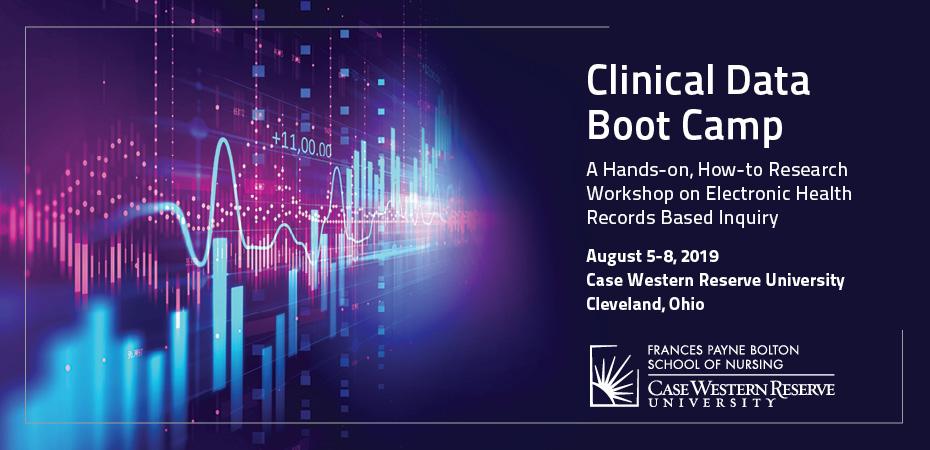 This four-day intensive Clinical Data Boot Camp helps clinicians identify variables in large Electronic Health Record (EHR) data files for use in exploring clinical questions. Our instructors at the Frances Payne Bolton School of Nursing at Case Western Reserve University will cover key steps for moving from clinical EHR data to answering clinical questions (including importing, cleaning, management, assessment, and analysis of clinical data).
Through hands-on learning with R-statistical language and real world clinical data sets, participants learn to build statistical models and visualize data. The Clinical Data Boot Camp concludes with a panel discussion with local researchers who will share their experiences with clinical EHR data application. Students will be provided with practice data sets and sample syntax for all procedures/analyses/visualizations conducted during the hands-on lab and practical exercises.
Cost: $750
Clinical Data Boot Camp Faculty
Dr. Scott Emory Moore
Scott Emory Moore, PhD, APRN, AGPCNP-BC, is an assistant professor at the Frances Payne Bolton School of Nursing at Case Western Reserve University in Cleveland, Ohio, USA. Dr. Moore earned his PhD in Healthcare Genetics from Clemson University, and has training and experience applying statistical and bioinformatics techniques in integrative omics and clinical data analyses. Dr. Moore has expertise in using large datasets including data management and designing data analyses plans. Dr. Moore's employs a data visualization skill set ranging from common methodologies to more complex network representations and dynamic graphical depictions of data. Dr. Moore merges clinical and omics data to describe biological and psychosocial phenomena of interest in his program of research focused on improving aging-related outcomes among marginalized older adult populations.
Dr. Andrew Reimer
Andrew P. Reimer, PhD, RN, is an assistant professor at the Frances Payne Bolton School of Nursing at Case Western Reserve University in Cleveland, Ohio, USA, and practices as a transport nurse on the Critical Care Transport team at Cleveland Clinic. Dr. Reimer's work includes developing front-end clinical information systems, developing data quality assessment frameworks, exploring the appropriate use of electronic health data in research and conducting clinically based translational science. His NIH funded program of research revolves around using big data analytics on electronic health record data to identify factors that contribute to improved patient outcomes for patients undergoing interhospital transfer.
Dr. Nicholas Schiltz
Nicholas K. Schiltz, PhD, is an assistant professor at the Frances Payne Bolton School of Nursing at Case Western Reserve University in Cleveland, Ohio, USA. His PhD training is in epidemiology and biostatistics. His expertise involves applying modern methods in data science to study patients with complex chronic disease, utilizing large health care databases including medical claims and hospital data. Some of his current research projects include using data mining and machine learning to identify patterns of comorbidity and polypharmacy in the population, and developing a point-of-service clinical tool to predict patients at high risk of developing opioid use disorder.
Dr. Joachim Voss
Joachim Voss, PhD, RN, ACRN, FAAN, is the Sarah Cole Hirsh Professor at Case Western Reserve University, Cleveland, Ohio, USA, where he serves as director for the Sarah Cole Hirsh Institute for Evidence-Based Practice at the Frances Payne Bolton School of Nursing. In addition, he is also an Adjunct Professor in the Global Health Department at the University of Washington, Seattle, Washington, USA, where he trains global health leaders in communication practices. He is a recognized leader in symptom research for fatigue in people living with HIV and cancer. for the last 18 years, Dr. Voss has become a researcher at the intersection of bench-to-bedside investigations, and has published more than 100 scientific articles. He is a fellow in the American Academy of Nursing and is a dedicated mentor to pre- and postdoctoral scholars from a variety of universities in the United States, Thailand, Switzerland, Uganda, Botswana, Kenya, China, Cameroon, and Tanzania.
Dates
Monday, August 5, 2019 - Thursday, August 8, 2019
Location
Health Education Campus/Health Research Campus
Frances Payne Bolton School of Nursing,
Case Western Reserve University
Cleveland, Ohio
Suggested Readings and Other Resources
Pyrczak, F. & Oh, D. M. (2018). Making Sense of Statistics (7th ed.). Routledge Publishing: New York, NY.
 
FPB Stat Camp *Access to FPB's Stat Camp is free for registrants of the Clinical Data Boot Camp, and is intended as a stats refresher before August 2019's Clinical Data Boot Camp. Review of the Stat Camp materials is optional. No course or CE credit will be awarded with the free access.*
Preliminary Clinical Data Boot Camp Schedule
Content Outline
Faculty and support staff will be present to assist during labs and practical exercises.
Bold indicates direct didactic activity
* indicates hands-on training
Italics indicates unstructured time
OBJECTIVES
Upon successful completion of this course, the participant will be able to:
Describe the similarities and differences among Electronic Health Record (EHR) data sources (both entered and captured), formats (e.g. EHR data table), timing, and measures (e.g. duplicates/repeated measures, types, levels).
Discuss the importance of data quality and pre-processing in analyzing EHR data to support decision making.
Discriminate among various methods for analyzing large clinical data sets to meet project goals.
Explain important Considerations taken into account when designing data visualizations.
Interested in Attending?
Sign up for the Clinical Data Boot Camp mailing list by filling out the Google form to the right. Get the latest information and notice of when registration opens.
Thank you for your time and interest!
Hotel Information
Students are responsible for their own expenses associated with transportation and lodging. Case Western Reserve University provides a list of Cleveland-Area Preferred Hotels through its website.
Sign up for more information