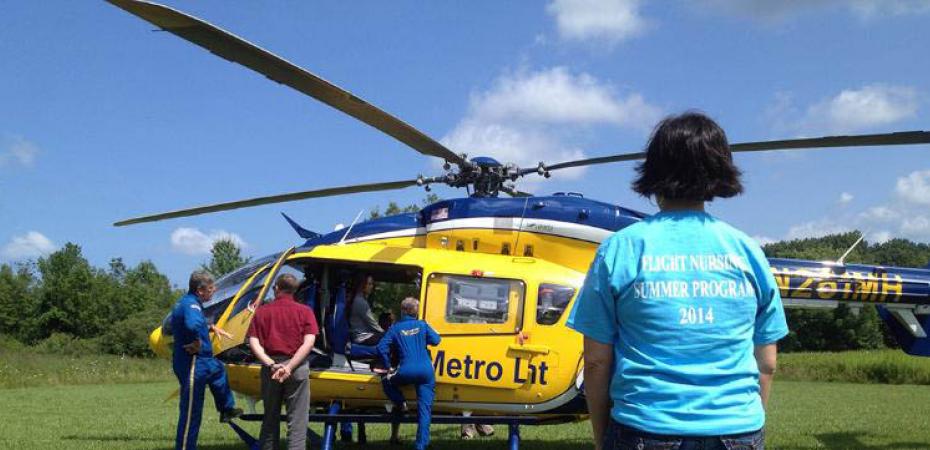 July 12-14, 2019
2019 marks our 17th Annual Conference dedicated to the specialty of Critical Care Transport. This experience is focused on providing a collection of topics for both experienced flight crews as well as those aspiring to join a critical care transport team in the future.
During this conference, we will be partnering with FlightBridgeED to offer our first advanced certification review course. This course is aimed at preparing individuals to sit for the Certified Flight Registered Nurse (CFRN) or the Flight Paramedic-Certified exams. This course will include 4 online "pre" modules prior to attending Flight Camp, as well as a live 2-day course with hands on skill stations. The third day of camp will encompass an advanced procedure lab, simulation scenarios completed in our dynamic helicopter and mobile ICU simulators, and a POCUS ultrasound lab. 
Nursing and EMS Continuing Education will be available. Join us for a great weekend!
Registration Closed
The 2019 Flight Camp is full.
Thank you for your interest in this annual event.
Location
Most Flight Camp events will be held at the Health Education Campus, 9501 Euclid Avenue, Cleveland, OH 44106.
Lodging
Reservations can be made online using the link above, or over the phone at 844-748-2877. Group block: Flight Nursing Camp 
Flight Camp Agenda*
*Current as of May 6, 2019. Details subject to change.
For more information about format, activities, and registration, please contact the Flight Camp Director, Stephanie Steiner, MSN, ACNP-C, CPNP-AC, CFRN, at flight-camp@case.edu.
---
The Dorothy Ebersbach Academic Center for Flight Nursing is supported by the FPB School of Nursing at Case Western Reserve University, as part of the Acute Care Nurse Practitioner Flight Nursing Program.
The annual summer camp:

Enhances & educates the current workforce within the air-medical practice arena & promotes flight nursing
Provides an opportunity for graduate nursing students to get specialized training in caring for critically ill and injured patients in unstructured environments
Serves as a continuing educational format for flight nurses and transport nurses to review and renew air-medical practice skills
Is comprised of didactic lectures and surgical skill stations encompassing human simulation, natural synthetic environments, and education in the fourth dimension, all specific to air-medical practice strategies