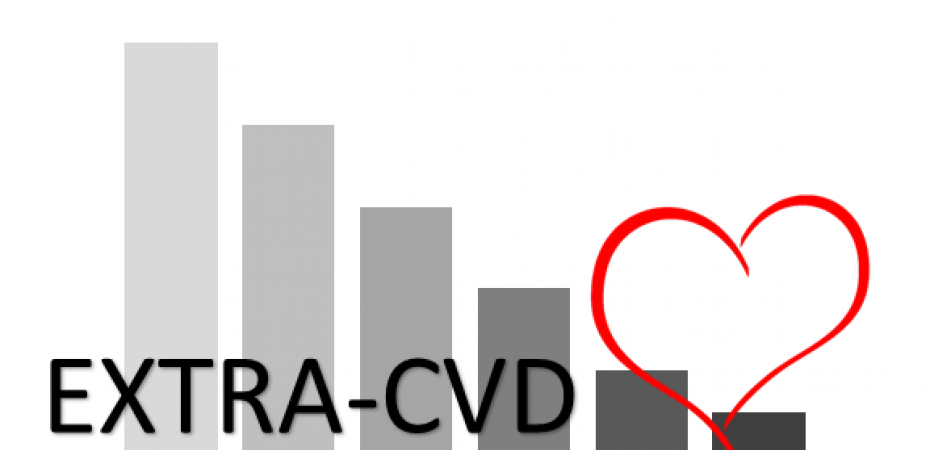 A Nurse-Led Intervention to Extend the HIV Treatment Cascade for cardiovascular disease prevention (EXTRA-CVD)
Years: 2018-2022
Background
People living with HIV (PLWHIV or PLWH) are at high risk for developing cardiovascular disease (CVD). Although HIV-specific factors play a role in CVD, traditional risk factors--including hypertension and hyperlipidemia--account for the vast majority of risk. The EXTRA-CVD Study tests a nurse-led intervention to improve control of hypertension and hyperlipidemia in PLWHIV.
The intervention will consist of four evidenced-based components:
nurse-led care coordination,
nurse-managed medication protocols and adherence support,
home blood pressure monitoring, and
electronic medical records support tools.
This study aims to:
Conduct a baseline assessment of atherosclerotic cardiovascular disease (ASCVD) preventative care and perceptions of ASCVD risk in the HIV specialty clinic environment;
Evaluate the 12-month efficacy of the EXTRA-CVD intervention to improve BP and cholesterol control in PLWHIV; and
Conduct a process evaluation of the EXTRA-CVD intervention.
Research Design
EXTRA-CVD is a mixed-methods clinical effectiveness trial design using an intent to treat approach. For the trial component of the study, 300 participants will be randomized 1:1 to the nurse-led intervention versus an educational control. The primary outcome will be the change in systolic blood pressure and the secondary outcome will be change in non-HDL cholesterol. Participants will complete measures at baseline, 4, 8, and 12 months. A mixed-methods process evaluation will be used to monitor program implementation and better understand the relationship between the intervention components and health outcomes. This study was registered at ClinicalTrials.gov #NCT03643705
Results
The EXTRA-CVD intervention human-centered design process began in Spring 2019 and is currently underway.
Research Publications
Webel, A.R. Schexnayder, J., Rentrope, C.R., Bosworth, H., Hileman, C., Okeke, N.L., & Longencker, C.T. The Influence of Healthcare Financing on Cardiovascular Disease Prevention in People Living with HIV. AIDS2020: Virtual, Oral Abstract. OAE03, July 6-10.
 

Gamble-George, J. C., Longenecker, C. T., Webel, A. R., Au, D. H., Brown, A. F., Bosworth, H., ... & Helfrich, C. D. (2020). ImPlementation REsearCh to DEvelop Interventions for People Living with HIV (the PRECluDE consortium): Combatting chronic disease comorbidities in HIV populations through implementation research. Progress in Cardiovascular Diseases.
 

Aifah, A., Okeke, N. L., Rentrope, C. R., Schexnayder, J., Bloomfield, G. S., Bosworth, H., ... & Webel, A. R. (2020). Use of a human-centered design approach to adapt a nurse-led cardiovascular disease prevention intervention in HIV clinics. Progress in Cardiovascular Diseases.

Okeke N.L., Webel A.R., Bosworth H.B., Aifah A., Bloomfield G.S., Choi E., Gonzales S., Hale S., Hileman C.O., Kidwell V., Muiruri C., Oakes M., Schexnayder J., Smith V., Vedanthan R., Longenecker C.T.  Rationale and Design of A Nurse-led Intervention to Extend the HIV Treatment Cascade for Cardiovascular Disease Prevention Trial (EXTRA-CVD).  (2019) American Heart Journal.;216:91-101

Webel, A.R., Okeke, L., & Longenecker, C.T. Promoting cardiovascular health in people living with HIV: Best across resource settings for patients, community health workers, and health care providers. 22nd Annual International AIDS Conference. July 26, 2018. Amsterdam, Netherlands.
Media
$3 million grant extends HIV intervention to prevent heart disease
Resources
Research Team
Principal Co-Investigators
Allison Webel, PhD, RN, FAAN, Frances Payne Bolton School of Nursing, Case Western Reserve University
Christopher Longenecker, MD, University Hospitals Harrington Heart & Vascular Institute
Hayden Bosworth, PhD, Department of Population Health Sciences, Duke University
Co-Investigators
Carrilynn Hileman, MD, MetroHealth Medical Center
Rajesh Vedanthan, MD, MPH, New York University
Gerald Bloomfield, MD, MPH, Duke University School of Medicine
Lance Okeke, MD, MPH, Duke University School of Medicine
Valerie Smith, DrPH, Duke University School of Medicine
Support
This study is funded by the National Heart, Lung, and Blood Institute (National Institutes of Health), U01HL142099-01.