121's Uptown Cycle
11440 Uptown Ave.
Cleveland, OH 44106
Stay in the know with our email newsletter. Subscribe now.
Our instructors are Cleveland's best!
Each instructor offers their own unique touch to their class. However, they all have one thing in common: they want you to have a great workout! View our schedule, and let's get spinning!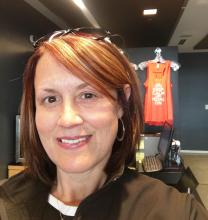 Suzanne Borders
Suzanne fell in love with indoor cycling 5 years ago when she was invited to a fundraiser at a local cycling studio. She then decided to pursue her new passion and become a certified indoor cycling instructor in March 2014. This was a perfect match because Suzanne loves music! Suzanne lives in Cleveland Heights with her husband, 2 wonderful kids and their adorable pug, Brutus. Suzanne promotes positivity and loves to motivate people to move your body so you feel strong inside and out to live a long fulfilling life!
Cycle with Suzanne! View our schedule.
---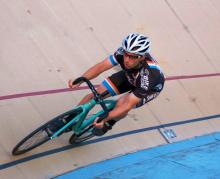 Gary Burkholder
Gary started cycling to lose weight and began racing competitively soon after; getting started in road racing, which was followed by cyclocross that same year.  He has since branched out to track and mountain bike racing, along with a marathon or triathlon thrown in here and there for good measure. Gary has been involved with the Cleveland Velodrome 10 years, and he currently instructs their Track 101 and 201 classes.  He is a Staff Advisor for CWRU Cycling and is on the board of the American Track Racing Association.  When Gary is not working he enjoys travel and photography, although those are often cycling related.
Cycle with Gary! View our schedule.
---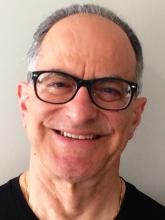 Michael Ciccarello
Michael has been involved with group and individual fitness training and instruction for more than 25 years. He is certified by the American Council on Exercise (ACE) as a Personal Trainer and Group Fitness Instructor including Specialty Certifications in both Functional and Senior Fitness Training. He is also a certified Spinning Instructor (Mad Dogg Athletics), as well as Rowbics (Concept 2 ergometers/indoor rowers) and, Cardio-Boxing. Michael is a strong advocate of functional fitness, focusing on proper form, achieving maximum range of motion (ROM) and the safe performance both cardiovascular and strength exercise routines.
Cycle with Michael! View our schedule.
---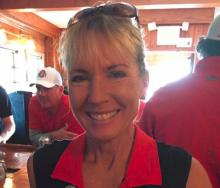 Beth Del Col
Beth has been a spin instructor since getting certified in 2006 by Madd Dogg Athletics. She has taught cycling in a few places including: Bally's in Westlake, Cleveland State Rec Center and NY Sports Club. Her fitness journey began a very long time ago with just getting out to walk and run, that then progressed to step aerobics, boot camp, urban rebounding, kickboxing, and of course, spinning. She loves fitness and calls herself a certified "gym rat."  Her motto is: "While you might be slow, you're beating everyone laying on the couch!"
Cycle with Beth! View our schedule.
---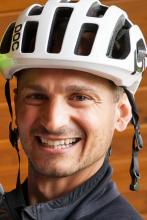 Vincent Graziano
Vincent Graziano, PhD, is a mathematics professor at Case Western Reserve University. His second calling is athletics. He started his career as a runner at the tender age of 10. After a bit more than a decade of running competitively he turned his focus to cycling. He enjoys swinging kettlebells and pulling sleds a touch too much. When not teaching or training, he moonlights as a cycling instructor and also an assistant Track&Field coach. All his other waking hours are devoted to his family.
Cycle with Vincent! View our schedule.
---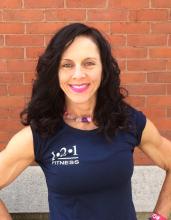 Pamela Houston
Pamela has been a Trainer & Fitness Consultant for over 25 years. She recently moved back to Ohio from California in the fall of 2016 where she was a Master Trainer and Traveling Group Exercise Instructor for a Fortune 500 company in Hollywood, California. She currently teaches at both Uptown Cycle, as a cycling instructor, and at 121 Fitness as a group exercise instructor, and also is a Certified Personal Trainer at 121 Fitness. During Pamela's free time, she enjoys being a single mom to her 17 year old son and caregiver to her parents. She also loves to take walks with her best friend: her dachshund "George Costanca."‌
Cycle with Pamela! View our schedule.
---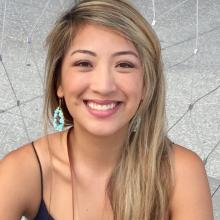 Kim Kanner
Kim's class is high-energy and focuses on riding to the beat of the music.  Be prepared to move up, down, and side to side, all the while matching your pedaling stroke to infectious beats.  She loves incorporating tap backs and other moves to her rides.  She believes a ride should be just as much of a musical experience as it is a workout.  Her playlists include anything from pop, house, rap to 90s/ 2000s throwbacks.  She challenges riders to push past their comfort zones while having fun.  Off the bike, she juggles school and volunteers with the Junior League of Cleveland and Minds Matter. She can also be found in her local favorite spots including Severance Hall and the Cleveland Museum of Art.
Cycle with Kim! View our schedule.
---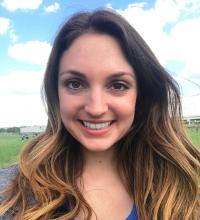 Katie Kravetz
Katie began indoor cycling over 10 years ago as an alternative to running. She quickly fell in love with the fast paced workout, which combined two of her favorite things; music and exercise. While studying at Miami University in Ohio, she completed their group fitness instructor training and became Spinning certified through Mad Dogg Athletics. She has been teaching cycle at 121 Fitness since moving back to Cleveland in 2011. She loves to teach an energetic and challenging class that is driven by awesome music and the energy of every person in the room. In addition to spin, she also completed her Yoga Teacher Training in 2015. Off the bike, she spends her days as a Registered Dietitian working with Cleveland Veterans. She enjoys traveling, music and nearly anything outdoors. You can find her on the weekends running the streets of downtown Cleveland, and hanging out at Indians games!
Cycle with Katie! View our schedule.
---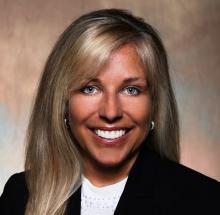 Deneen LaMonica
Deneen is a Cleveland attorney. She is a civil and criminal litigator and works at a small firm in Cleveland. When she is not in the court room, Deneen loves to blow off steam by teaching high intensity group exercise classes. She is a certified instructor in Mad Dog Spinning, Les Mills' Body Pump and Group Exercise classes. She has taught at numerous gyms in the Cleveland area and has been with 121 Fitness since 2010 and Uptown Cycle since it opened. At 1-2- 1 and Uptown, you can find Deneen teaching Spinning, Bootcamp Spin, Insanity, Power Sculpt and Hardcore Abs. She has also led the outdoor bicycle group rides for the gym.
Cycle with Deneen! View our schedule.
---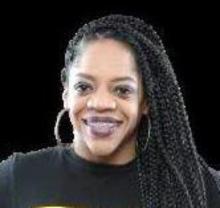 Tangela Scott
Tangela is a certified Group Fitness and Cycling Instructor (AFFA, NASM) and is currently studying to obtain her Personal Trainer certification. As a hip hop cycling instructor, she uses music to drive the ride with hill climbs, heavy resistance and interval training for a high intensity cardio workout. Come to her class dry and expect to leave sparkling with sweat! While Tangela works with all fitness levels, her greatest passions lie in working with those looking to increase their power and endurance abilities. "I believe that the body is a beautifully complex machine and can be programmed to do what you train it to do. Let's Work!"  As a mother of three sons, she enjoys spending time with her family, reading great books, traveling around the world, and great food. 
Cycle with Tangela! View our schedule.
---
Stephanie Teeter
Stephanie Teeter found group fitness and cycling after a series of knee surgeries prevented her from participating in high impact activities like running. In July of 2016, she completed her teacher training at Harness Cycle in Ohio City. In her classes you will find heavy climbs, breathless sprints, weighted upper body movements and great music to create a full body workout. Stephanie lives in Shaker Heights with her husband Alex, sons, Declan and John, and her dog, Rex.  "See you on the bike!"
Cycle with Stephanie! View our schedule.
---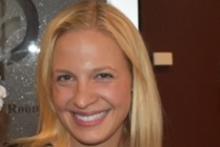 Sue Wittek
Sue has a passion for health and wellness. She enjoys spinning, hiking, running, and anything that gets her outside, good music, and spending time with friends and family. She became a certified instructor in January and joined the Uptown team in March. Her class is upbeat, positive, challenging, and integrates music in movement. Sue works in Corporate Relations at Case Western Reserve University. She received her Bachelor's from John Carroll and Masters from CWRU's MBA program.
Cycle with Sue! View our schedule.