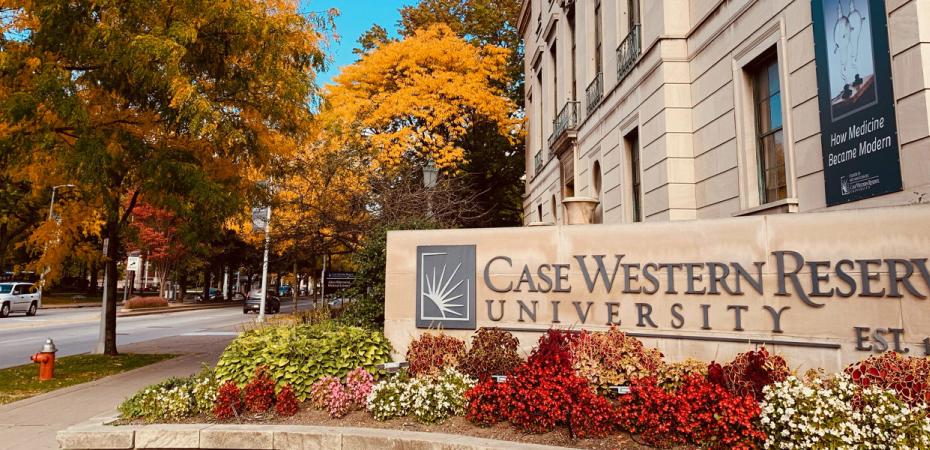 CWRU Facts
Founded in 1826
CWRU ranked #44 out of 443 in the 2022 U.S. News and World Report
Research expenditures exceeding $400 million annually
R1 Research University - Very High Research Activity
~5,600 undergraduates, ~6,300 graduate/professional students, ~3,700 faculty, ~3,000 staff, and ~210 postdocs
Current CWRU Postdoc Population
* as of November 2022
54% males / 46% females
73% International / 27% U.S. Citizens and Permanent Residents
56% Asian, 35% White, 6% Black, 3% Hispanic
---
Note: The CWRU Postdoctoral Association is here to answer questions for anyone looking to do a postdoc at CWRU. Email postdoc@case.edu or any of the individual members. 
---
CWRU Benefits Compared to Peer Institutions
The National Postdoc Association (NPA) publishes their annual report which includes illustrations on postdoc benefits offered across US institutions. See what we offer and how CWRU compares to our peer institutions. 
View the Benefits Comparison Chart
---
CWRU Postdoc Scholar & Fellow Benefits
The Office of Postdoctoral Affairs hires both Postdoctoral Scholars and Postdoctoral Fellows. See the difference between the two categories. Currently there are 200+ postdocs employed at CWRU.
Postdoc Appointment & Pay Structure
 
Postdoc Scholar
Postdoc Fellow
Office Oversight
Office of Postdoctoral Affairs in the School of Graduate Studies
University Employee
Special class employees
No
Domestic or International
Either
CWRU Expense Class
513200
572500
Funding Source
Funded by the PI's grant, CWRU, or an individual fellowship (internal funding)
Funded by an individual federal fellowship obtained by the postdoc (e.g. NRSA F32, T32, or NSF) (external funding)
Mentored Training Relationship
Yes
Subject to Fringe
No
Salary or Stipend
Salary
Stipend
Salary Structure
Based on the annual National Research Service Awards (NRSA) levels
Exempt or Non-Exempt
Non-Exempt (salary)
Non-Exempt (salary)
Pay days per month
One; last working day of the month
Appointment Length
One (1) year
Term Limit
Generally five (5) years of combined postdoc experience
Teaching Permitted
Yes
Taxes
Federal, state, and local taxes. Postdoc Scholars also pay FICA taxes (Medicare and Social Security)
Federal, state, and local taxes. Postdoc Fellows do not pay FICA taxes (Medicare and Social Security)
Visa Issuance
Issued through CWRU Immigration & HR Services
Visa Length
J1 visas are issued for 5 years, H1Bs for 3 years. 
Benefits
 
Scholars
Fellows
Benefits Package
The Postdoc Benefits Program includes medical (Aetna), dental (MetLife), vision (EyeMed), life insurance (The Standard), and the Employee Assistance Program (Impact Solutions)
Life Insurance
$20,000 Basic and $20,000 Accidental Death and Dismemberment
Medical Evacuation and Repatriation of Remains (J visa holders)
Yes
Monthly Benefits Costs Covered by PI
The postdoc's PI is required to pay for the monthly costs of the Single coverage plan on the Postdoc Benefits Program
Sick and Vacation Leave

Sick: 10 days / year

Vacation: 16 days / year (accrued at 1.33 days / month)

Floating Holiday: 1 day / year

* Scholars can be paid out unused vacation leave upon leaving CWRU.

Sick: 10 days / year

Vacation: 16 days / year (accrued at 1.33 days / month)

Floating Holiday: 1 day / year

* Fellows cannot be paid out unused vacation leave upon leaving CWRU.

University Holidays

Eleven (11) University Holidays: New Years Day, Martin Luther King Jr. Day, Memorial Day, Juneteenth, Independence Day, Labor Day, Thanksgiving, Day after Thanksgiving, Christmas Eve, Christmas Day, New Year's Eve. 

The university may also be closed for Winter Recess between Christmas and New Year's.

Paid Parental Leave
8 weeks (40 days) of Paid Parental Leave after the birth, adoption, or foster care of a child.
Gym Facilities
Free access to the Veale Recreation Center and Wyant Athletic & Wellness Center
Childcare Resource
No on-site childcare available. Drop-in childcare, childcare discounts, childcare support during travel, paid parental leave
Retirement
Eligible to contribute to an IRA through Vanguard or TIAA-Cref. Not eligible to participate in a 403b. No matching funds contributed towards retirement.
Eligible for COBRA
Yes, when your postdoc appointment terminates and you leave the university, you may continue (and pay for) your insurance coverage for any of the medical or dental plans in which you and your family members are enrolled by electing COBRA Continuation Coverage. 
Eligible for Unemployment
No
Resources
 
Scholars
Fellows
Orientation
Yes, half day on-site Orientation
Postdoc Association
Yes, see the CWRU PDA website
Free National Postdoc Association (NPA) membership
Yes, see NPA information
Professional Development Center
Yes
Access to the Career Center
Yes
Tuition Discount
Yes, Postgrad Audit Program allows you to pay 10% of the tuition cost to audit a course. 
Annual Reviews
Yes, Annual Reviews are required as part of the annual reappointment process
Safety Training
Yes, provided by Environmental Health & Safety
Social Media
Yes, Facebook and LinkedIn
Professional Development Opportunities
Yes, see the Professional Development site
Social Events with Postdocs
Yes, see the Events page
Participation in Intramural Sports
Yes, anyone with a CWRU ID can participate in intramural sports
Miscellaneous Discounts
Theater tickets, movie tickets, Cleveland Cavaliers, cell phone plan, car rental, airport parking