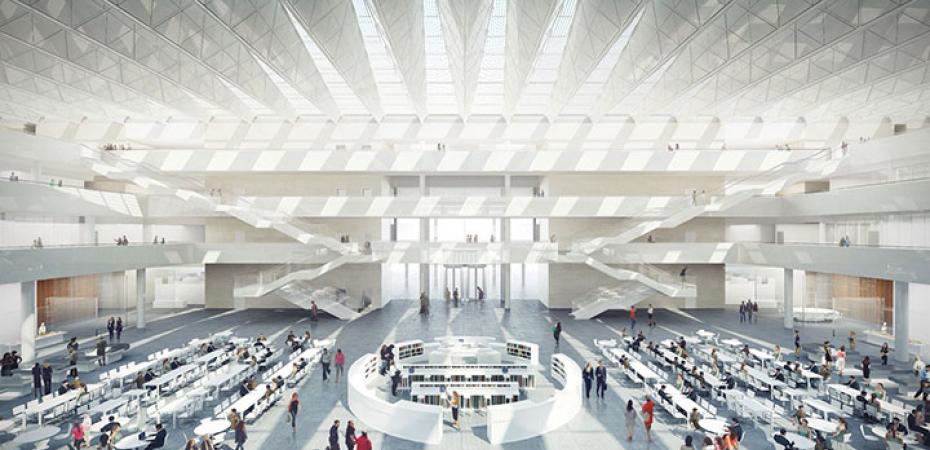 Case Western Reserve University is partnering with Cleveland Clinic on the Health Education Campus (HEC), two buildings that together total more than 600,000 square feet. Starting in the summer of 2019, it will be home to students, faculty and staff from the university's dental medicine, nursing, and medical schools (including the Cleveland Clinic Lerner College of Medicine program).
The opening of the Health Education Campus provides an unprecedented opportunity for a dynamic and dedicated individual to lead the collaboration between Case Western Reserve and Cleveland Clinic to build the future of health care.
The main building of the Health Education Campus, the 485,000-square-foot Sheila and Eric Samson Pavilion (pictured above) is designed expressly to encourage interaction among students, faculty and staff from each of the programs located within it (dental medicine, medicine, nursing and physician assistant), as well as those from the university's social work program, Jack, Joseph and Morton Mandel School of Applied Social Sciences. Located about a mile from the HEC, the Mandel School building recently received a multi-million dollar renovation of its own.
The campus also includes a three story, 126,000-square-foot dental clinic across the street from the HEC. In addition to providing the dental school a much brighter and more easily located clinic for patients in the community, the clinic also has spaces for more advanced dental surgery techniques and classroom instruction.
Case Western Reserve's efforts in interprofessional education include two broad, major programs funded through the support of the Josiah Macy Jr. Foundation, as well as individual collaborations among at least two programs. Candidates can learn more about those offerings at case.edu/ipe and within the candidate specification.