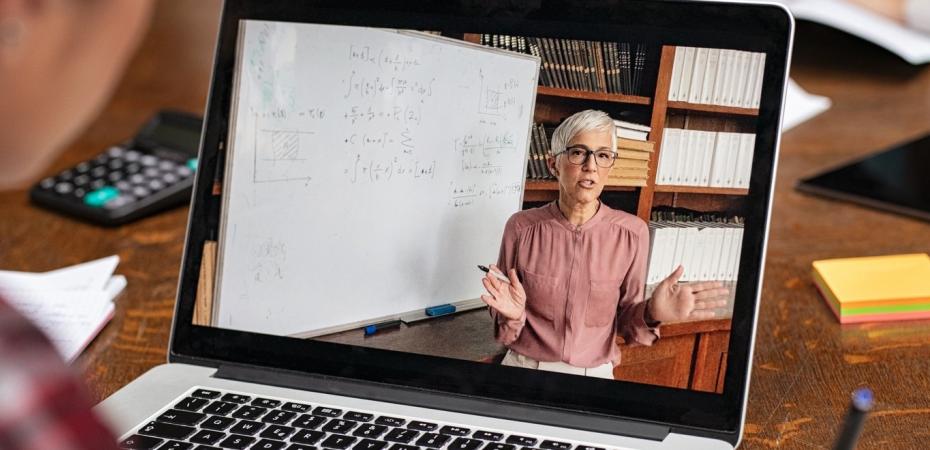 Faculty Guidance for Teaching and Advising, Spring 2021
The information below is designed to answer questions regarding teaching and learning for the Spring 2021 semester. Updates and additional topics will be added, so please check back often.
Course Modalities
Faculty and students have now experienced two partial semesters with non-traditional delivery of instruction. While still in the midst of the pandemic, powerful themes have emerged: Our faculty are leading classes, both virtually and in-person, in creative and thoughtful ways; and we need to do all that we can to support their dedicated efforts.  As a result, for Spring 2021, we offer the following guidance: 
Spring 2021 Guiding Principles
Faculty, working with their chairs and deans, will determine the most appropriate delivery mode for their courses: in-person, blended, asynchronous remote, or synchronous remote. 
For courses planned as in-person or blended, faculty members will determine if it will be possible to accommodate fully remote students. 
In determining the course modality, faculty members should be cognizant of technology requirements (of the students) for participation in remote courses (or remote parts of blended courses). 
Faculty should provide ample details about the in-person components of blended courses (e.g., nature and frequency of in-person meetings, etc.) in SIS (via course notes).
For courses designated as remote, students living on or near campus may be interested in some (optional) in-person activities associated with the course. These may range from mentoring days, to study days with TAs, to special small-group projects with occasional meetings with faculty, etc. Faculty members are encouraged to include such activities, keeping in mind necessary health and safety protocols. 
All relevant facets of the course delivery will be included in the notes section of SIS, which will be highlighted in all communications with students. 
As with all things COVID, we ask that faculty keep flexibility in mind as they prepare their courses and related activities, knowing that the progress of the pandemic may require unforeseen changes. 
Information about course modalities and course-related activities should be submitted in advance of the University Registrar's October 20 deadline.** We expect to have spring course listings become public no later than November 1. 
**Note that the School of Graduate Studies programs as well as the professional and graduate schools have similar deadlines on, or around, October 20.
January Session, 2021
The Spring 2021 semester will include a new "January Session." This remote-only session is part of the Spring Semester and will offer an additional educational opportunity for students in January, one that could help them with their course load upon their return to campus in February. This 15-day session is a test to see if it can become a viable part of our calendar going forward. See details below.
About the January Session
The January session will be part of the Spring 2021 semester in terms of tuition, course registrations and recording courses on transcripts.
The January session will run from Friday, January 8, 2021 through Friday, January 29, 2021, with Monday, January 18, 2021 celebrated as MLK Day with no class meetings.
All courses will be offered remotely.
The drop/add deadline for the January session will be Tuesday, January 12, 2021.  Following the practices for the various summer sessions, undergraduate students will be able to withdraw from a January course until the last day of classes, but not after a final grade has been posted.
Undergraduate students will be allowed to enroll in no more than 4 credit-hours during the January session.
January course enrollments will count toward the usual credit-hour limits for the Spring 2021 semester (19 credit-hours, subject to usual policies and procedures related to course overloads).
Courses taught by faculty during the January session should be considered part of their spring semester teaching commitment.
No undergraduate student should be required to be enrolled during the January session.  This means that no specifically required course that a student would expect to take during the spring semester may be offered during the January session unless it will also be offered during the regular portion of the spring semester beginning on Monday, February 1, 2021.
Reminder: Definitions of a Credit-Hour
Program Integrity Rules issued by the U.S. Department of Education require institutions to establish a definition of "credit-hour."  CWRU's definition was approved by the Faculty Senate on April 25, 2012 and applies to all degree programs (undergraduate through graduate/professional):
The assignment of credit-hours to a course occurs through a formal review process conducted at the appropriate levels of faculty governance.
For courses in lecture format, one credit-hour represents the subject content that can be delivered in one academic hour of contact time each week for the full duration of one academic semester, typically fourteen weeks along with a final examination period. For undergraduate courses, one credit-hour also includes associated work that can be completed by a typical student in 2-3 hours of effort outside the classroom. For graduate and professional courses taught in lecture format, 3-4 hours of outside work is expected for each academic hour of contact time.
For courses taught in other than lecture format (e.g., seminars, laboratories, independent study, clinical work, research, etc.), one credit-hour represents an amount of content and/or student effort that in aggregate is no less than that described in (2) above.
 
Faculty Guidance for Teaching and Advising, Fall 2020
The information below is designed to answer questions regarding teaching and learning for the Fall 2020 semester.