Event Date:
March 11th 4:00 PM - 5:00 PM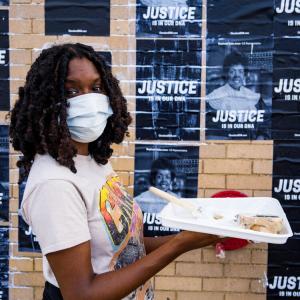 Shooting Without Bullets incubates young artist activists and eliminates systemic barriers in art and society for Black and Brown youth, all while spreading bold messages of justice and equity across Northeast Ohio and beyond. In Our DNA, their new public art initiative, uplifts Cleveland's Black history to catalyze present and future racial equity, social justice, and civic engagement efforts across Cleveland communities.  It values the trailblazing contributions of historic Black Clevelanders — their leadership, intellect, ethics, creativity, determination, and resistance — and envisions Cleveland as a model city for social transformation with Black and Brown residents leading the way.
Join creative and art director Amanda D. King and discuss how artists, activists and community organizers have collaborated in Cleveland's Black history, the concept and implementation of In Our DNA, and how this campaign compares to similar artistic activism of the past and present.  In addition, King will discuss how the initiative and Shooting Without Bullets educate young people and involve them in political discourse.  Powerful visuals and a focus on resistance, civics and faith will be woven throughout the virtual presentation. 
Free and open to the community.  Co-sponsored by the Schubert Center for Child Studies, Department of Art and Art History, Department of Political Science and the Provost Scholars, with additional support from the 2021 Dr. Martin Luther King Jr. Celebration Committee
An art installation will be on display in various sites around the CWRU campus in March to spark conversation, instigate action and exploration of the website, and to instill pride in members of Black Cleveland.