---
Remembering civil rights champion, longtime Congressman and CWRU professor Louis Stokes
---
Louis Stokes, Ohio's first African-American congressman and an alumnus and faculty member of Case Western Reserve, died Tuesday with his wife, Jay, by his side. He was 90, and had been diagnosed with lung and brain cancer this summer.
"Case Western Reserve, Cleveland and our entire country have lost an extraordinary man," President Barbara R. Snyder said. "Our sympathies go out to his family, friends, and everyone else who had the privilege of spending time with a leader whose life and legacy exemplify the very best of public service."
During three decades in the House of Representatives, Stokes advocated tirelessly for equal rights, programs for people in need and Northeast Ohio initiatives ranging from NASA Glenn to the Louis Stokes VA Medical Center. His efforts directly impacted Case Western Reserve's campus as well.
In medicine, for example, Stokes helped secure funding for the Biomedical Research Building, the medical school's Minority Affairs Office and local elements of the Healthy People 2000 initiative. More recently, he helped preserve funding for the National Prion Disease Pathology Surveillance Center and assisted the university's effort to secure an $11.3 million federal for research on gastrointestinal cancers—some of which have proved most lethal to African-American males.
"Congressman Stokes understood the integral connection between health education and research and the well-being of our communities," said Pamela B. Davis, MD, PhD, dean of the School of Medicine and senior vice president for medical affairs. "His work in the House of Representatives helped transform medicine within Cleveland, and across the nation."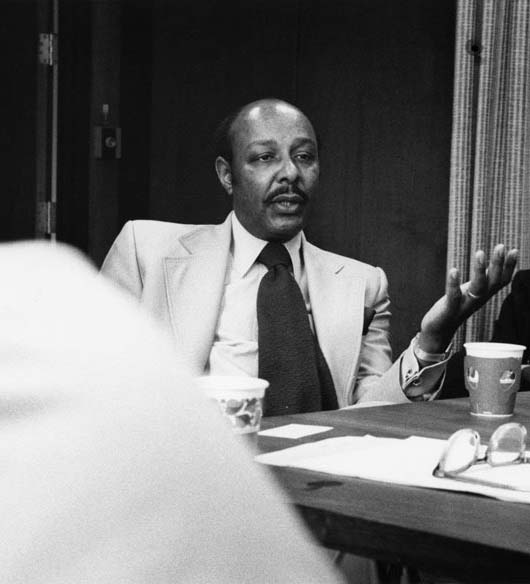 His contributions to health care and education led to the renaming of Case Western Reserve's Biomedical Research Building and associated programs as the Louis Stokes Health Sciences Center; in May, 2012, the university formally dedicated the space.
"At the university," President Snyder said during the ceremony, "Congressman Stokes has championed many of the same issues that have always been close to his heart: civic engagement, health care, and community development."
During his time in Congress, Stokes was the founder and chairman of the Congressional Black Caucus Health Braintrust and a member of the Pepper Commission on Comprehensive Health Care, whose 1990 report sounded many of the alarms that helped lead to the adoption of the Affordable Care Act in 2010. He sponsored the Disadvantaged Minority Health Improvement Act of 1989, and also sponsored programs for minority professionals in health, science and engineering at the National Institutes of Health (NIH) and National Science Foundation (NSF). In 2001, the NIH dedicated new six-story research building, the Louis Stokes Laboratories, in his honor—the first time an African-American received such recognition.
"Today we are doing something that he has done so often in his illustrious career and in his life," "Acting NIH Director Ruth L. Kirschstein, MD, said at the time. "We are opening a new door—a door to state-of-the-art facilities, but more importantly, a door to myriad new opportunities and possibilities."
Stokes and his brother Carl grew up in poverty on the East Side of Cleveland, where his mother cleaned homes after his father died. His mother regularly emphasized the importance of education to her sons, and both went on to earn undergraduate and law degrees. Lou first served in the U.S. Army for three years during World War II, then worked for the U.S Department of the Treasury during the day while attending Western Reserve University's Cleveland College at night. He earned his JD from the Cleveland-Marsall College of Law in 1953.
In 1967, Carl won election as Cleveland's mayor, drawing national attention as the first African-American to lead a major U.S. city. Just over a month later, Lou argued a landmark case Terry v. Ohio before the U.S. Supreme Court. Decided that June, the "stop and frisk" case established the principle that a law enforcement officer may search an individual without consent only if the officer has a reasonable suspicion, based on facts, that the person is armed and/or about to commit a crime.
As much as the elder Stokes loved practicing law, he acceded to Carl's urgings to run for Congress. After winning his seat in 1968, he went on to 14 more successful elections before retiring in 1998.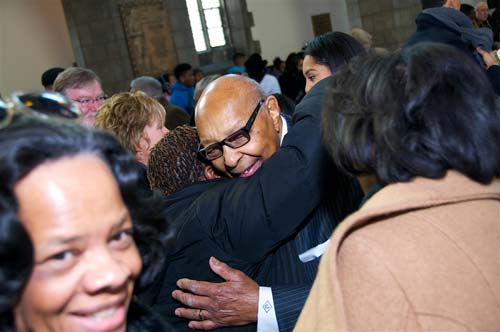 During his tenure in Congress, he chaired several important committees, including the House Select Committee on Assassinations, the Ethics Committee, the House Intelligence Committee, the Appropriations Subcommittee on Veterans Affairs, HUD and independent agencies. He was the dean of the Ohio Congressional Delegation, a founding member of the Congressional Black Caucus and a member of the House Select Committee to Investigate Covert Arms Transactions with Iran.
Stokes advocated tirelessly for civil rights, equality, and social and economic justice: He sponsored legislation to help people of color enter the intelligence community, for example, and also fought for adequate housing for the poor.
After retiring from Congress in 1998 at the age of 73, Stokes came home to Cleveland and became senior counsel at Squire, Sanders, and Dempsey LLP, a global law firm. He also took on the role of distinguished visiting professor at the Jack, Joseph and Morton Mandel School of Applied Social Sciences. 
Upon his appointment, Stokes said: "It is an honor to return in this capacity to the institution where I acquired my own education. … This appointment enables me to share the knowledge and expertise I have acquired over 30 years in public service with students and the community I love."
During his time on campus, the congressman sponsored the Louis Stokes Leadership Symposium on Social Issues and the Community, which has featured such speakers as U.S. Rep. Maxine Waters, U.S. Rep. Charles B. Rangel from New York, and U.S. Rep. Marcia Fudge, who now holds the seat Stokes filled for 30 years.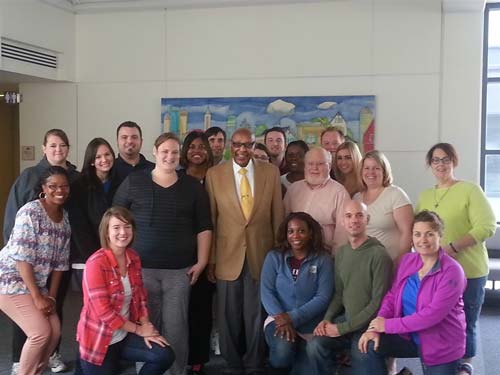 At the Mandel School, meanwhile, he designed the Louis Stokes Fellowship Program, which focuses on the education of African-American and Hispanic professionals in community development to transform urban areas and neighborhoods. Since the initial cohort in 2001, more than 20 Stokes Fellows have graduated from the Mandel School. 
Stokes was an active member of the faculty, lecturing in classes as recently as the spring semester, attending school meetings and even celebrating his 90thbirthday at the school Feb. 23.
"He truly has made a difference in our nation, our region, and in the lives of the students, faculty and staff of the Mandel School," said Dean Grover "Cleve" Gilmore. "Each semester I read the wonderful teaching evaluations that he received. … They were inspired and supported by his example and his advice. … He was a great man and leaves an indelible mark on our lives."
In 2007, Case Western Reserve partnered with the Congressional Black Caucus foundation to create a scholarship in the congressman's name for economically and/or educationally disadvantaged students with the potential to succeed in a highly competitive academic environment. Scholarship recipient Anton Spencer, scheduled to earn both bachelors and master's degrees in engineering this spring, spoke about the program during a break from leading first-year orientation activities Wednesday.
"He (Congressman Stokes) was a prominent leader and set an great example through his integrity and honesty," Spencer said. "I've incorporated his examples into own life and by the way I lead. Without the scholarship, I wouldn't have been exposed to the academic opportunities, experiences and friends I've made at Case Western Reserve University."
Stokes is survived by his wife of 55 years, Jay, four adult children and seven grandchildren.