Event Date:
May 25th 9:00 AM - 10:00 AM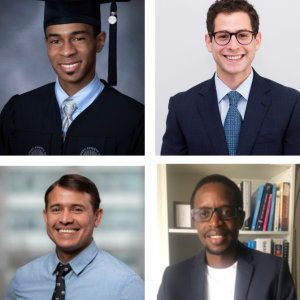 Presenters: Samuel Boas, Carlos Lewis-Miller, Roberto Martinez, and David Ngendahimana
Topic: Join current and past Environmental Health Research trainees of the Swetland Center as they discuss their journeys through their training experiences, current and future career goals, and how they harness their passion for the field of environmental health.
Samuel Boas is the 2020-2021 Daniel Lewis Ravin Scholar at the Swetland Center for Environmental Health. Sam received his Bachelor's in Biological Sciences from Tufts University and is currently in his fourth year at CWRU School of Medicine. Sam believes deeply in improving health outcomes through interrogating the intersections of health, race, work and the environment. While studying at Tufts he became interested in labor advocacy through his work with the local student organizing group. He continued exploring work-related issues before medical school while working in a chronic pain clinic in Brooklyn, New York. In his role as the Daniel Lewis Ravin Scholar, his research has used large scale databases to model disruption of medical supply chains during natural disasters.  He is curious about how we can mitigate the effects of these disasters and improve health outcomes with patients with chronic conditions.
Carlos Lewis-Miller is currently a Disease Investigator for the Allegheny County Health Department. Before serving in this role, he worked with the Swetland Center as an intern, followed by a research assistant. Carlos has experience conducting qualitative research and using NVivo and ArcGIS for data manipulation, analysis, and visualization. His research interests are in health literacy, language and power, im/migrant health, and multi-site ethnographic studies. 
Roberto Martinez, MD, MPH is currently a candidate for a PhD in Epidemiology and Biostatistics in the Department of Population and Quantitative Health Sciences at CWRU in Cleveland, OH. He was born in Managua, Nicaragua, where he attended medical school at the Universidad Nacional Autónoma de Nicaragua (UNAN- Managua). As a Medical Doctor in Nicaragua, he served as the Medical Director for AMOS Health & Hope, a nation-wide non-profit organization that trains local leaders to provide Primary Healthcare services in rural Nicaragua.  After working with AMOS for several years, Roberto earned an MPH through the combined CNYMPH program at Syracuse University and SUNY Upstate Medical University in Syracuse, NY. In his current work at CWRU, Roberto remains involved in health promotion through the FreshLink Ambassador Technical Assistance program at the Swetland Center. His dissertation work explores the implementation of the statewide nutrition incentive program at farmers' markets in Ohio. Additionally, he currently serves as the Chair of the Board of Directors of AMOS Health & Hope Inc (U.S 501c3 organization) where he is overseeing the organization's transition from a founder-led organization to a non-founder led organization, the development of a strategic plan and fundraising strategies. 
David Ngendahimana, PhD is a data scientist/statistician with the VA Office of Mental Health & Suicide Prevention National Center for PTSD. He is currently working on two national quality improvement cluster randomized trials at the VA investigating impact of systems thinking and participatory modeling skills among VA frontline healthcare providers on delivery of evidence-based psychotherapy and pharmacotherapies among veterans with PTSD, alcohol and opioid use disorders. Prior to joining the VA, David was a post-doctoral scholar at the Swetland Center, where his research interests were in food systems and health equity. David is also a proud alumnus of CWRU, where he obtained a PhD in Epidemiology and Biostatistics.