Event Date:
July 28th 10:30 AM - 12:00 PM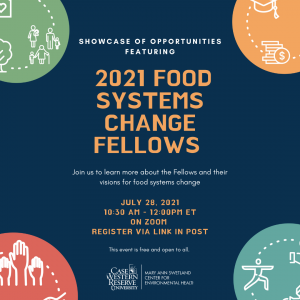 Presenters: Lena Boswell, Marilyn Burns, Kellee Etheridge, Antunesia Harris, Michelle B. Jackson
Moderator: Dr. Darcy Freedman, Director of Swetland Center for Environmental Health
Reviewers: Adrienne Mundorf, Sisters of Charity Foundation; Colleen Walsh, Cleveland-Cuyahoga County Food Policy Coalition; Da'Juan Bringht, Bringht Line; Eric Fiala, KeyBank 
Event Summary: The Showcase of Opportunities features the 2021 Cohort of Food Systems Change Fellows and their ideas for community-driven food systems change. During the Showcase, the Fellows will pitch their ideas for community-driven food systems change and Reviewers will allocate funding for these impact-oriented visions. Following the Showcase, attendees will have the opportunity to join for small group sponsor meetings with the Fellows to learn more about how they can support through time, talent, treasure, or teamwork.
If you were unable to attend this event live, we invite you to view the recording on our YouTube channel.
About the 2021 Food Systems Change Fellows
Launched in early 2021, the Food Systems Change Fellowship serves as a "test kitchen" for incubating ideas related to potential leverage points identified in the Menu of Actions. The Fellowship provides support for local leaders to develop and validate their ideas while growing partnerships essential for bringing an idea to life.
Lena Boswell comes to the cohort with deep-rooted connections, both local and national, to gain and maintain Black food sovereignty. Ms. Boswell seeks to strengthen resources to increase Black and indigenous communities' access to land so they can nurture and grow new food systems.
Marilyn Burns is motivated by the possibilities for better linkage/s of healthy eating and active living activities with the interests of residents in public housing. Ms. Burns has been a community leader and advocate for 17 years.  Her main focus has always been to serve her community, residents, and neighbors while promoting a spiritual and healthy outlook, uplifting community engagement whenever possible. 
Kellee Etheridge has a well-rounded view of issues surrounding healthy food access for families receiving food assistance.  Ms. Etheridge's desire is to team up with local chefs and teach families healthy eating, shopping, and preservation of food.
Antunesia Harris is an active community leader and volunteer in Cleveland's Ward 7. Ms. Harris comes to the cohort with a desire to embark on social entrepreneurship to advance solutions for improving nutritional outcomes in urban communities.
Michelle B. Jackson lives at the intersection of politics and the culinary arts. Drawing on her strong ties to activist communities, plus her decade as a restaurant chef, Ms. Jackson will focus her fellowship efforts in the Buckeye-Shaker neighborhood on advancing food sovereignty through community gardening and food entrepreneurship.
The Food Systems Change Fellowship is a project of the Modeling the Future of Food in Your Neighborhood Study at the Mary Ann Swetland Center for Environmental Health. The project is supported by grants from the Foundation for Food & Agriculture Research, Michael & Susan Dell Foundation, National Dairy Council, Nationwide Children's Hospital, Sisters of Charity Foundation of Cleveland, Saint Luke's Foundation, and Stephen J. McHale Family Foundation.
Event Co-Sponsors
Case Western Reserve University Department of Nutrition
Central Kitchen
Cleveland-Cuyahoga County Food Policy Coalition
Cleveland Fresh
Cleveland Museum of Natural History
From the Heart LLC
Greater Cleveland Food Bank
John Carroll University Donnelly School of Leadership and Social Innovation
Little Africa Food Cooperative
Pisanick Partners
Plant the Seed
Sears think[box], Case Western Reserve University
The Ohio State University Extension, Cuyahoga County
Veale Institute for Entrepreneurship
Weatherhead School of Management