Event Date:
September 28th 9:00 AM - 10:00 AM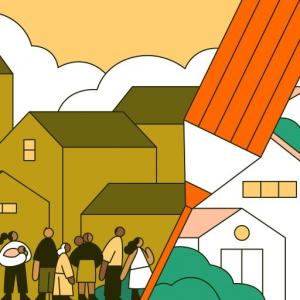 Presenters: Eun Kyung Lee, PhD, MPH, Post-Doctoral Scholar; Gwendolyn Donley, MS, PhD Candidate; India Gill, MPH, PhD Candidate
Topic: Recent research is elucidating the relationships between redlining, a zoning practice that racialized home loans in the 1930s and 40s, and modern-day health inequities. This research produced the first systematic review and meta-analysis comparing health outcomes in redlined versus non-redlined neighborhoods in U.S. cities, including articles published from 2010 to 2020. The search revealed 10 studies: preterm births (n=4), gunshot-related injuries (n=2), cancer (n=1), asthma (n=1), self-rated health (n=1) and multiple health outcomes (n=1). A meta-analysis of 4 studies found the odds of preterm birth were higher in redlined neighborhoods (OR: 1.12, 95%CI: 1.00, 1.25; P=0.06), though the association was not statistically significant. Review of other outcomes revealed that gunshot-related injuries and asthma outcomes were worse in redlined areas, while associations with cancer varied by cancer type. The study assessing multiple chronic conditions found positive associations with residential redlining. Overall, it was observed that living in historically redlined areas was associated with increased risk of multiple serious adverse health outcomes. Further research on mechanisms, remediation, and neighborhood-level interventions are needed to strengthen the understanding of the impacts of redlining on health.
Eun Kyung Lee, PhD, MPH is a Postdoctoral Scholar at the Swetland Center for Environmental Health. She obtained her PhD in Environmental Health Sciences from the University at Albany, State University of New York. Her dissertation work encompassed in assessing the environmental impacts associated with crop production in the U.S. Midwest as well as examining respiratory effects associated with living in close proximity to biorefinery facilities in New York State. Prior to her doctoral program, she obtained a Master's in Public Health at Tufts University. Her thesis focused on examining potential environmental risk factors associated with food insecurity and chronic malnutrition in rural areas of Guatemala. At the Swetland Center, she has been involved in several projects including the foodNEST 2.0 Study, Farmers' Market (FM) Tracks, and other projects aiming to better understand community-level environmental health disparities. Through her training, Eun Kyung developed strong interests in understanding how historical policies have shaped inequities in the built environment, environmental exposures and health in the U.S. and finding ways to translate research findings into interventions or policies.   
Check out one of Dr. Lee's recent publications here to learn more about her dissertation work!
Gwendolyn Donley, MS is a Pre-Doctoral Fellow on the foodNEST 2.0 Study at the Mary Ann Swetland Center for Environmental Health. At the Swetland Center, she is involved with qualitative and quantitative food systems research through the foodNEST 2.0 Study. She is also a PhD candidate in Epidemiology and Biostatistics within CWRU's Department of Population and Quantitative Health Sciences (PQHS). Her dissertation work focuses on housing instability and food environments in historically redlined neighborhoods and the experiences of Black pregnant women with vaccines and healthcare during the COVID-19 pandemic. Gwen received her M.S. in Public Health and Epidemiology from the University of Eastern Finland in Kuopio, Finland; B.S. in Anthropological Sciences and Psychology from The Ohio State University; and B.A. in Italian from The Ohio State University. 
India Gill, MPH is a Pre-Doctoral Scholar at the Mary Ann Swetland Center for Environmental Health where she supports the Modeling the Future of Food in Your Neighborhood (foodNEST 2.0) study and the Community Engagement and Racial Equity Assessment efforts. She is an Epidemiology and Biostatistics PhD candidate in the Department of Population and Quantitative Health Sciences at Case Western Reserve University (CWRU) School of Medicine. Her dissertation research is a geospatial study that explores how the history of structural racism and redlining influences differential neighborhood level risk factors for child asthma exacerbations. She earned a Bachelor of Arts from Wellesley College with a double major in Sociology and Africana Studies. India received her Master of Public Health from Columbia University with a concentration in Sociomedical Sciences and specialized in Urbanism and the Built Environment.