Event Date:
December 1st 9:00 AM - 11:00 AM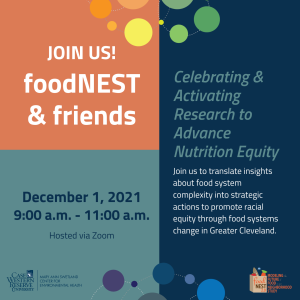 Join the foodNEST team of community and academic partners to learn about our collective research and celebrate successes related to transforming our local food system to advance racial equity.  
Choose from an engaging menu to dive deeper into the complex forces structuring local food systems.  
Roll up your sleeves to translate these insights into community action. 
Honor our collective commitment to building trusting partnerships to advance nutrition equity. 
Event Agenda 
9:00  - 9:10 a.m.      Welcome & Grounding Exercise  
9:10  - 9:20 a.m.      Story of foodNEST & Nutrition Equity 
9:20  - 10:00 a.m.    Seeding Food System Solutions Workshops
10:00 - 10:35 a.m.   Share Out & Making Commitments 
10:35 - 10:45 a.m.   Announce Raffle Winners
10:45 - 11:00 a.m.   Gratitude & Closing 
Choose from a menu of Seeding Food Systems Solutions Workshops
Build Social Connectivity and Policy Engagement 
Promote Fair Access to Affordable Fresh and Healthy Food 
Expand Nourishing Options in Neighborhoods 
Grow Economic and Community Development 
Support Neighborhood Thriving 
Develop Transformational Visions for Change 
 
foodNEST & friends will be hosted via Zoom. Registration is required to attend. This event is free and open to all.