Event Date:
November 15th 4:00 PM - 6:00 PM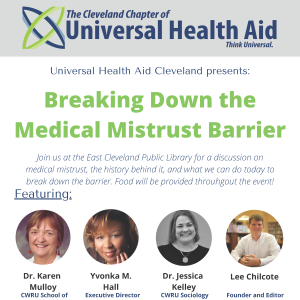 Swetland Center Faculty Dr. Karen Mulloy will be featured in a roundtable conversation at the East Cleveland Public Library for a discussion on medical mistrust, the history behind it, and what we can do today to break down the barrier.
Hosted by Universal Health Aid of Cleveland, the goal of the event will help break down the prominent distrust of medical professionals, specifically in African American communities, as this mistrust is well-rooted deep in institutionalized racism and experimentation. This event will promote conversations and discussions between qualified guest speakers of various professional backgrounds and members of the greater Cleveland community.
Food will be provided throughout the event!