Event Date:
April 22nd 11:00 AM - 12:00 PM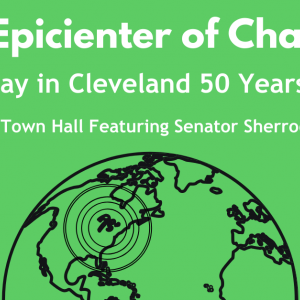 Join with others from the Cleveland area in marking the 50th anniversary of Earth Day with this digital town hall gathering. Senator Sherrod Brown and others will address the multiple, intertwined crises faced today with the pandemic, societal inequities, and climate change. Cleveland was an epicenter of change 50 years ago when the response to the Cuyahoga River catching fire played a central role in igniting a nationwide movement that led to the first Earth Day, the creation of the Environmental Protection Agency, and the passing of the Clean Water Act. Once again Cleveland is becoming an epicenter of change. Be part of the movement and join us for this hour long program.
Program Speakers:
Sherrod Brown, U.S. Senator for Ohio
Michelle Mahon, RN, National Nurses United
Yvonka Hall, Northeast Ohio Black Health Coalition
Darcy Freedman, Mary Ann Swetland Center for Environmental Health at Case Western Reserve University

Moderator: Rev. Dr. Brooks Berndt, United Church of Christ

Call to Action: Chad Stephens, Sierra Club
A video recording of the event can now be accessed on YouTube.