Event Date:
May 29th 10:00 AM - 11:00 AM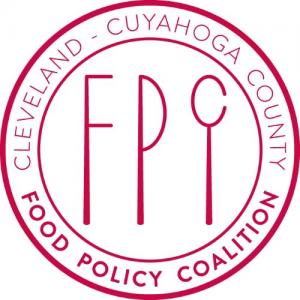 Nearly 100 attendees joined a lively conversation among local heroes working on the frontlines of our food system. 
Speakers included:
Frances Mills, CCC-FPC Steering Committee & Director, Cleveland Office of Minority Health, Cleveland Department of Public Health
Councilman Blaine Griffin, Cleveland City Council, Ward 6
Brandon Chrostowski, Founder, President, and CEO EDWINS Leadership & Restaurant Institute
Kristin Warzocha, President and CEO, Greater Cleveland Food Bank
Marilyn Burns, CCC-FPC Steering Committee & Community Leader and Advocate
Daniel Ortiz, CCC-FPC Steering Committee & Outreach Director, Policy Matters Ohio
Kimberly Lovano, CCC-FPC Steering Committee & Director of Advocacy and Public Education, Greater Cleveland Food Bank
What can you do now?
Ask your senators to support a 15% increase to SNAP in the next COVID-19 response bill. SNAP is the largest anti-hunger program. For everyone 1 meal provided by food banks, SNAP provides 9 meals. A template for this request is HERE.
Engage the community to ensure your COVID-19 response teams look like your plate. They should be colorful, diverse, and healthy. Continue to ask: Who is at the table and who needs to be invited? Who will this help and who will be left out? What are the unintentional consequences of this response?
Continue to eat healthy and buy local. Shop at neighborhood grocers, farmers' markets, and restaurants. Your food dollars create and maintain jobs and boost the local economy.
Get accurate information to stay safe in the era of COVID-19. You can still support local food businesses through takeout options, drive up, outdoor eating, and by socially distancing and wearing masks in indoor spaces.
Families with children who qualify for free or reduced meals, check out Pandemic EBT. P-EBT provides additional money to families with children to buy food due to COVID-19 related school closures. Learn more HERE.
A recording of the event is available on Facebook.
Conducted in partnership with the Cleveland-Cuyahoga County Food Policy Coalition