launch
STUDENT INVENTION FUELS INTEREST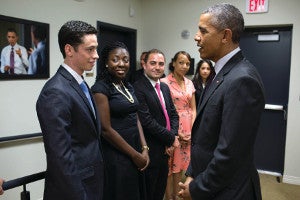 photo: Official White House Photo by Pete Souza
Under the hot lights of a White House stage and the glare of brusque tycoons from ABC's Shark Tank, Felipe Gómez del Campo had 60 seconds to pitch his invention, a jet engine nozzle that reduces fuel use and emissions.
Seeing potential, the "Sharks" (as the investors are known) challenged him to consider dropping out of school to avoid paying tuition while developing the technology.
"Actually, I'm on a full scholarship," he said, as the room broke into laughter.
Backstage, when the Case Western Reserve student hung out with the Sharks (who took selfies with him and told him to stay in school), he described how campus resources—innovation labs, aerospace experts and entrepreneurial guidance—are helping to bring his invention to life.
Minutes later, a familiar voice asked, "Any deals yet?"
President Barack Obama had arrived to meet Gómez del Campo and four other entrepreneurs invited to the White House for an event highlighting the importance of investing in women and young entrepreneurs.
Gómez del Campo told the president about his startup—FGC Plasma Solutions—created to develop and eventually commercialize his nozzle, which began as a high school science project.
"The president said the American dream is alive and well in entrepreneurs like me," said Gómez del Campo, who was born in Mexico City and grew up near Miami. "He was funny and encouraging."
The university senior's plan is to affix about 20 of his nozzles inside a jet engine. Together, the nozzles ionize a mixture of incoming air and fuel, creating plasma that is sprayed into the jet engine—like water from a showerhead. The plasma breaks down the fuel and air molecules and allows the engine to burn fuel more efficiently.
"Imagine a fuel molecule as a stack of Legos," said Gómez del Campo, a mechanical and aerospace engineering major. "My device disassembles the molecule into smaller parts—think individual Legos—that can be combusted more easily, using less fuel."
While his product is still in the early stages of development, Gómez del Campo said lab tests show the nozzles could increase engine efficiency by up to 10 percent and cut emissions by 25 percent. He chose Case Western Reserve because of its strength in engineering, as well as the A.W. Smith Innovation Scholarship, a full-tuition award given each year to two promising incoming students planning to major in engineering, the physical sciences or math. The university's think[box] innovation lab and its swimming and diving team also were draws.
The fifth-generation engineer became interested in aeronautics as a 6-year-old watching rockets rise from NASA's John F. Kennedy Space Center. This fall, he is testing his invention at Cleveland's NASA John H. Glenn Research Center, funding his research with more than $130,000 in design- and business-competition winnings from federal and corporate sources.
He's also tapped into the entrepreneurial ecosystem on campus, fabricating prototypes at think[box]; working with LaunchPad, an on-campus business incubator; and relying on the intellectual property expertise at the School of Law's IP Venture Clinic for help filing for a patent.
When not trying to improve travel through the air, he is gliding through water. Gómez del Campo competes on the men's varsity swimming and diving team. He also co-founded the university's chapter of the Society of Hispanic Professional Engineers.
"I get energized staying busy. The only time you don't give 100 percent," he joked, "is when donating blood."