launch
THINK[BOX] MOVES AND EXPANDS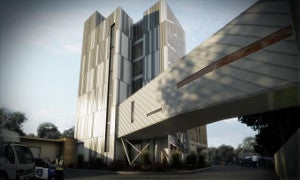 studioTECHNE | architects
Three years ago, Case Western Reserve launched a pilot version of think[box]—a center for creation and innovation free to anyone on campus or in the community. Ever since, thousands of visitors have made art, gadgets and products for the developing world and commercialization. Recently, think[box] moved to a vastly larger space in the Richey Mixon Building. Already a leader in the national maker movement and an element of Northeast Ohio's entrepreneurial ecosystem, think[box] will be one of the world's largest university-based innovation hubs when its seven floors are complete. Moving floor by floor, inventors literally will be able to advance their inventions from concepts to incorporated companies.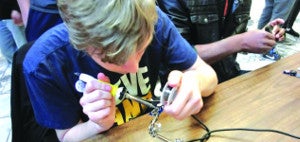 ANDREW RATCLIFF
1st FLOOR
COMMUNITY
Nottingham Spirk Floor
An inviting space for community programming, and a brainstorming haven for people on campus and across the community to gather and create ideas to take upstairs. Being developed with Cleveland-based design firm Nottingham Spirk.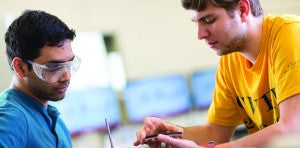 RUSSELL LEE
2nd FLOOR
COLLABORATION
Wyant Collaboration Floor
Open spaces encourage chance encounters that can lead to joint efforts. Inventors can hash out ideas with glue, scissors and whiteboards. A roomy, central staircase exemplifies the fluidity of creation during a product's early stages.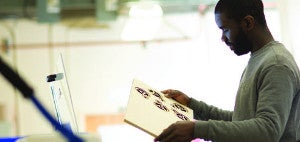 RUSSELL LEE
3rd FLOOR
PROTOTYPING
Prentke Romich Floor
Ideas transform into actual mock-ups with the aid of digital design equipment, industrial-grade 3-D printers and scanners, laser cutters, sewing machines, and a studio for creating electronics.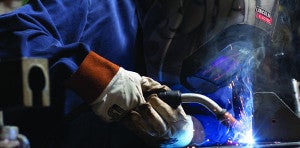 RUSSELL LEE
4th FLOOR
FABRICATION
The Lubrizol Foundation and Kent H. Smith & Kelvin Smith Fabrication Floor
A fully equipped machine shop where users have access to metal, wood and welding equipment that help turn prototypes into inventions ranging from sculptures to consumer products.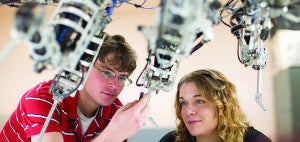 RUSSELL LEE
5th FLOOR
PROJECTS
There are no walls—just heavy-duty tape designating work areas within 7,000 square feet of floor space where creators can build, revise, prepare for inventor competitions—and bump into each other. Supported by the Eric and Jane Nord Family Fund.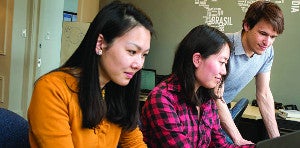 BOB PERKOSKI
6th FLOOR
ENTREPRENEURSHIP
Cloud L. Cray Jr. and Sally Hunter Cray Center for Innovation and Entrepreneurship
The Burton D. Morgan Suite for Entrepreneurship brings together campus experts—LaunchPad for mentorship and networking; the Technology Transfer Office for licensing intellectual property (IP); the IP Venture Clinic at the School of Law for help such as filing for patents; and the Mandato Family Innovator Office.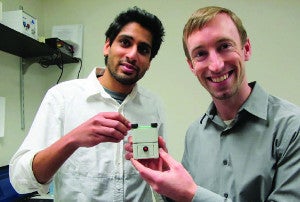 CASE WESTERN RESERVE UNIVERSITY
7th FLOOR
INCUBATOR
Early-stage companies launched at think[box] have access to office space and equipment while working with the entrepreneurial professionals on the sixth floor.