CONNECT Spotlight
Nurse Advocates on the Front Lines
Focusing on Violence as a Health-Care Epidemic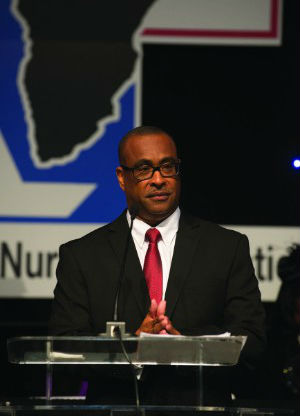 PHOTO: GEDIYON KIFLE, NATIONAL BLACK NURSES ASSOCIATION
The president of the National Black Nurses Association (NBNA) believes violence represents a health issue his profession must step forward to address.

And the skills and knowledge that president—Eric Williams, DNP, RN (NUR '07)—gained as a student at the Case Western Reserve Frances Payne Bolton School of Nursing further prepared him to make an impact.

In August 2015, Williams was elected to take the helm of NBNA, which represents 150,000 nurses in the United States, Canada, Africa and the Eastern Caribbean. He immediately launched an initiative to treat violence as a priority public health issue.

"Violence is a disease like diabetes [or] cancer," said Williams. "It's an epidemic in communities of color, where minorities are often victims and perpetrators; the cost on health care is enormous."

During his two-year term, Williams also is focused on reducing disparities in health and health care for persons of color, improving access to basic care in Haiti and Africa, and bolstering the NBNA's mentorship efforts among young African-American nurses.

Raised in New Orleans, Williams chose his profession as a teenager; his father suffered a stroke at 38, and Williams was moved both by the conscientious nurses he saw in the hospital and his own experience caring for his father at home.

Williams joined NBNA in 1984 as a nursing student while attending William Carey University in Hattiesburg, Mississippi, and worked his way through its ranks while serving as a medical-surgical, emergency room and intensive-care staff nurse and charge nurse.

In 1991, Williams moved into academia, believing he could make a bigger impact on public health by teaching. A decade later, he became the first black male faculty member at Santa Monica College, where he's the faculty leader for the Health Sciences Department and chair of its nursing program.

The Doctor of Nursing Practice Program at the school of nursing attracted Williams with an intensive course format that still gave him the flexibility to work full time. Through the experience, he learned to better balance multiple responsibilities—which, for Williams, includes research, a full teaching load and, now, the NBNA presidency, which is a volunteer position.

"As nurses, we have an impact in the places where we live, work, play and worship," he said. "And we have the ability and the obligation to implement changes in health policy, education, research and practice that ultimately improve health outcomes of individuals, families and communities."