FEATURES
Gray Matters
In His Research on the Brain, Alberto Costa is Discovering How Far We Can Advance Our Understanding of Memory and Cognition in People with Down Syndrome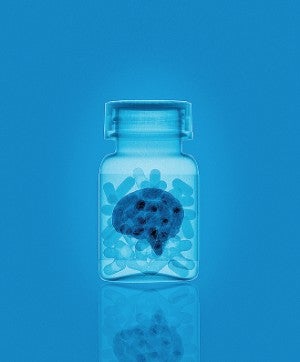 PHOTO: PHOTO ILLUSTRATION BY DAVID ARKY
It was time for the coffee break, but no one wanted to leave the room.
Alberto Costa, MD, PhD, was having an intimate conversation with 300 people.
One of the world's foremost researchers on memory and thinking in people with Down syndrome, Costa leaned in as he listened to parents attending a conference in Brazil, where he had just given the keynote address. They wanted to know more about the medicine he was testing that has shown early promise for helping children like theirs. But the parents also asked the professor from Case Western Reserve University's School of Medicine what food he feeds his own daughter and where she attends school. They trust this man who, as a fellow Brazilian and the father of a daughter with Down syndrome, is leading the largest drug trial involving the disorder. The aim: to determine if a medicine called memantine can improve memory and thinking in people with Down syndrome. In both the United States and Brazil, he is recruiting participants with a personal style that elicits faith.
The trial results could change the way we understand the impacts of medications on cognitive development in people with Down syndrome—and ultimately on quality of life and independence for people with neurodevelopmental disorders.
Even if the research moves the needle only part way, the landscape for having Down syndrome could change dramatically. And in the center of it all is the 54-year-old Costa, whose fidelity to his work says as much about the man as the research and results he's already produced.
"If you'd say, "I would love for my son or daughter to grow up to be a scientist like ______' you can fill in the blank with Dr. Costa, not only for the intellectual work he is doing, but also for the emotional and psychological energy he's bringing to these projects," said Stephen Ruedrich, MD, a psychiatry professor at the medical school, vice chair of psychiatry at University Hospitals Cleveland Medical Center and a collaborator on the drug trial.
DISCOVERY
Costa, a professor of pediatrics and psychiatry, first garnered international attention for a 2007 study he completed while at the University of Colorado. It involved just 39 people but showed memory improvements among participants receiving memantine, a drug approved for Alzheimer's patients.
Costa and colleagues since have expanded the research and expect 200 people to participate. Recruitment is well underway in the United States and recently began in Brazil.
If this new study shows the same kind of results, "… it will be one of the first pharmacological interventions that can actually modify cognitive function in people with neurodevelopmental disorders like Down syndrome," said Richard Boada, PhD, an associate professor of pediatric neurology at the University of Colorado School of Medicine who collaborated with Costa on the 2007 study and constructed the cognition tests for the current trial.
Conducting the research in both countries is significant for a number of reasons. Most important, participants will be more diverse, reflecting the broad range of natural variations in the abilities and traits of individuals with Down syndrome.
In addition, a multicenter, international drug trial is expected to yield more credible, reliable and reproducible results.
In mid-August, Costa and Boada traveled to São Paulo to kick off the Brazilian trial with a fellow collaborator, Ana Claudia Brandão, MD, at Albert Einstein Hospital. Costa expects the number of participants there to outpace the number in the United States within a year.
In conjunction with the drug trial, Costa's team has produced another breakthrough: From 10 people with Down syndrome, researchers have created stem cells that can be teased into changing into other types of cells, which Costa expects will uncover even more clues for future treatment options.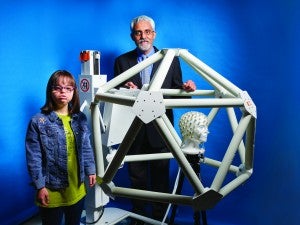 PHOTO: ROGER MASTROIANNI
INSPIRATION
Costa grew up in Rio de Janeiro and quickly progressed from a curiosity about how things work to an obsession with the larger question of how nature works. Even though his parents did not finish high school, at age 8 Costa began devouring books on chemistry, then physics, then math, completing engineering coursework through a technical high school. But the engineering training couldn't satisfy his curiosity. Neither did medical school, which, to Costa, felt too focused on memorization.
His doctoral research on neuroreceptors—that is, the brain chemicals that relay signals between nerve cells—made him hungry to learn more. It was during a postdoctoral fellowship at Baylor College of Medicine that the spark between inspiration and application took off.
And then in 1995, Tyche, his only child, was born. Costa and his wife, Daisy, named Tyche (pronounced "Tishy") after the Greek goddess of fortune or chance. She had Down syndrome, the result of an extra copy of chromosome 21.
Initially distraught by the diagnosis, Costa delved into the literature. As a physician and neuroscientist, he saw studies that demonstrated a lack of understanding of how the brain actually works. If Tyche grew the way the literature predicted, he knew she would hit all the developmental milestones of a typical infant through age 6 months—and then her neurodevelopmental path would begin to diverge.
"For a guy who had just had a little child, that was fascinating," he said. If he could discover what changed at 6 months, he might be able to find a way to keep a child's development on course.
During Tyche's early months, Costa mapped out his first Down syndrome research experiment. He hypothesized that if he could silence the impact of an extra neuroreceptor gene, he could improve the ability to learn. He sought out a top scientist in the field, Muriel Davisson, PhD, at The Jackson Laboratory (JAX) in Bar Harbor, Maine, and emailed her his plan. She had created the only viable mouse model for Down syndrome that could be used for his proposed research.
Davisson invited Costa to her lab to discuss his idea. It was a 90-degree March day when Costa stepped onto the airplane in Houston; when he arrived in Maine, a below-zero wind chill and feet of snow greeted him.
Davisson later said that while Costa's scientific theories were promising, it was his persevering through the snow that proved Costa's dedication. He also secured partial funding for his research from the National Down Syndrome Society, even though he was new to the field. She offered him a research-scientist position in her laboratory, and he spent four and a half years at JAX testing theories.
Costa credits Davisson's mentoring with his transformation from scientist to researcher. He then took those skills to Colorado, first to the Eleanor Roosevelt Institute in Denver and then to the universities of Denver and Colorado.
When preparing for the current trial, he knew he needed a larger population from which to recruit. In 2013, he accepted an offer from Case Western Reserve because of the Down syndrome expertise he saw at both University Hospitals and Cleveland Clinic as well as the location's access to populations from Ohio, Michigan, Pennsylvania and Illinois who would travel to be part of the historic trial.
HOPE
What it means to be living with Down syndrome has changed dramatically in the last three decades. If Tyche had been born in 1983, her parents could have expected her to live to age 25. By 1997, with advances in treatments for congenital heart defects, hypothyroidism and other conditions found in people with Down syndrome, life expectancy had climbed to 49. Today, a 1-year old is expected to reach age 60.
"I think there's been no better time to be alive with Down syndrome than now," said Brian Skotko, MD, who as an undergraduate met Costa at a neuroscience conference. Costa encouraged him to continue his Down syndrome research and became a mentor. Now Skotko is co-director of the Down Syndrome Program at Massachusetts General Hospital.
For the first time, and because of improvements in health care, a generation of people with the syndrome is living longer—but also developing the conditions of the elderly, except at much younger ages.
By age 40, nearly all people with Down syndrome will have brains that resemble those of people with Alzheimer's disease. Researchers believe people with the syndrome develop the Alzheimer's-like plaques in their brains because of an extra copy of the gene APP, often associated with early-onset Alzheimer's. Still, even though all are believed to have the plaques in their brains, only half of the population with the syndrome will ever exhibit symptoms of Alzheimer's, Skotko said.
Understanding more about the brains of people with Down syndrome will help researchers and clinicians develop therapies to enhance cognition and longevity, Skotko said. It also will shed light on therapies that could help the general population, which is why recent trials—like Costa's—are increasingly linking therapies for Alzheimer's and Down syndrome.
But such breakthroughs face a significant hurdle: money. With less funding available from the National Institutes of Health for Down syndrome research, it now takes a combination of government, foundation and pharmaceutical company funding to move a drug from development to FDA approval, Skotko said.
Costa's largest funding source is $5 million from Alana Foundation, the research arm of a Brazilian organization founded by a mother of a child who has Down syndrome. Funding from Alana is one reason the trial has its second site in Brazil.
"His potential in the future is huge, especially if you consider his team and his record," said Claudia Moreira, PhD, an Alana program officer.
Costa's team includes two researchers who have been with him for more than 15 years, as well as high school and undergraduate students who are conducting experiments and generating data. He hopes that some may even come back and work in his lab as graduate or medical students. But his motivations for hiring students run much deeper. "I see part of my job as devoting time and teaching people about Down syndrome in particular and intellectual disabilities in general," he said. "You're preparing the next generation, and when you can multiply the knowledge and spread it, it's always a good thing."
CARE
It is in the recruiting of participants and their caregivers where he takes the most time and care.
Michelle Khourie and her mother, Patricia, had previously met Costa and Tyche when the two attended meetings of the Down Syndrome Association of Central Ohio, on whose board of directors Michelle serves.
Patricia watched the way he interacted with his daughter and knew she would be in good hands.
"It's his gentle voice, his whole presence," Patricia said. When Michelle, 29, had concerns about whether any part of the testing would hurt, he walked through the steps with her and answered every question.
Costa can take two hours or more to explain the trial during the consent process. He also flew to Brazil to orient the site's first participants.
While neither the participants nor Costa know who is receiving memantine and who is receiving a placebo, Khourie said her daughter is proud to be a contributor.
"I truly hope this offers some hope for people," she said.
In June, Tyche turned 22. Thanks to access to good schools and the support of her parents, she demonstrated the highest math skills among all students enrolled in a recent college GED course.
While it's unusual to see a person with Down syndrome in a college classroom, Costa believes that continued research will lead to breakthroughs that will boost the mental capacity that some need to attend. With such advances will come equally important changes in public policy and perception, he predicted, allowing those with the capacity currently, like his daughter, to pursue higher education.
In the meantime, Costa said he expects to welcome Tyche into his lab as a technician. Just as she did the summer before her senior year of high school, Tyche will don surgical gloves and test mouse cells for genetic markers similar to those found in individuals with Down syndrome.
Science has yet to discover whether medications can reverse the cognitive deficits first noticed during infancy. But whatever the outcomes of this trial—which may not be known for several years—they will give researchers the information they need to continue their work.
"If we prove the drug memantine has no effect whatsoever, guess what—no one is going to give that to their children," he said. "Either way we win, because information empowers people when it comes from a place of true knowledge, and that's what we want to generate in the field—true knowledge based on very vigorous research."
A Genetic Disorder
Down syndrome is a genetic disorder caused by a third copy—full or partial—of chromosome 21. The additional genetic information can cause an intellectual disability, characteristic facial appearance, small stature and other physical and cognitive traits, although natural variations can lead to wide differences in abilities. Down syndrome occurs in about 1 in 700 newborns, according to the Centers for Disease Control and Prevention.