LENS Business, Law, and Policy
Heavy Lifting
Freeing Up Entrepreneurs to Focus on Creative Work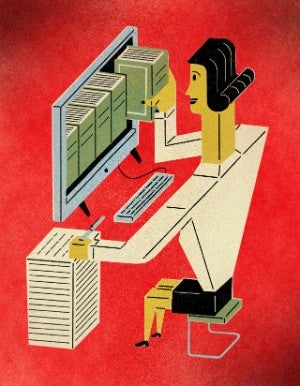 IMAGE: David Plunkert / Theispot
Matt Campagna knew he and two partners had a great idea in 2015 when they came up with a new monitoring device to better detect concussions in athletes immediately after collisions during a game. What the trio lacked was the money to pursue a patent to protect their intellectual property (IP) or the know-how for courting investors.
"Those are two monstrous tasks," said Campagna, a Case Western Reserve junior.
But the university's IP Venture Clinic did "the heavy lifting on paperwork ling," which Campagna said led to the rst round of funding for his company, Reflexion Interactive Technologies.
The clinic is part of the School of Law's Spangenberg Center for Law, Technology & the Arts. Launched in 2013, the clinic is funded primarily with a $679,400 grant from the Burton D. Morgan Foundation.
The clinic gives third-year law students experience in navigating the complicated, legalistic, document-heavy worlds of intellectual property and entrepreneurial ventures. Its services are free.
"We did everything from writing contracts to licensing agreements, but I also gained as much just by listening to our clients," said Zachary Splain, JD (LAW '17). "The clinic helped me realize I need to also be a sounding board and quickly adapt to help them get past their fears of actually starting their own business."
The ultimate aim is to provide early assistance for companies to become pro table and "contribute to the growth of the regional entrepreneurial ecosystem," said Craig Nard, JD, the Galen J. Roush Professor of Law and director of the Spangenberg Center.
The clinic has about 50 clients; nearly all are student-run companies. It has helped secure patents for several of its clients. And earlier this year, the clinic's new Patent Pro Bono Program for Ohio secured its first patent, which was issued to a client developing a UV lamp to help people who have multiple sclerosis or psoriasis Campagna, CEO of Re exion, said his monitoring device could be for sale within the year, thanks to the clinic's technical help.
"They allow us to pursue our passion, knowing that all the i's are dotted and the t's crossed," he said.