LENS
An Ace On and Off the Court
Recent alumna wins national leadership award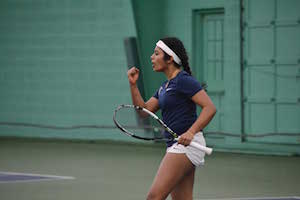 PHOTO: CWRU Athletics
As an undergraduate at Case Western Reserve, Nithya Kanagasegar (CWR '18) was a standout tennis player and leader.
In June, the Crossville, Tennessee, native became the first recipient of the ITA (Intercollegiate Tennis Association) Ann Lebedeff Leadership Award, endowed by Hall of Fame tennis player Billie Jean King.
The award honors a recent graduate who played collegiate tennis, demonstrated excellence and leadership on and off the court, showed "grit," was committed to social justice and equality, and encouraged others to lead.
Kanagasegar was selected over male and female candidates from all levels of NCAA tennis.
The win was "incredible and very special," said Kanagasegar, who graduated in May—just days before she and her doubles partner, first-year student Madeleine Paolucci, became the first All-Americans in the history of the university's women's tennis program.
"I don't think I've ever smiled so much during a tennis match," Kanagasegar said.
She qualified for the NCAA Division III championships all four years on campus—four times in singles, twice in doubles.
In announcing the Lebedeff Award, the ITA cited Kanagasegar's involvement with Sustained Dialogue, a national program that works to foster relationships and respect. Kanagasegar got involved with the program on campus after discussing her concerns about discrimination and injustices at other universities with Athletic Director Amy Backus. She later moderated the first Sustained Dialogue group in the country specifically for student-athletes.
"I really want to stay involved," said Kanagasegar, who plans to attend medical school next year. "I'd like to be a mentor or an adviser."
SPORTS BRIEFS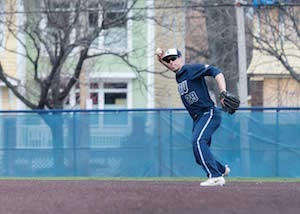 PHOTO: Matt Shiffler
Led by junior All-American second baseman Rocco Maue, pictured here, the Case Western Reserve baseball team finished the 2018 season with a 29-10 record, claiming sole possession of the University Athletic Association Championship for the first time in the program's history. The team previously shared the title in 2013 and 2014.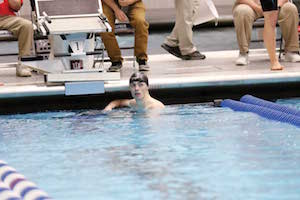 PHOTO: D3Photography
Drew Hamilton (CWR '18) received three prestigious honors for his academic and athletic success during his final year on the university's men's swimming & diving team: the NCAA's Elite 90 Award, the NCAA Postgraduate Scholarship and selection to the Google Cloud Academic All-America First Team.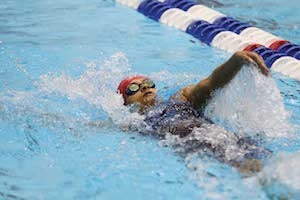 PHOTO: D3Photography
In March, senior Inez Moore (CWR '18), juniors Suhan Mestha (pictured here) and Alli Drohosky, and first-year student Caitlyn VonFeldt—members of CWRU's women's swimming & diving team—earned an All-America Honorable Mention with a 14th-place finish in the 200-yard medley relay at the NCAA Championships.