CONNECT
Change Agent
An executive's journey from the factory floor to the corner office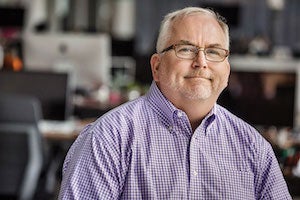 PHOTO: Courtesy of Lyft
Rex Tibbens has leapt from one brand-name business to another in completely different industries. But there's one thread that runs through his highly successful career: the search for transformative opportunities. "If I can't figure out how to make it fly a different way or create a different business out of it, it's just not that exciting to me," said Tibbens (MGT '98).
In May, Tibbens became CEO of the home-warranty company American Home Shield (AHS) with the aim to grow the company, which already has $1.1 billion in annual revenues. Before that, he led change at revolutionary companies ranging from Dell to Amazon to Lyft.
But the path wasn't always obvious. Tibbens held a series of odd jobs after high school that included working at a grocery store and repossessing cars at a towing company. "I just didn't know what my purpose was in life," he said.
After hearing about an internship for full-time college students at a new Toyota plant in his native Georgetown, Kentucky, he started taking business classes at the University of Kentucky during the day and working the night shift. The combination of theory and practice led to a revelation.
"I got to really understand what it means to lead people," he said. "I got to really understand a lot about process and how businesses work." Tibbens stayed with Toyota after graduating, leading a joint Toyota/GM project in Lordstown, Ohio, and earning his MBA at Case Western Reserve at night.
After a short post-MBA stint in consulting, Tibbens began a lengthy career in technology companies. First up was Dell, where he spent 12 years managing everything from customer service to storage to mergers and acquisitions. Next was Amazon, where he helped build out the company's Kindle e-reader business and led development of a customer-support system that was radical in its approach. "It was the first time you were able to push a button and a live support person would pop up on your tablet," he said.
Tibbens then seized another opportunity to define a nascent industry, becoming chief operating officer of the ride-sharing company Lyft, where he focused on expanding the business. "We were in a handful of communities when I got there," Tibbens said. "When I left, we were in 50 states and entering into Canada—and that was in under three years."
At AHS, Tibbens wants to take the hassle out of homeownership—specifically with the protection of home-service contracts. But, naturally, he sees a chance to grab a larger share of the $400 billion home-services market and potentially enter a virtually untapped overseas market.
Building businesses, transforming industries, remaking cultures—those are massive undertakings that require dedicated leadership. "People want something to believe in, and they want someone to believe in," Tibbens said. "You have to have the hearts and the minds and the trust of the folks who you're working with. And you have to get them excited about the future."