LENS
A Landmark Season
Softball team earns highest national finish in CWRU history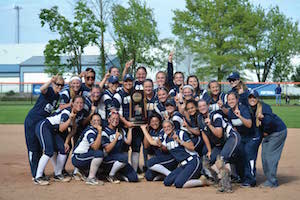 PHOTO: CWRU Athletics
What began the first week of March in Virginia and ended the last week of May in Oklahoma was the greatest season in the history of Case Western Reserve softball.
The Spartans not only set a program high with 38 victories during the 50-game season but also earned the university's first appearance at the NCAA Division III softball national championship finals as well as a lofty sixth-place postseason ranking among the top 25 teams.
Case Western Reserve's fifth-place showing in the closing round of the finals competition in Oklahoma City is the highest national finish for any team in the university's athletic history.
"When it was over, I looked at the numbers and thought to myself how cool it was to see what we accomplished," said head coach Josie Henry.
The Spartans earned a tournament invitation and then took full advantage of the opportunity. The team won a combined six of eight games at the regional and super-regional tournaments, which qualified them for the finals.
In Oklahoma City, the Spartans won once before losing twice to end their run. "We had great team chemistry," said Henry. "… Everybody loved being around each other. They also embraced pressure situations."
In particular, Henry praised seniors Katie Wede and Maren Waldner, junior Nicole Doyle and first-year student Sarah Miller as "difference makers."
Wede (CWR '18) also became Case Western Reserve's first woman to win the NCAA's Elite 90 Award, which honors the student-athlete at each NCAA finals site with the highest cumulative grade-point average. The accounting major graduated with a perfect 4.0 GPA.