CONNECT
Man with a Plan
Director of Baltimore museum mixes art and civic engagement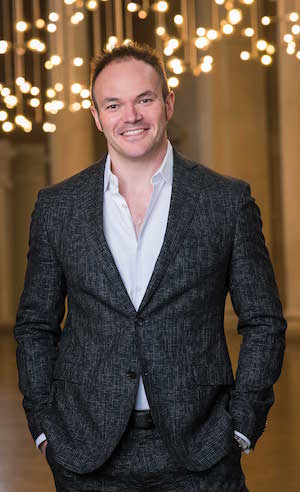 PHOTO: Christopher Myers Photography
Christopher Bedford (GRS '03, art history) knows what he wants.
He had barely settled into his new job as director of The Baltimore Museum of Art (BMA) in 2016 when he began forming an ambitious plan to sell seven of the museum's 20th-century works—including pieces by Andy Warhol and Robert Rauschenberg—to buy work by artists who reflect the diversity of the city of Baltimore itself. The move might have struck some as risky, even audacious, for a new director, but didn't surprise those familiar with Bedford's career. By the time he arrived at Case Western Reserve University for his master's degree, "he had 'museum director' written on his forehead," said Ellen Landau, PhD, a former professor of Bedford's. "He had a plan."
Bedford beat out a pool of about 270 applicants to become BMA director at age 39, after successful stints as a curator at the Getty Museum in Los Angeles and The Wexner Center for the Arts at The Ohio State University and as director of the Rose Art Museum at Brandeis University, where he increased attendance at the struggling museum and established a popular satellite gallery in an underserved neighborhood.
He brought that same desire to integrate art and civics to Baltimore. "The museum is in a 63 percent black majority city, yet it has a collection that is telling a principally white American narrative," Bedford said. His goal is not just the occasional exhibition of minority artists, but "reconstruction of the collection from top to bottom" and positioning the museum as a voice for justice.
Those priorities became even more vital in recent years as the city reeled from both the 2015 death of an African-American man, Freddie Gray, who died after police took him into custody, and the lack of significant sanctions for the officers involved.
Such ambitious goals will require the museum, which has 95,000 works of art and a budget of $18 million, to completely reimagine itself on every level. Bedford said he's been lucky to have a supportive board. "The museum needs to be as essential to the city as a public pool or library," he said.
Bedford, who is married to freelance art historian Jennifer Bedford and has three children, was born in Scotland, raised in London and moved to the United States at 17. He formed many of his strong convictions about the role of contemporary art during his time in the joint Case Western Reserve-Cleveland Museum of Art master's program, where professors such as Landau—now the Andrew W. Mellon Professor Emerita of the Humanities—impressed upon him the connection between the personal and the artistic.
For his thesis, Bedford drew on his own experience as an Oberlin College football player, focusing on how artist Matthew Barney's work explores the relationship among sports, masculinity and power. Looking at art through the lens of his own life and interests "opened art out onto the world," he said.
Bedford already has had some big successes with the BMA, including representing the museum in his role as the commissioner of the U.S. Pavilion of the 2017 Venice Biennale (considered the art world's Olympics), where he co-curated work by African-American abstract artist Mark Bradford.
His sale of seven museum works raised what he will only describe as a "transformative amount of money" that he intends to spend primarily on art by women and artists of color. For Bedford, this "tidal wave" of acquisitions will bring him one step closer to his definition of true success as BMA's director: offering museumgoers "a collection of works reflecting the true history of art for the first time."