CONNECT
Making the Difficult Possible
Empowering communities in Africa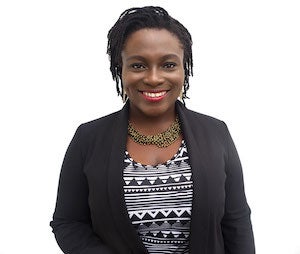 PHOTO: Courtesy of Reboot
Ijeoma Mba (SAS '13) found her calling more than 5,200 miles from her native Georgia—on the African continent, where she is a senior program associate with Reboot, a New York-based social impact firm that works with governments, citizens and others to encourage more participatory, open and responsive governance. Her work spans several African countries. She also was a fellow with Global Health Corps, a leadership development organization promoting access to health care around the world. We talked by email with Mba to shed more light on her work and passion for making the difficult possible.*
You're from Atlanta. How did you wind up at Case Western Reserve?
I knew I wanted to work in the NGO [non-governmental organization]/development sector, but I wasn't sure in what capacity. So, I worked for the Georgia Center for Nonprofits, which provides advocacy, training and consulting services to nonprofits so they can have a stronger and more strategic impact. It was the perfect training ground. When I searched for programs to expand my knowledge in community development, CWRU emerged as a fit.
How did your experience at CWRU prepare you for what you're doing now?
Particularly, the [Jack, Joseph and Morton Mandel School of Applied Social Sciences] taught me the importance and necessity of empathy and emotional intelligence to work with diverse communities and stakeholders—from government decision-makers to grassroots communities. It forced me to be more thoughtful about the impact I wanted to have in the international development space.
Why Africa?
The image of the African continent as filled with war-torn countries, disease and despair is just tired. It's born out of ignorance, and it's a blanket description that no one should consider acceptable. As a Nigerian-American, I have been given the opportunity to see the world from two cultural perspectives. Over time, I just grew frustrated by the lack of African dynamism represented, so I wanted to be a part of showing a different side and bring a different perspective to international development. Ultimately, this has been my biggest motivator for continuing to live and work on the continent.
What about your development work are you most proud?
I'm contributing to solutions that are not one-off. They are thoughtful and focused on long-term, sustainable strategies in development. Growing profit-based agricultural businesses to fund critical health needs, such as access to rural MNCH [maternal, newborn and child health] services in Uganda, along with working with civic groups and government agencies in Nigeria and Kenya to facilitate greater collaboration and shared decision-making, are initiatives I am proud of. Any opportunity to decrease the dependency on foreign aid and to open up governance spaces for citizens to prioritize what matters to them is a win in my book.
What is it about this work that speaks to you?
I love this work because it's not the band-aid approach. You face real issues, and you can't necessarily see impact overnight. It takes commitment and time. I'm proud to be a part of making the difficult possible.
Now that you mention it, ever consider that your personal motto ("Don't confuse difficult with impossible") is similar to the university's ("Think beyond the possible")?
I never thought of that. I just think the easier route is to be afraid to do something challenging, and "play it safe." I didn't want to be that person or live my life like that. I want to leave a legacy that encourages others to explore something different. CWRU provided me the opportunity to [home] in on this ideal, and this is what I continue to live by.
*This conversation was edited for length.